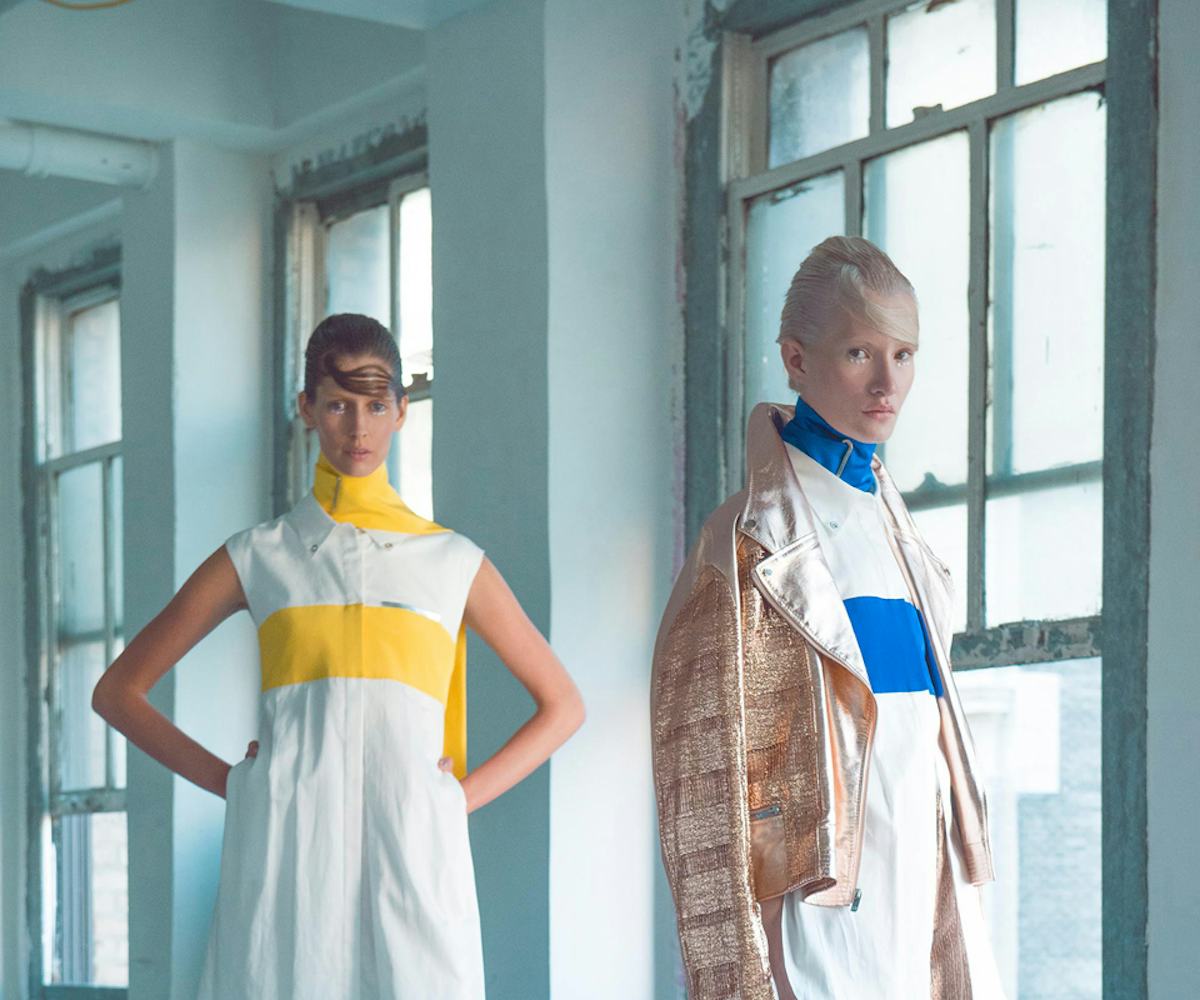 Photo courtesy of Daniel Silverstain
9 Up-And-Coming Brands To Watch For
When you're in a bit of a fashion slump, what better way to revamp your style (or at least provide a little inspiration) than checking out the coolest emerging brands of the moment?
We know, we know, there are so many new brands out there today—so we did the research for you. Below, we rounded up the nine new brands to watch out for that—while they may not be known by all—are certainly favorites of fashion insiders and tastemakers alike. From the ethically sustainable to those that seem straight out of the future, these nine brands have a unique and distinct aesthetic that makes them stand out amongst the sea of emerging labels.
Click through the gallery to get a closer look at each brand. Whether you've heard of them or not, keep these up-and-comers on your radar. We're sure they'll all have quite the cult following, soon enough.
Calle Del Mar
Calle Del Mar is a Brooklyn-based brand with a serious West Coast feel. Designer Aza Ziegler draws influence from '60s and '70s vintage surf and skate culture, The Beach Boys, and vintage U.S.-made athletic wear to create pieces that are effortless, yet still very feminine. For the spring 2016 collection, you can expect everything from imaginative, sequin-filled textiles to vintage-inspired knits to wave-emblazoned mini dresses. 
Calle Del Mar, Baggy Sequin T-Shirt, $380, available at Calle Del Mar; Calle Del Mar, Sequin Wrap Skirt, $410, available at Calle Del Mar.
Arianne Elmy
Brooklyn-based designer Arianne Elmy views each of her pieces as wearable art, combining both fashion and fine art to create collections that involve "elaborate concept development, inner dialogue, and trusting of the subconscious mind." Elmy encourages women to feel "beautiful and striking" as they wear designs that are "different"—even exposing. In her spring collection, you can expect pieces such as mesh hoodies, mixed silk and chiffon camisoles, and layered, asymmetrical graphic T-shirts. 
Arianne Elmy, Hooded Blackout Grid Top, $295, available at Arianne Elmy; Arianne Elmy, Light Pink Silk Double Layered Shorts, $150, available at Arianne Elmy.
NOT
NOT designer Jenny Lai created the brand based on her experience growing up surrounded by music, dance, and theater. She found similarities between adrenaline and improvisation that were involved with both the act of getting dressed for a performance, as well as the performance itself. This urged her to create a line that focuses on the transformative experience of the act of getting dressed—leading to separates, dresses, and outerwear in modern and interesting silhouettes that experiment with the physical process of getting dressed.
NOT, Long Rectangle Top, $280, available at NOT; NOT, Overlap Skirt, $308, available at NOT.
Nika Tang
Nika Tang is a San Francisco- and London-based fashion and handbag label that focuses on shape and form, custom textile treatments, and the meshing of modern technology with traditional couture techniques. From dresses and skirts with three-dimensional floral appliques to crinkle-cut trench coats and trousers, you can expect a collection that is both modern and clean while out of the ordinary. 
Nika Tang, Tanya Embroidered Lace Dress, $680, available at Nika Tang.
I Waited For You
Designers Charleston Pacius and Melanese Reid bought their mutual loves for art, science, and innovation together to create the progressive label I Waited For You. The brand is designed to bring the more creatively inclined woman a wardrobe of innovative essentials. For their spring 2016, you can expect modern takes on beautifully embroidered silk designs, nodding to traditional Asian aesthetics, mixed with structured, sporty basics.
I Waited For You, Saralilly Dress, $795, available at New Classics.
Elise Ballegeer
Elise Ballegeer is a contemporary clothing label comprised of modern and minimal pieces with "a healthy dose of fun"—essentially, a line of wardrobe staples that have a workwear-for-the-cool-girl aesthetic. Ballegeer's driving force is to provide high-quality pieces that are easy and comfortable enough to wear every day, while also producing them responsibly, using organic and sustainable materials to create her designs.
Elise Ballegeer, Dyed Mond Top, $185, available at Elise Ballegeer; Elise Ballegeer, Intha Trouser, $240, available at Elise Ballegeer.
House Of 950
House of 950 is the brainchild of designer duo Eric Holbreich and Alice Spies. The brand is based on the core principles of functionality, nature, honesty, sentimentality, world play, sustainable design practices, and a need for self-expression. Rather than focusing on trends, the two focus on designing their pieces as a series of iterations of pattern-making concepts they discover—resulting in draped and flowing basics (many unisex) that can be layered to the wearer's desire.
House of 950, Front To Back, $175, available at House of 950.
ASKA
ASKA is an awesome new line of architectural footwear by designer Kate Gordon. The brand's clean and refined styles draw inspiration from Gordon's own obsessions—whether it's an artist, a concept, or a toe shape—as well as a fresh take on vintage designs. According to Gordon, a native New Yorker, the ASKA girl is "the ultimate NYC girl—she's an extrovert; she's busy. She works, travels abroad, and loves art and culture. She enjoys being part of the fashion dialogue." No matter where you call home, we guarantee there's a style that fits your personal aesthetic.
ASKA, Helen Sandal, $270, available at ASKA.
Daniel Silverstain
Designer Daniel Silverstain creates beautiful ready-to-wear that is a modern and futuristic take on femininity. Inspired by humanity's view of the future in the past, Silverstain's designs explore different textiles and natural forms to create pieces that present an "optimistic" approach to the future. "I design to inspire women to be bold, to be courageous, to stand out, and to create a story of their own," says Silverstain. 
Similar styles available to shop at Daniel Silverstain.