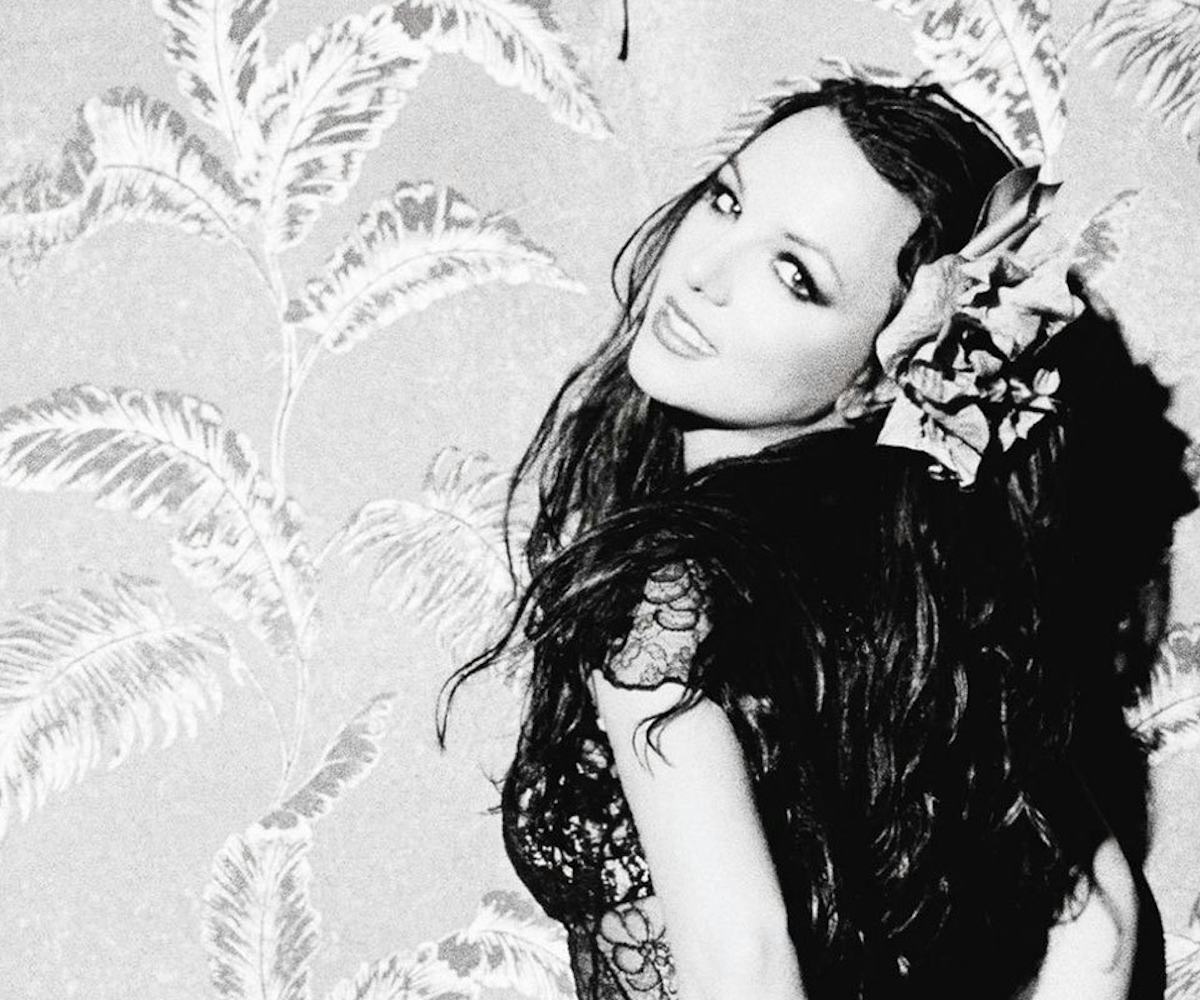 Photo by Ellen von Unworth
'Blackout' Is Britney Spears' Best Album To Date—Deal With It
If the rumors are to be believed, Britney Spears' Blackout album never should have happened. Or, at least, it should have never been her fifth LP. She had written an album all by herself between 2004 and 2005 and told KIIS-FM in December 2004, when she surprised the radio station by playing "Mona Lisa," the album's working lead single, that it was "probably going to be called Original Doll." Jive Records, the former record label Spears was signed to, denied its existence; RCA Records, her current label, did, too. Meanwhile, Spears' spectacular public downfall unfolded before our eyes over the next couple of years. Blackout took Original Doll's place as Spears' fifth studio album and remains to this day, despite four subsequent LPs, her best.
Blackout was released 10 years ago today, October 25, 2007. With "Gimme More," its music video, and that dead-on-arrival VMA performance behind her, what Spears had up her sleeve was anyone's guess. How she pulled herself from her very public personal problems to even record an album's worth of material between '06 and '07 is a triumph in and of itself. If 2003's Into The Zone represented Spears breaking free from that "not a girl, not yet a woman" brand of pop, Blackout's startling club-ready production and lusty lyrics eradicated that brand; "It's Britney, bitch!" was her reintroduction, delivered with a sense of cockiness and a "just try me" wink.
Around the time Spears popped the bubble on bubblegum pop's dominance, European club smashes, like Benny Benassi's "Satisfaction," were gaining popularity in the States. The dance craze was just beginning to take hold, and Danja, one of Blackout's primary producers, turned it into pop. "Gimme More" didn't just sound like nothing Spears had ever put out, it sounded like nothing else on the radio at the time. Madonna's (iconic) disco-infused Confessions on a Dance Floor album was too conceptual to make waves the way Blackout did. Arguably, the frenzy and celebrity surrounding Spears and her tabloid status made her more influential than Madge, too. Blackout also opened the doors for Lady Gaga to push pop music fully into club/dance territory by the time she dropped "Just Dance" in April of 2008. Legends only, friends. 
In a way, Blackout sounds like an album we shouldn't necessarily be listening to. There's a sinister tension in Spears' chopped, screwed, and sometimes non-existent vocals. Songs like "Get Naked (I Got A Plan)" favor the producer on the chorus over her. But underneath all the production and robotics is Spears' irresistible charm: the breathy coos, the vocal fry, the slight Southern drawl, that goddamn giggle. "Freakshow," one of the album's best and also most produced songs, highlights everything Blackout excels at; you hear just as much of Spears' real vocals as you do her synthesized ones. "Radar" was so strong, Spears fucking put it on her next album and released it as a single. 
In November 2007, Pitchfork likened Blackout to Twin Peaks' Laura Palmer, David Lynch's beautiful, tragic, and not-so-virginal murdered heroine. They praised the album's "black hole heart" and Spears' audacity in releasing an album that is entirely untourable. In a way, they were not so far off. Like Palmer, Spears, at the time, was the pinnacle of a good girl gone bad (and, perhaps, mad). And like Palmer, Spears desired some sort of agency over that good girl image. She got that by being named executive producer on the album, a first and unfortunately last in her legendary career. She gave the public what they wanted: a display of carnality and abandon that they, too, could safely join in on while listening. "Are you sure you want a piece of me?" she dared us on the album's second song. Of course, we did. We have (and still do) since she became "Miss American Dream [at] 17." Why? Because it's Britney, bitch, the ringleader and original doll.