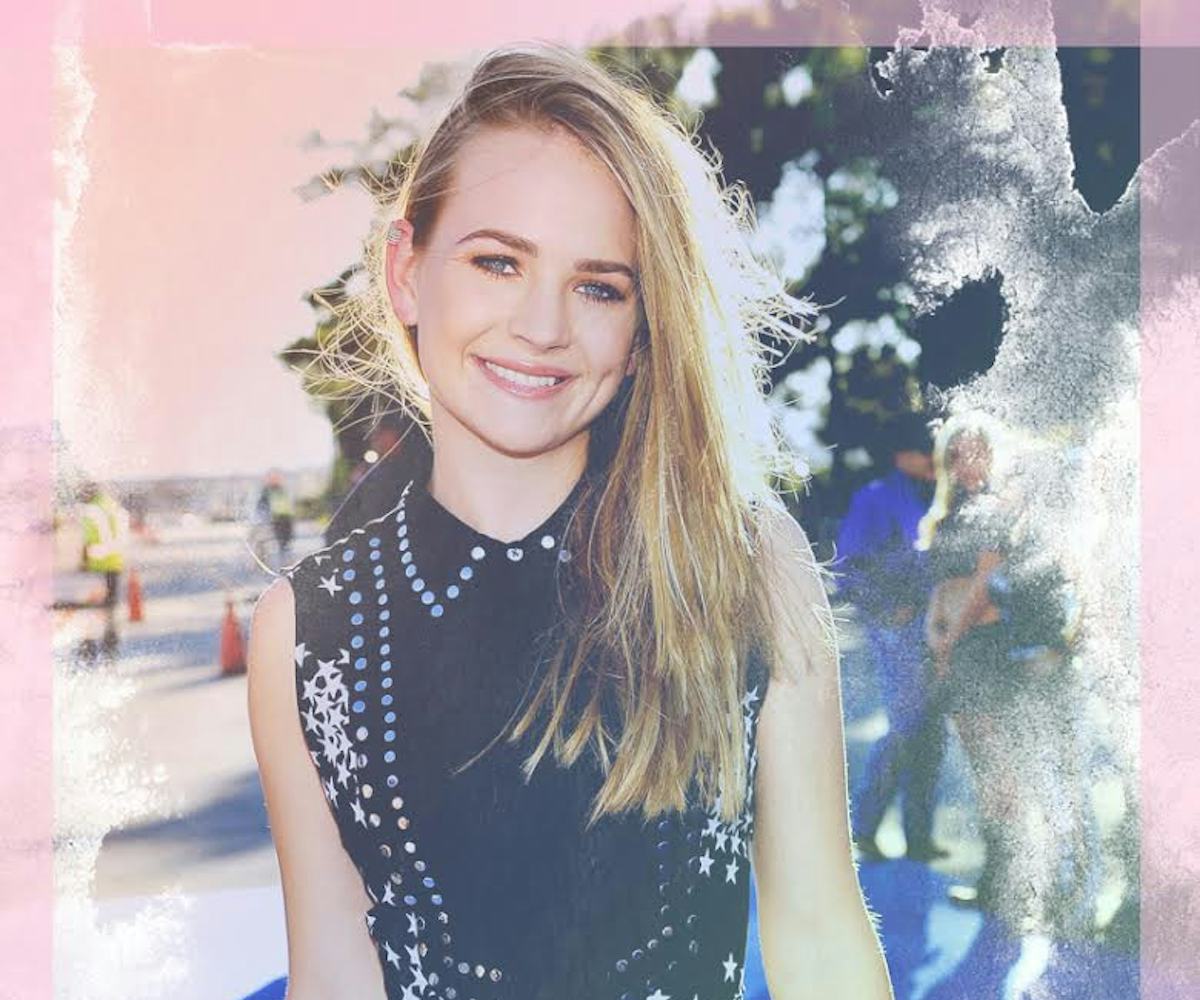 photo via getty images
britt robertson on 'tomorrowland,' fame, + jennifer lawrence
meet one of 2015's breakout stars
Ever since she was cast as a lead opposite George Clooney in the Disney tentpole Tomorrowland, Britt Roberston has been riding a swell of hype—one that will come crashing ashore on May 22, when the sci-fi odyssey hits theaters. At that point, she will likely land atop casting director wish-lists and in front of prying paparazzi lenses as Hollywood's newest leading lady. But before Robertson explores a futuristic society in Tomorrowland, the 24-year-old actress will appear in a movie that's pretty much the opposite. White Rabbit, a charcoal-black drama about a troubled high school student (Nick Krause) spiraling towards tragedy, can be seen this Friday in select theaters and on VOD after successfully funding a Kickstarter campaign. Robertson, who also stars in the upcoming Nicholas Spark weepie The Longest Ride, recently spoke to NYLON about her impending fame, missing her Super Bowl commercial, and why she kinda feels bad for Jennifer Lawrence. 
Is it weird talking about this tiny film that you did a few years ago when so much has happened in your career since then?
It's not weird. It's hard to talk about because I don't really remember the experience as well as I remember the other experiences. It has been so long. That definitely is the weirder part, for sure.
What made you take on such a pitch-black film?
When the script first came to us I thought it was a really interesting story to tell. I thought it was a really important story to tell. I was grateful to be a part of it, and I thought that Julie would be a really fun character to explore. She goes through so many ups and downs and twists and turns, so I thought that was challenging. 
Do you ever think that because of Tomorrowland, you'll never be in a film this small again? It's a very specific type of filmmaking that you might have to say goodbye to. 
Yeah, that would be so sad if I didn't get to experience it ever again. But I hadn't really thought about it, actually. It's such a good point. With low-budget movies like that it's such a different experience than studio filmmaking. But since then I've done a small indie over the holidays. We shot in 23 days and we were shooting like 16 scenes a day. So it isn't lost on me and I do appreciate that world, and I think it makes me a better actor in some ways, so I'll always return to it if I get a chance.
What were some of the bigger adjustments you had to make while shooting something like Tomorrowland? You just mentioned shooting 16 scenes a day, but for something like Tomorrowland it might take you several days just to shoot one scene. 
Yeah, there's more coverage and we have a lot more time to spend per page per day. But then again in certain scenes—I remember we had a couple of car scenes that we shot and we would shoot like eight pages a day for those car scenes. But then we would have one scene that we would spend three weeks on. I think the biggest adjustment would be staying fresh. When you're used to shooting quickly and going, going, going, everything is fresh. You have so many chances to give it a shot. So I think the biggest adjustment is keeping fresh with the material for as long as we had to work on it.
I noticed that White Rabbit had a Kickstarter campaign to get money for distribution. 
No way, is that true? I had no idea.
Yeah, and they raised the money. It was like $45,000. But I wanted to ask you how strange it must be to work on one film that is trying to raise $45,000 to get distribution, and this other film, Tomorrowland, spends that much on catering in a week. What is that disparity like?
I think it just makes you appreciate different aspects of filmmaking. The focus would be on just getting the material when working on a movie like that since you don't have a lot of time or money. It's a bit like guerrilla filmmaking. That's almost what brings out the heart and the emotion in these kinds of films. You pour your life into it, it takes so much more. For a movie like Tomorrowland, it costs so much to make that movie and because of how huge it is, the scope is just more than I can even describe. But little movies like White Rabbit, they don't need a lot of money. You can do it for a million dollars.
And that's kind of the beauty of it.
Yeah, I think you just have to embrace what you're given because every chance is going to be different and every film is going to be different depending on the budget or just depending on the script. 
Did you get to watch the Tomorrowland Super Bowl teaser live on TV?
No—I was house-hunting and I got home twenty minutes late so I didn't see it.
Were you trying to make it or did you just not care?
I mean, I knew that it was going to be airing, but I didn't know what time so it was just my luck that of course the twenty minutes that it took to get back home it aired. I wanted to see it, but there were just other things happening. On the way back from house-hunting, I think the person in my car got a text message from someone that was like, "Britt on the Super Bowl, woo!" 
A lot of publications are pegging you as a breakout star for 2015, someone who's on the verge of a new level of fame. Is that something that's on your mind at all? 
Fame?
Yeah, or the loss of your relative anonymity. 
I think it'll be fine. I don't know, I haven't really thought about it because I guess I've been working for so long—not that I've ever had anything like this happen to me, but I feel like I've done things and it's never really been that big of a deal. I just work, I come home, it's fine. So I'm hoping that it all stays the same. I'm sure it will.
I'm thinking of someone like Jennifer Lawrence, who a few years ago was starring in a tiny film like Winter's Bone and now has to hide from paparazzi constantly, all because of the size of movies she started to do. 
Which is a nightmare. Poor girl. She didn't sign up for anything like this, just working as an actor and now she's hiding from the world. It's really unfortunate—super sad. I don't think there's anything you can do to avoid that. 
As Tomorrowland gets closer to the release date, how do you feel about it? Is it nerve-wracking? Is it exciting? Are you worried that people are not going to like it? 
Yeah, I mean that's the scariest thing, just not having seen it and having worked on it so long. I just loved it so much and I hope that it's good and people like it, and I hope that they go see it. But if they don't, that's okay too. Ideally, I like it. As long as I like it,  then I can sleep at night.