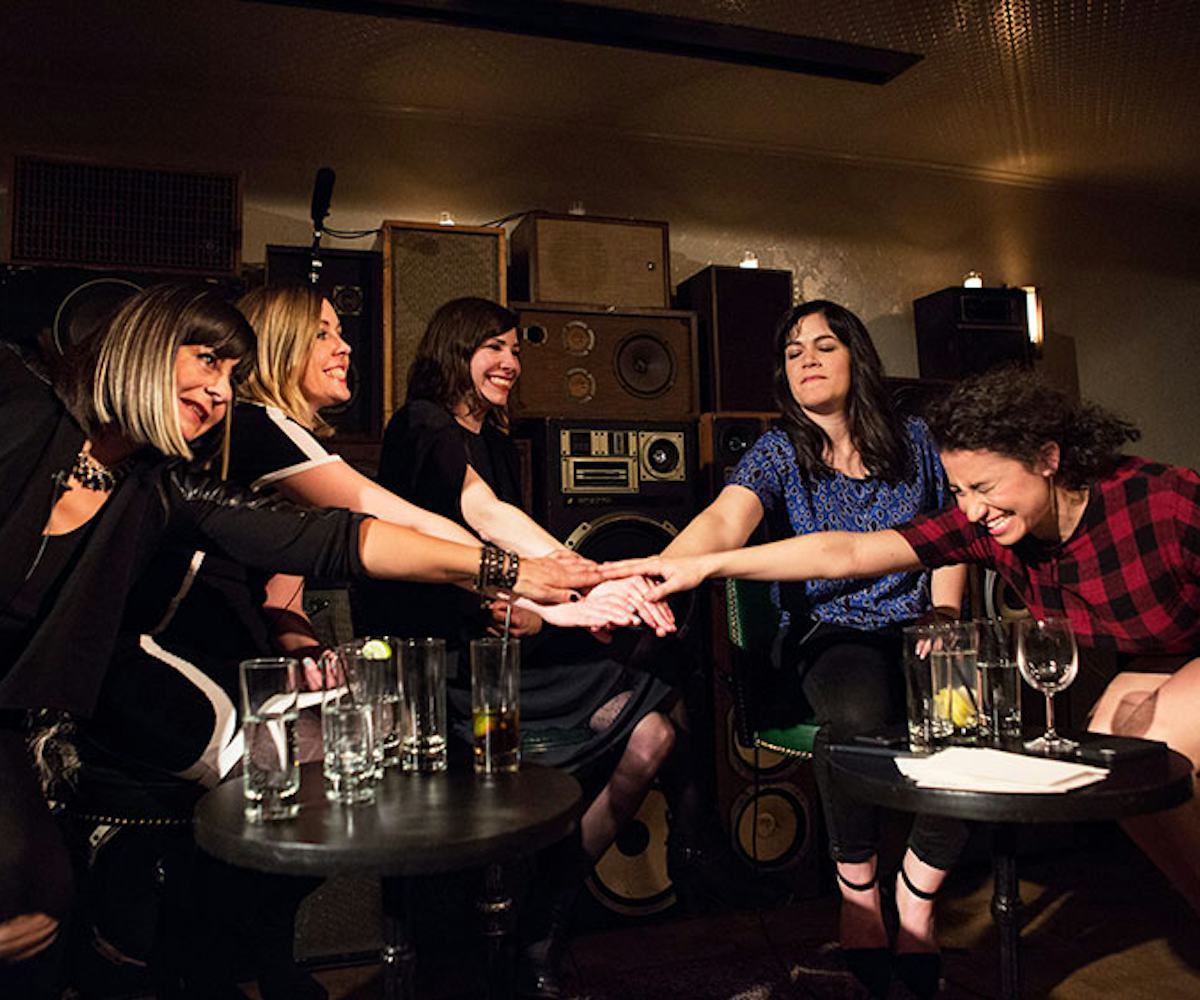 photo by ebru yildiz for NPR
watch the broad city girls interview sleater-kinney
Last Friday night, in the Liberty Hall basement lounge of New York's Ace Hotel, NPR held a secret meeting-of-the-minds with the members of newly reunited Sleater-Kinney (Corin Tucker, Carrie Brownstein and Janet Weiss) and Broad City$1's Ilana Glazer and Abbi Jacobson. In a room with 150 of the hippest New Yorkers imaginable (yes, Sleater-Kinney's biggest fan and potential roadie Fred Armisen was there, snapping photos like a true fangirl), the five women—all feminist role models in their own rights—touched on the riot grrrl movement, Portlandia, female empowerment, and, of course, the band's new album No Cities To Love.
"There is kind of an inevitability to this band," Brownstein said. "It does feel like something that exists partially outside of us." Part of that inevitability, which the band touched on multiple times throughout the 80-minute interview, is the "constant sense of agitation at the world" the Sleater-Kinney members feel (they spoke about worldy events, like the recent attacks in Paris). "I think there's an unapologetic obliteration of the sacred," added Brownstein.
No Cities To Love, which was released earlier this week, displays a similar mindset to their previous albums. "I think there's a certain amount of caring and compassion that this band has always had, that I think is really important in terms of a bigger dialogue with culture." Still, there are some notable differences, which is to be expected after an eight-year hiatus. "Phase one was a lot more confrontational," said Tucker. "And I needed to be, because it was a very different time then and to have the chutzpah to get on stage and own it… that was just what I needed at that moment and that's totally fine." Added Weiss, "I feel like this record sounds desperate. We're just exploding. I felt that writing it was not comfortable."
Watch the interview below (and prepare yourself for an unexpected Amy Poehler cameo).