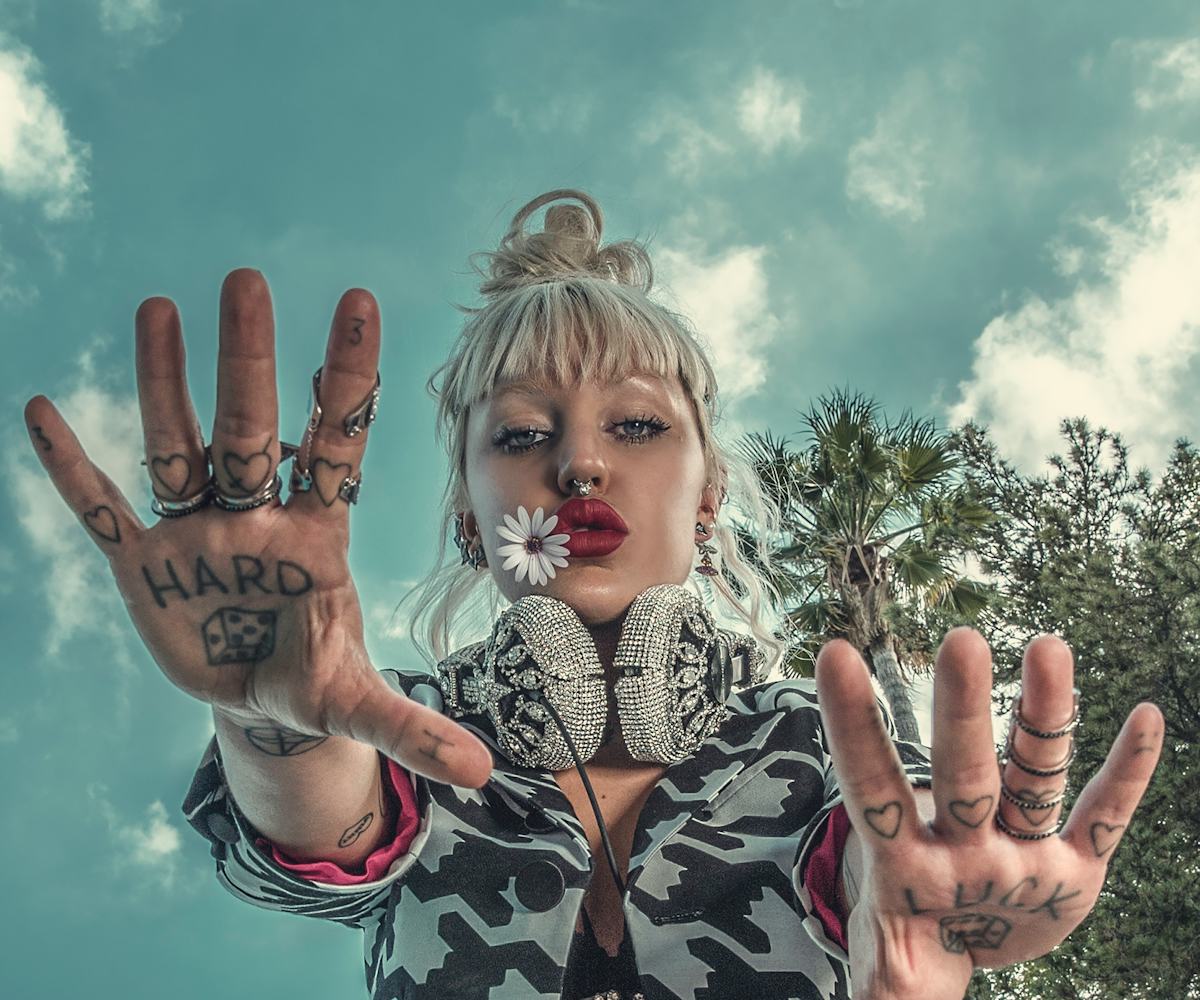 Photographed by Janell Shirtcliff. Styled by Karen Levitt.
Brooke Candy Makes A Splash In This Season's Most Luxe Looks
…and discusses her upcoming album in our annual Music Issue
The following feature appears in the June/July 2016 issue of NYLON. Buy it now (and receive a 15 percent discount off your next order!). Or, subscribe.
"I'm obsessed with death," says rapper-singer Brooke Candy before taking a big bite of an egg-white scramble. We're eating at Los Angeles' famed Chateau Marmont, but as someone who doesn't buy into the hype of who's who in Hollywood, she's not a regular here. "But the label is paying for it, so fuck it," she whispers, and then laughs. 
She turns to show me the patch reading death that is hand-sewn to the back of her black denim jacket, a gift from a designer friend. "Death is honest. I'm not scared of it. Bring it on," says the 26-year-old. She puckers her lips, which are coated in cherry red lipstick from a line she created for M.A.C last year. The color is called Mind Control.
Click through the gallery to read the rest of the feature.
Candy's top goals as of right now are to keep on a positive path and to perfect her music. "My sobriety is really important. It's allowed me to clear my mind and feel like I'm not alone," she says. Still, even today, Candy finds it difficult to feel comfortable in her skin—especially on the set of fashion shoots, where she's been scolded for eating food or having bad skin. "It's damaged my psyche a little bit," she says. "I think the most powerful thing is for women to love ourselves and project that," she says. Though it's not always easy in an industry that's infamous for its mistreatment of women.
"I support Kesha 100 percent," she says in regard to the artist's recent contract dispute involving an alleged sexual assault. "This industry is dominated by men, but women have the ability to take control of it. The truth will set you free. Kesha is so punk rock."
No matter how difficult things get, Candy enjoys spreading positivity. "It's taken me a minute to feel like me again," she admits. "But I'm finally there." We exit the Chateau and start walking toward her apartment. When asked to reflect on her newfound fame, she responds, "Listen, I'm not saving the world. I make songs and dance around. But it's my art, and I think it's important for young girls to hear a message of transformation and overcoming struggle. That's what this new album is all about: being a good person, and self-love. We all need it." With that, she bids me adieu and enters the crosswalk, the word goodbye tattooed on her shaved scalp.