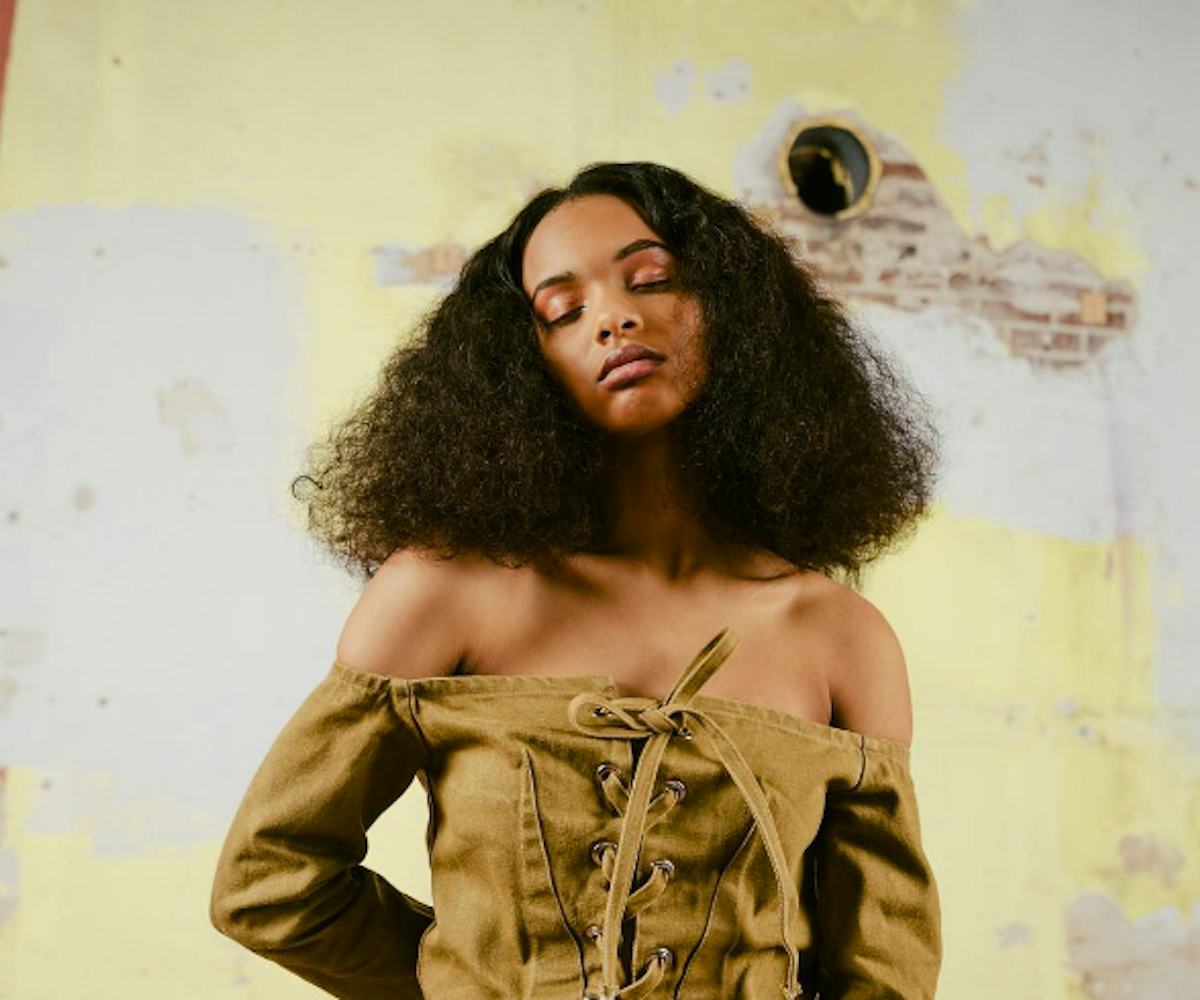 Photo courtesy of Saint Heron
Introducing Brooke Hahli, The Face Of The Saint Heron Store
The NOLA native tells all
If you have been frequently perusing the Saint Heron store like we have since it reopened four months ago, then you've grown accustomed to seeing Brooke Hahli. Even though the company was founded by Solange Knowles, this 19-year-old model is the star of the e-shop and the only person you'll see when scrolling through the carefully curated Instagram page. 
From C/MEO Collective to PHLEMUNS, Hahli debuts all of the brand's exclusive collaborations, making us wish that we could incorporate every piece into our wardrobe. We recently interviewed Hahli to learn more about her roots in New Orleans, and how her modeling career led her to work with one of the coolest brands on the planet. (Turns out that despite what you see her decked out in online, you can probably spot her sporting jeans and an overwashed tee IRL.)
Click through to get the 411 on Hahli. If you're still hungry for more Saint Heron related content, revisit our interview with Folie founder Nikisha Brunson, the only apothecary brand currently carried by the store.
What has your experience been like living in New Orleans?
Living in New Orleans is amazing for me. I grew up about 20 minutes outside of the city in a town called Saint Rose. When I was 14, I started frequenting the city more often and soon, I made it my home. When I made the move to New Orleans, I was able to fully pursue modeling as well as reach a broader audience. New Orleans is such a beautiful city and it's so full of culture and art; I'm very grateful to have such diversity surrounding me at all times.
What are some of your places to go out in NOLA?
I love going to Jet Lounge every Wednesday at the House of Blues. It's a great place to listen to music and relax. I can also be found at Kowboii Records with friends of mine whenever they're recording. Attending concerts, parties, and, of course, the French Quarter, are among the many things I love to do in NOLA.
How did your career in modeling start?
My career in modeling started with a local fashion show that happened one weekend in New Orleans. I don't know if you would call this the beginning of my career, but it was my first gig, and also the start of being labeled as a model. Then, I was approached by a photographer to shoot with him, and the online response supported my work. With that sign, I continued working with local brands and pursuing everything a model should do. With the right mindset and goals, I've climbed the totem pole. Working with Saint Heron has added value and more meaning to this passion of mine.
You're essentially the face of the Saint Heron e-shop. How did you wind up landing that gig?
My Instagram feed and popularity is just a part of what helped land me this gig. I previously worked with a photographer in New Orleans and Solange's partner reached out to him after seeing our work and got my contact info. Next thing you know, Saint Heron's Instagram popped up in my direct messages, and they asked if I could fly out to Houston the next day to model with them. To my surprise, upon arrival, I was the only model being photographed, so the pressure was on!
Is there anything significant about the locations that you shot the looks at?
Houston seemed like a very important location for this project. This is where Solange is from. Also, we captured photos in New Orleans, and they'll forever be important because it's our home now. It's where my passion for stories within a picture began. It's a part of where my story began so to continue there was just lovely.
How has Saint Heron been different from other brands that you have worked with in the past?
This shop is uniquely stocked with products that will essentially shine a little light on your life. You travel throughout the website and notice features of brands, just like the one you are probably starting on, and can grab a hint of inspiration for your next project. Solange mentored and creative-directed the shoot with us for three days and each day was so very unique. This helped build my skill as a model and also, my vision as an artist.
What are some highlights from this whole experience?
Highlights from this experience included being able to travel outside my comfort zone to the city of Houston. It inspired me to travel to places like California and New York to extend these great experiences. Working with Solange on Saint Heron's e-shop was such a blessing. Her colorful, positive energy and spirit definitely transpires through her work, and it's something special to be a part of.
What are some of your favorite pieces from the Saint Heron shop?
One of my favorite pieces from the shop is the
PHLEMUNS Lace Front Split Dress
in khaki because of its denim material which created a tough yet breathable fit. Tactile Matter created ceramic bangles in assorted colors as well which caught by attention and heart. Last but not least, the recently released Saint Heron logo sweatshirts with zippable sleeves are very fun outerwear that you'll enjoy.