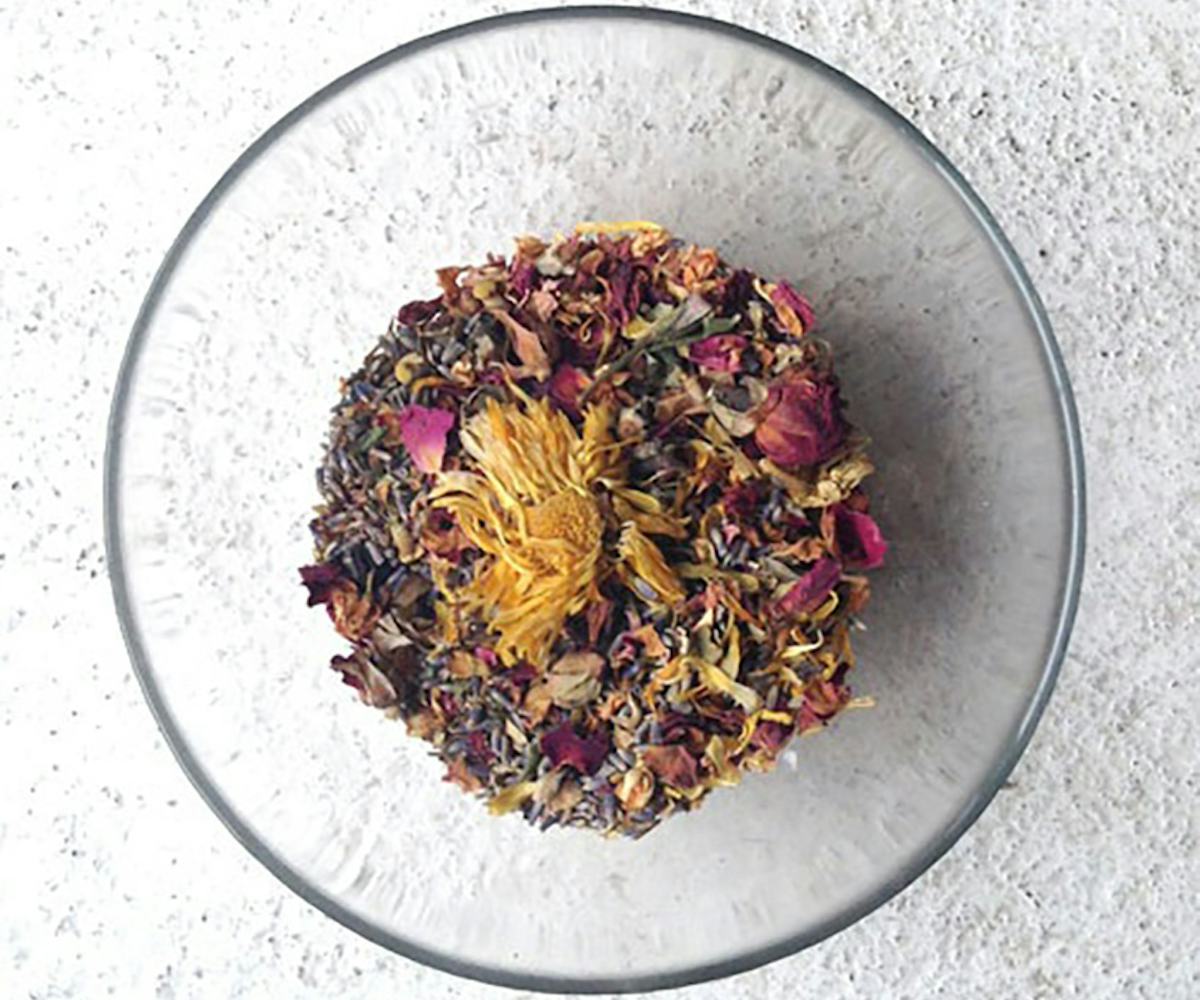 Photo via The Brooklyn Herborium
I Quit My Job For A Day To Play With Herbs
And it was the most magical, calming afternoon I've ever had
We all have busy lives. Our jobs, our classes, or whatever else it is that we do, can add on a ton of overwhelming stress to our everyday lives. Thus, every once in a while, it's necessary to take a step back and do something that relaxes and calms us down. With that being said, when I had the opportunity to take an afternoon off of work to apprentice at The Brooklyn Herborium, a New York-based storefront and workshop that carries a line of natural and handmade skin-care and home products, I jumped at the opportunity. 
The Brooklyn Herborium first opened back in 2013, when Molly Watman and Emma Graves, two Brooklyn moms with a passion for skin care and herbs, first met. They both had their concerns about harmful ingredients that lurk in many beauty and home cleaning products, and thus The Brooklyn Herborium, along with a line of products called Between You & The Moon, was born.
All of the products are "made with love" at the Brooklyn studio by Watman and Graves, and an army of apprentices that volunteer to work at least two days a week and get extensive lessons on herbal crafting while handmaking and packaging the products.
Located in the charming Carroll Gardens neighborhood, me and my colleague Lori walked into the workshop to be greeted with a cup of freshly brewed tea and an apron. I noticed two things right away: One, everyone except us wasn't wearing any makeup at all and two, everyone except us (sorry Lori!) had the most gloriously glowing, beautiful skin I've ever seen. Their secret? Using the whole product line, of course. I was ready to begin.
We started the day learning about digestive bitters, the next project the shop is planning to sell. While Watman and Graves put together the first batch (which wouldn't be ready for testing for six more weeks), we all got a super informative lesson on the benefits of each of the herbs used (and there were a lot) while we passed them around.
Next, a few of us worked on helping to measure out and bag up their luxurious facial steams. I counted out all the ingredients, which include tons of incredible smelling herbs such as lemon balm leaf and holy basil and gorgeous dried flowers like rosebuds and calendula, and weighed out the bags that would eventually be labeled and put out to be sold in the shop and online. The rest of the day was spent assisting the other apprentices in measuring out and labeling various other products.
Overall, working with my hands was a truly calming and serene experience, and I will definitely be back. I left the studio feeling refreshed and relaxed—not how I typically feel on a Tuesday afternoon. While we may not all have the time to apprentice somewhere like Brooklyn Herborium (or have an interest in something like this), it's important we take a moment to step back and do something to soothe and ease the mind. Go for a walk, take an hour to draw, paint, or play music—whatever works for your mindfulness.
I left with a sample package of some of their best-selling products, and over the course of the past week and a half of using them, the texture and overall appearance of my skin have improved drastically—proving just how powerful natural skin care and beauty can really be. 
Click through the gallery below to take a closer look at some of the products made at Brooklyn Herborium (that may have even been bagged or jarred by yours truly).
Between You & The Moon, Sow Your Wild Oats, $32, available at Brooklyn Herborium.
Between You & The Moon, Perfection: Clear Complexion Clay, $34, available at Brooklyn Herborium.
Between You & The Moon, Facial Steamer, $7, available at Brooklyn Herborium.
Between You & The Moon, Newfangled Ideas Coffee Body Scrub, $46, available at Brooklyn Herborium.
Between You & The Moon, Cow Fart Juice, $33, available at Brooklyn Herborium.
Between You & The Moon, 100 Percent Pure Organic Rosehip (Seed) Oil, $46, available at Brooklyn Herborium.
Between You & The Moon, Holy Cow Mineral Mist, $34, available at Brooklyn Herborium.