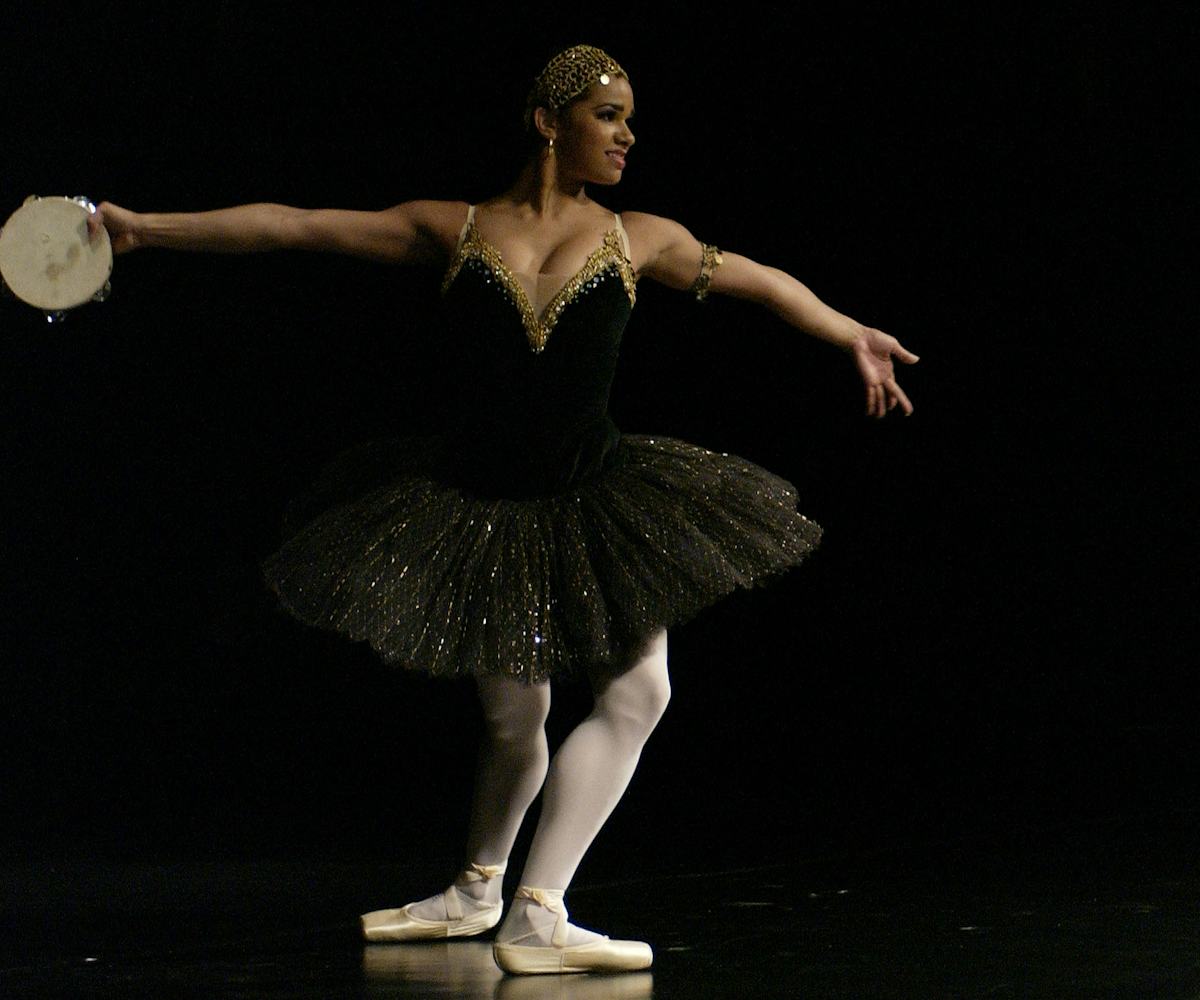 Photo by Amanda Edwards/Getty Images
How Did It Take Centuries For These Shoes To Be Available?
Approximately 200 years after the creation of pointe shoes—originally made only in white, until pale pink pointe shoes become dominant—brown and bronze shades are finally available to match darker skin tones. The New York Times reported a thorough history of the dance shoes, detailing the expense and tedious dyeing processes that women of color previously went through in order to make their shoes suitable for them. 
In the profile, the Times report zooms in on the Dance Theater of Harlem, a company which boasts unmatched diversity, in order to understand the deeper impact of the change. Virginia Johnson, artistic director of the Dance Theater of Harlem, said, "This isn't about shoes, this is about who belongs in ballet and who doesn't." She continued, "It's a signal that the world is open to you." 
The color of pointe shoes brings to the surface the conflict of uniformity and diversity that exists in ballet—other than soloists, most dancers try to blend in with the rest of the company, which is the oft-cited reason many WOC in ballet have been required to wear pink tights and shoes, so they could better match the majority white dancers in the company, all wearing pink shoes and tights. 
Of course, this created a new problem. By wearing tights and shoes that are a stark contrast from the dancer's skin tone, it makes the body appear less fluid while dancing, making dancers of color stand out from the rest of the company. (The obvious answer to this would be to not have mostly white dance companies and seek diversity within the industry, but few companies do this, unfortunately.)
This is why, in order to achieve an aesthetic style most suitable to their talents, ballerinas of color would opt to buy expensive dyes, or even press drugstore foundation into the satin shoes, in order to customize them to their skin tone. According to NYT, it not only was time-consuming but would often become financially burdensome and make the shoes crunchy and uncomfortable. These methods developed out of necessity after literal centuries passed with no options for women of color. As of last month, Freed of London finally began to offer two darker options, bronze and brown. Dancer Ingrid Silva told NYT that these shoes are only the beginning, though. "There's so much more the dance world has to learn," she said, "starting from companies hiring more dancers of color."