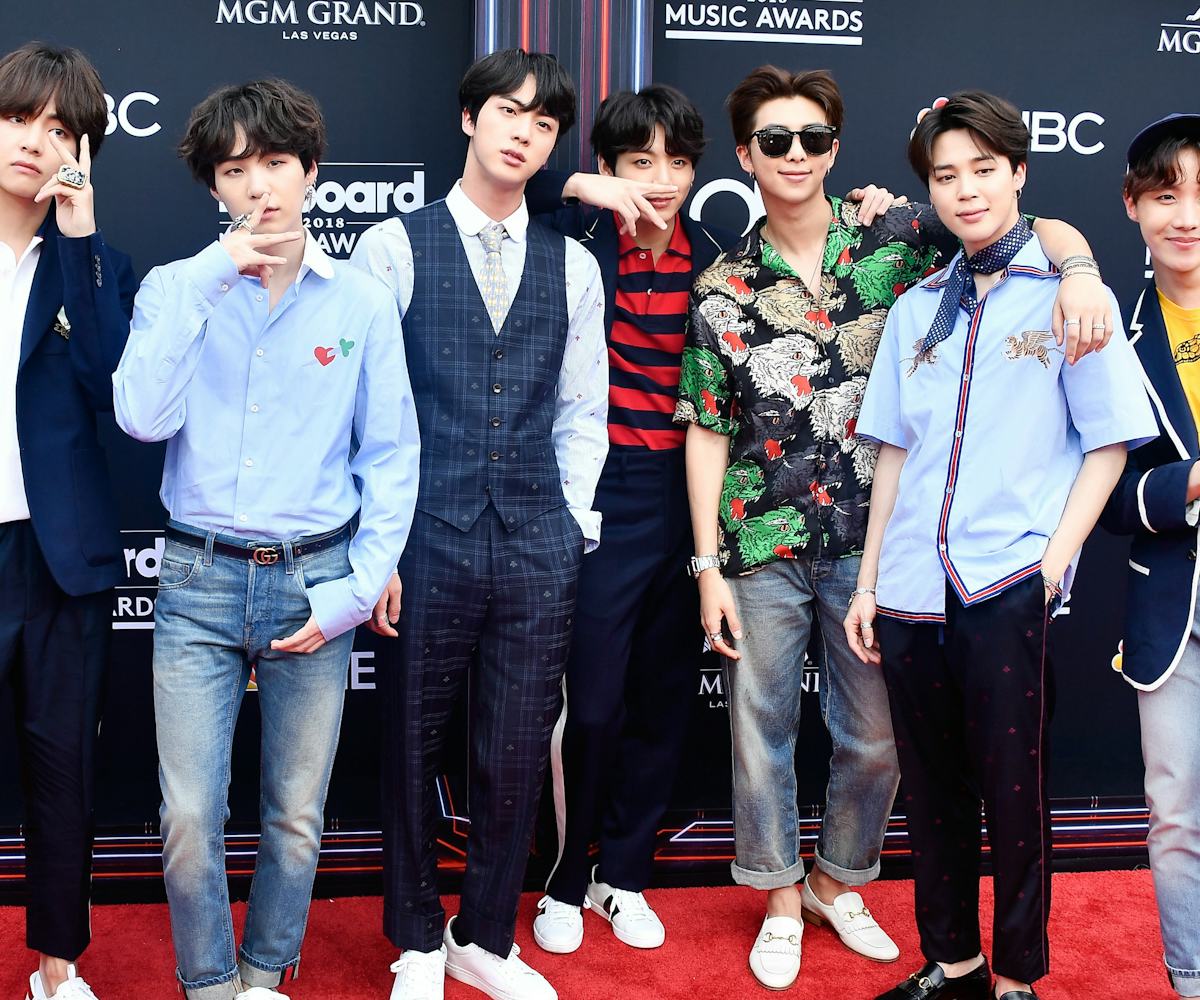 Photo by Frazer Harrison/Getty Images
BTS Fans Are Not Happy About This "Condescending" Interview
The interviewer criticized RM's English and constantly brought up the band's lack of stereotypical masculinity
K-pop stars BTS were recently interviewed for The Times, but their fans (known as Army) aren't happy about the feature. Why? Well, to them, it didn't really seem like the writer knew too much about the band, to begin with, and had some (pretty racist) pre-conceived notions about K-pop.
As many fans pointed out, the biggest issue was that the writer dedicated a lot of space to proliferating the "sexless Asian man" trope by constantly commenting on the band's lack of stereotypical masculinity. As journalist Jae-Ha Kim noted on Twitter, the writer kept referring to them as single and "lonely" and mentioning that they don't consider themselves attractive. Not only that, but he points out that their dance moves don't consist of "crotch-grabbing or pelvis-grinding." 
Unfortunately, it didn't end there. Other fans pointed out that the way the writer talked about member RM's handle of English, his third language, also seemed off. Noting that RM "dominated" the interviews last year as he's the only member who's fully fluent in English, the writer went on to critique his "baffling syntax." 
Fans also took offense to the interviewer's insistence on focusing on Suga's mental health and the way he openly discusses it—rather than praising the artist for speaking freely on something that is still considered taboo, he takes the role of armchair psychologist, suggesting that, "On the face of it, K-pop idoldom is a poor career choice for one struggling for mental equilibrium," as well as always tagging along a descriptor that defines Suga as mentally ill whenever his name is mentioned.
If you so wish, you can read the interview for yourself, here.