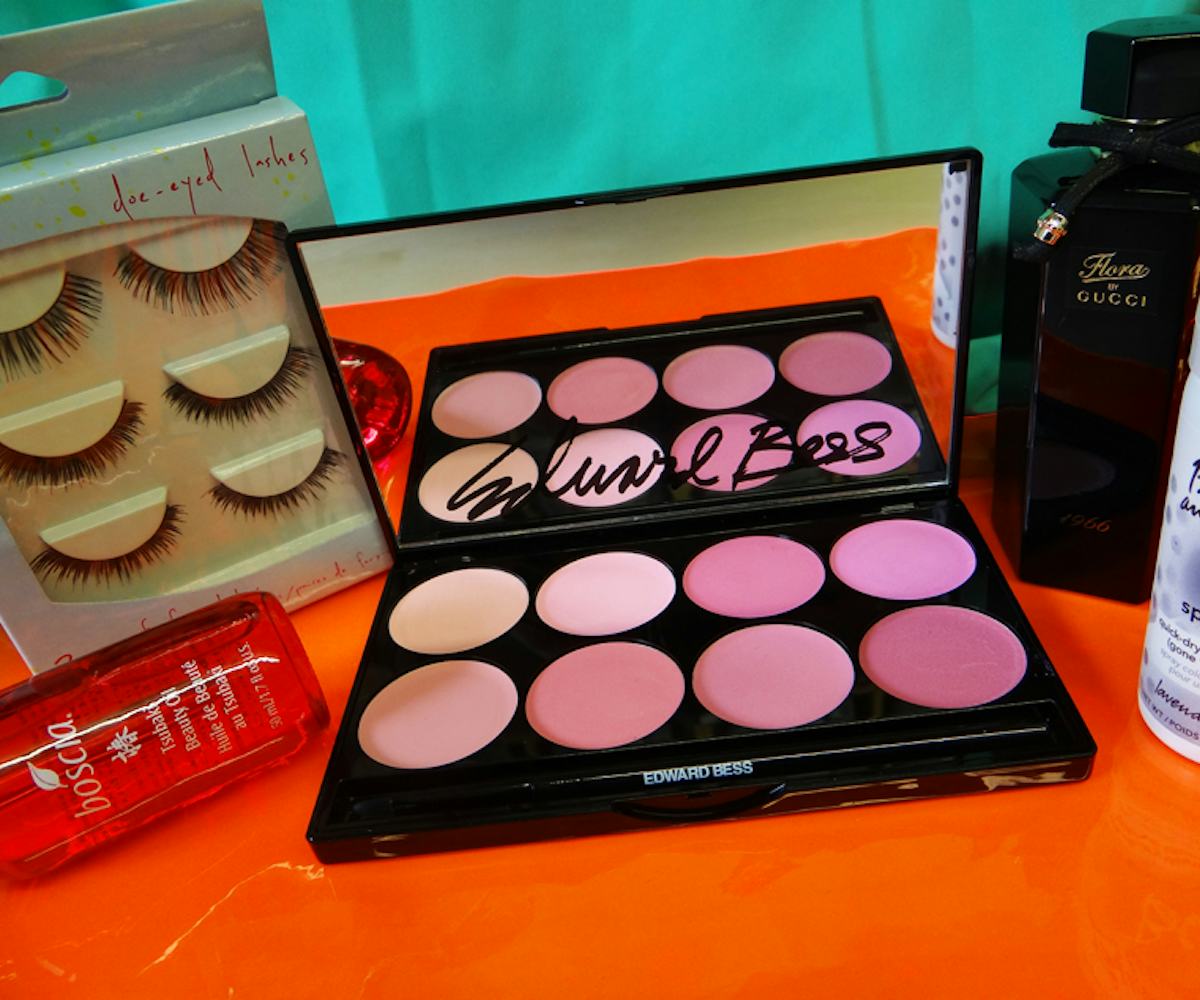 photo by jade taylor
vanity case
lavender locks, doe-eyed lashes and more of our favorite beauty hacks this week.
OLFACTORY GIRL
WHAT IS IT
:
Gucci Flora 1966 Eau de Parfum
WHY I LOVE IT:
The year 1966 may have been one of the greatest to date (The Beatles, color television, and Edie Sedgwick come to mind), but a lesser-known fact is that it was the same year Gucci created a silk scarf for Princess Grace Kelly with a garden "Flora" motif, which would eventually become the powerhouse's iconic print in collections for years to come, and now, inspiration for a fragrance. The scent, possessed in a nostalgic blend of bourbon pepper, opulent peony, rose heart, patchouli, musk, and bergamot, both delicate and spicy--much like Princess Grace herself--comes wrapped in a silk cover printed with, you guessed it, the famous "Flora" design. I may have not been around for the 60's, but this perfume can help me time-travel there--no LCD trippin' required!
FOR THOSE:
I know what you're thinking: "Florals for spring? Groundbreaking."
FLAMING LIPS
WHAT IS IT:
Edward Bess Baby Pink Lip Palette
WHY I LOVE IT
: Let me start by explaining how much I love this palette by first taking the sing-a-long motto from the opening scene of
Grease 2
(which, by the way, is just as great as
Grease
): "The Pink Ladies pledge to act cool, to look cool, and to be cool. Till death do us part, think pink!" It's this anthem that just scrapes the surface of why girls love the color pink--a shade both pretty and girly, edgy and loud. Whether you're a bubblegum pink, magenta pink, or a hot pink type of gal, this Edward Bess has got you covered. Boasting eight different hues of pink in a rather ginormous palette that comes with a lip brush for effortless application, you can mix 'n match to customize your very own pretty-in-pink lip color.
FOR THOSE
: Who want to be a pink lady.
EYES WIDE SHUT
WHAT IS IT:
Urban Outfitters Doe-Eyed Eyelash Set
WHY I LOVE IT:
When I think of doe-eyed vixens, the following come to mind: Audrey Hepburn, Zooey Deschanel, Marianne Faithfull, Twiggy, and Christina Ricci. Obviously, there are a gazillion other starlets with that wide-eyed, innocent gaze that both paralysis you, and makes you wonder, "How do I look like that?" Enter: the appropriately christened Doe-Eyed Eyelash Set by Urban Outfitters, a trio of false brimmed lashes with different levels of volume. I like to put a pair on my bottom lashes then double-up paris on my top lashes--swooning, commence!
FOR THOSE:
Who want the volume on their lashes to go to 11.
FACE TIME
WHAT IS IT:
WHY I LOVE IT:
Face oils may seem like the new miracle product on the market, but really, they've been around for ages--literally--Cleopatra herself used them in her beauty routine to combat the rough terrain her skin was thrown against. But why would anyone nowadays willingly slather oil all over their face, especially when most of us (um, me) use a gazillion other products specially formulated to rid said oil? Because unknown to us is the magic of oils: They absorb quickly into the skin, creating a glow rather than a greasy consistency, and pack a serious hydration punch leaving behind the smoothest skin you've ever touched. With that being said, there's an oil out there for every skin concern, but my favorite to date has been the Boscia Tsubaki Beauty Oil. Formulated with yummy things like Camellia oil, an essential ingredient in Japanese beauty rituals for centuries, as well as fatty and omega 3 acids, rice brain oil, and Wakame (Japanese sea kelp); all compacted together to firm, hydrate, prevent premature signs of aging, and defend the skin against free radical damage.
FOR THOSE:
Who quote Venus Xtravaganza in Paris is Burning when your skin feels amazing: "Touch this skin, darling, touch this skin, honey, touch all of this skin!"
HAIR METAL
WHAT IS IT:
Bumble and Bumble Spraychalk in Lavender
WHY I LOVE IT
: My various hair-dying triumphs have been well documented on this site (lime green, pink, blue, etc.)--but surprise, surprise I have changed it once again to a color I'm dubbing an "icy-lavender". Think: pastel lavender with multi-dimensions of indigo, lilac, grey, and white, all mixed together. I achieved said color by using my beloved Manic Panic (four different colors, to be exact), but for touch-ups I've found my hair savior: Bumble and Bumble's Spraychalk in Lavender. I spritz it liberally on any fading pieces, although the spray is a one-time-use tint that washes out in one shampoo for those with hair color commitment issues, and layer-up depending on the mood I'm in.
FOR THOSE:
Who want to be equal parts ice-queen and mermaid.