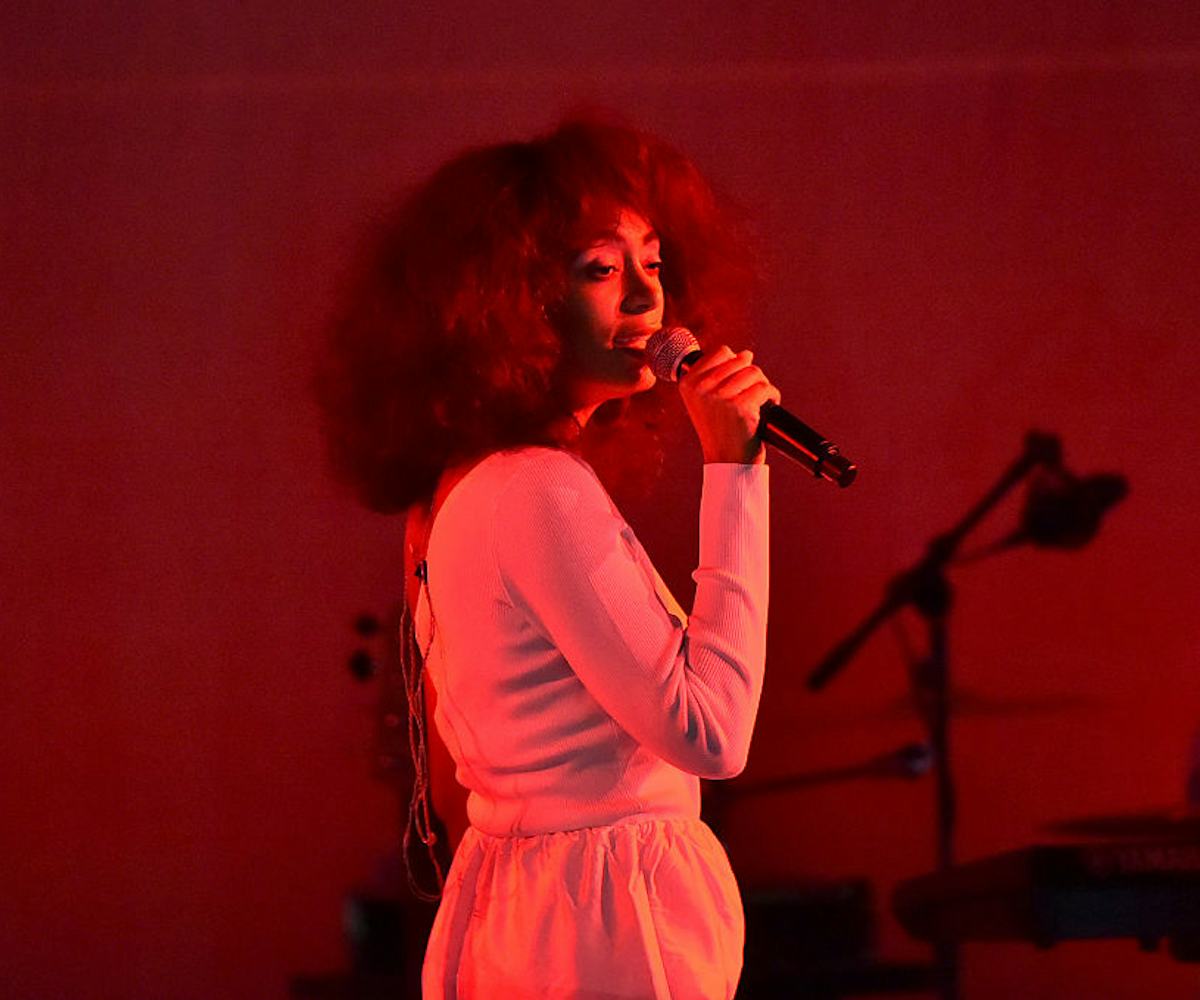 Photo by Mike Coppola/Getty Images for Busboys and Poets
The Peace Ball Showed Just How Great America Can Be
An uplifting push for resistance against Trump's agenda
Driving through Washington on the evening before the induction of the 45th President of the United States is strange. For those in opposition to the electoral outcome, it feels like living in a nightmare, one populated by seas of people wearing a mixture of red caps and black sheriff hats. Everyone on my bus stared in disbelief at the McDonald's on the corner of C Street, which has become something of a de facto headquarter for these supporters as they proudly park their Donald Trump-decorated vehicles on the street for everyone to see. But the empty roads surrounding the National Mall are blocked off with barricades, adding to the dystopian feeling. But when we finally arrived at Busboys & Poets' Peace Ball: Voices of Hope and Resistance, the anxiety started to fade a bit and, for better or worse, it became easy to focus on the event at hand.
If you've never been, the Smithsonian's National Museum of African American History and Culture is a majestic building, complete with a regal purple color scheme. The first floor was reconfigured to fit a large stage which Esperanza Spalding would soon grace alongside Howard University's premier choir, Afro Blue; they'd be followed by a troupe of dancers. All of the exhibits contained within the other three floors of the building were open to explore and filled to the brim with people of color dressed in beautiful garments that adhered to the dress code of "black tie, traditional, cultural, or whatever you feel best in." Every once in a while, some people would make their rounds handing out free pink pussy hats for this Saturday's Women's March On Washington, bringing back into focus that this was an anti-inauguration event.
Walking through the rooms plastered with records of history served as an important reminder that despite all the struggles and trials that black people have endured in America, they've still made unbelievable progress and persevered in the face of enslavement, harassment, brutality, and death. Of course, the Peace Ball was not only meant to celebrate black Americans' empowerment; it was also intended to "celebrate the accomplishments and successes of the past four years" and was a gathering for people of all religions, genders, and sexualities.
Although filled with celebrities—Ellen Paige and Fran Drescher could be seen mingling in the crowds—the gathering was so much bigger than them. Within this space, everyone was safe from the hatred suffocating the people roaming around the nation's capital.
Many of the speakers—activists, politicians, journalists, and entertainers—that took the stage at the Peace Ball made calls for resistance. Senator Cory Booker made a passionate declaration to protest hate with love, while Melissa Harris-Perry urged us to spread our "aspirational stories," while explaining the difference between living in "America and 'Merica." The audience was receptive to all of the speeches and even chanted when beckoned. Angela Davis was summoned to introduce Solange, who she described as an artist making "the anthems of our resistance."
"I want to thank Busboys & Poets for allowing us to produce this moment of resistance, this space for bold creativity. You know, an inauguration is happening tomorrow, so they say, but this is a people's inauguration. This is an inauguration of the resistance to come," Davis concluded. "And let us say that the next 1,460 days—and [Trump] will not be in office any longer and hopefully not that long—will constitute a rising high of resistance to this last gasp of a dying white male supremacy."
Solange's setup was similar to what viewers have seen on Saturday Night Live and The Tonight Show with a full band, backup vocalists, and a screen that projected the image of the rising sun, but being in her presence at this particular moment was so much more powerful than anyone could have imagined. We knew that all of this was for us. Solange mostly performed material from A Seat at the Table including "Rise," "Weary," "Mad," "Cranes in the Sky," and "Don't Touch My Hair," as well as tracks off of her True EP.
When it all came to an end, around 1am, the reality of what was waiting outside re-entered everyone's minds. Herds of people panicked as they tried to figure out the safest way to leave the building, but even when we made it to the shuttle buses, we still felt trapped in a new reality we didn't want to be true. In a way, it was almost like the universe was telling us not to go back—that we couldn't possibly return to our world as we formerly knew it a few hours.
"Don't forget to set your clock back 300 years," said a woman in the back. We had no choice but to laugh at our cruel fate. When the doors of the bus finally opened to let everyone out, no one was ready to leave and face what waited ahead.