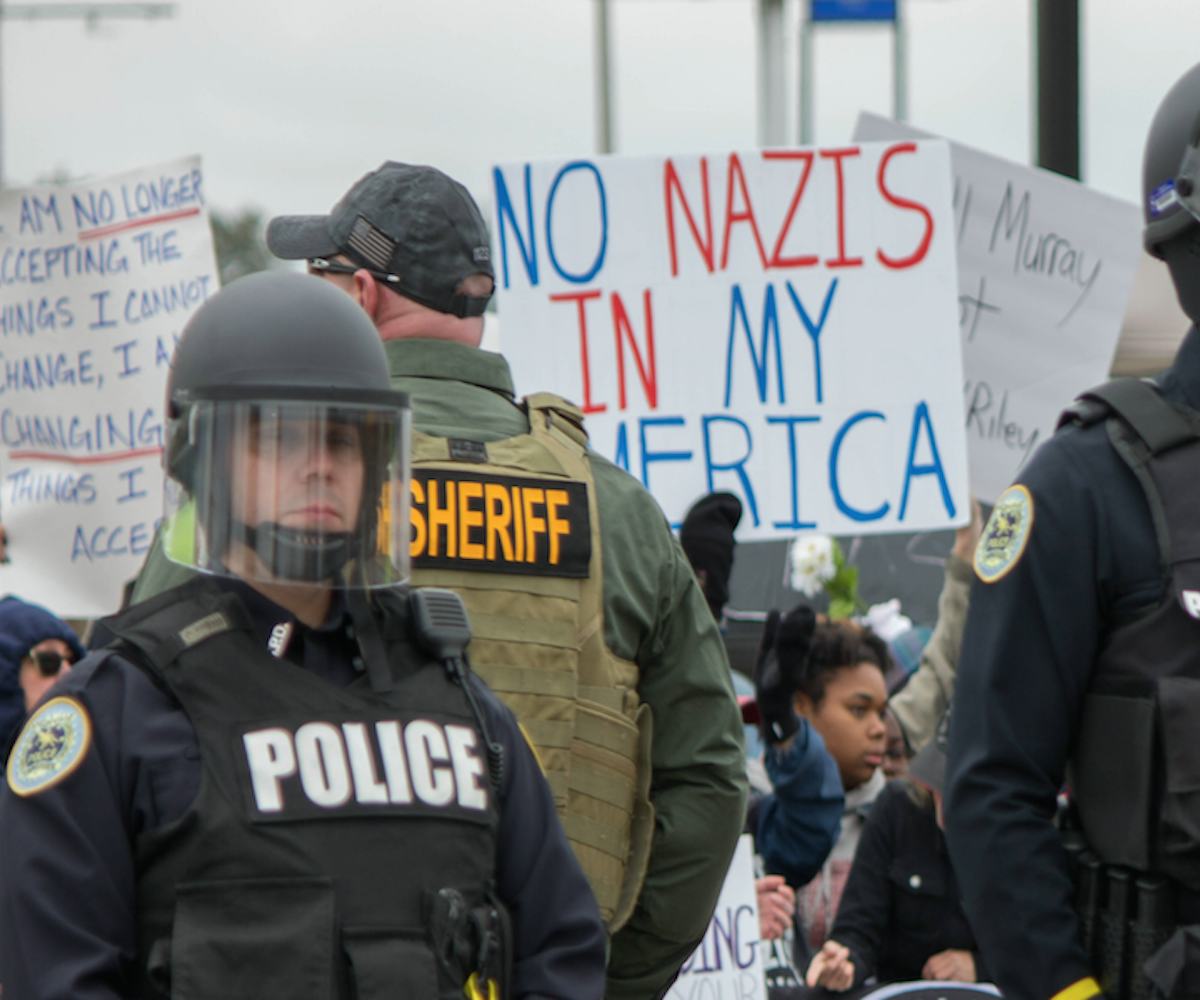 Photo by NurPhoto / Getty Images
California Police Teamed Up With Neo-Nazis To Bust Anti-Racist Activists
"It is shocking and really angering to see the level of collusion and the amount to which the police covered up for the Nazis"
The Guardian has unearthed court records that show California police both sympathizing and collaborating with neo-Nazi organizations in attempts to bust anti-racist activists. Court briefings pertaining to the arrest of three anti-fascist activists at a 2016 Sacramento rally show the collusion between police and far-right white supremacist organizations. The defendants are urging the case against them be dropped in the face of this revelation.
"It is shocking and really angering to see the level of collusion and the amount to which the police covered up for the Nazis," said Yvette Felarca, a Berkeley teacher and anti-fascist organizer. Felarca was charged with assault and rioting during the demonstrations. She says she was stabbed and bludgeoned during the ordeal: "The people who were victimized by the Nazis were then victimized by the police and the district attorneys."
Police, meanwhile, are denying the accusations. Steve Grippi, the chief deputy district attorney prosecuting the case, says that no bias exists in the prosecution of activists, noting that one Nazi demonstrator also had charges filed against him.
In one specific example of collusion, Police appear to have protected the name of a Traditionalist Workers Party (a neo-Nazi group) organizer from requests for information about the demonstrations.
"I'm gonna suggest that we hold that or redact your name or something until this gets resolved," California highway patrol (CHP) investigator Donovan Ayres told TWP affiliate and organizer Doug McCormack. Ayers noted that he did not know of anyone specifically looking into McCormack's permit requests, but said "If I did, I would tell you."
Despite knowing that McCormack would be armed with blades at the rallies, police did not act against him.
Officers also worked with TWP members to identify counter-protestors who opposed the neo-Nazi demonstrations. Ayers went on Facebook to find photos of anti-fascist demonstrators in attempts to gain evidence to use against them in court. 
"We're pretty much going after them ... We're looking at you as a victim." said another officer to TWP member Derik Punneo (who was also armed at the protests), while Punneo was under arrest for an unrelated domestic violence dispute.
Punneo and McCormack are not currently facing any charges related to the demonstrations.
"Despite the fact that we have not gained the cooperation of these victims, the investigation to hold their attackers responsible continues forward," said prosecutors, who claimed that the recent filings to have the case dismissed were "inaccurate or fabricated" in order to "make a political statement."
The CHP has offered no official statement on the matter.
"This is a textbook case of a political witch-hunt and selective prosecution," said Shanta Driver, an attorney for Felarca.