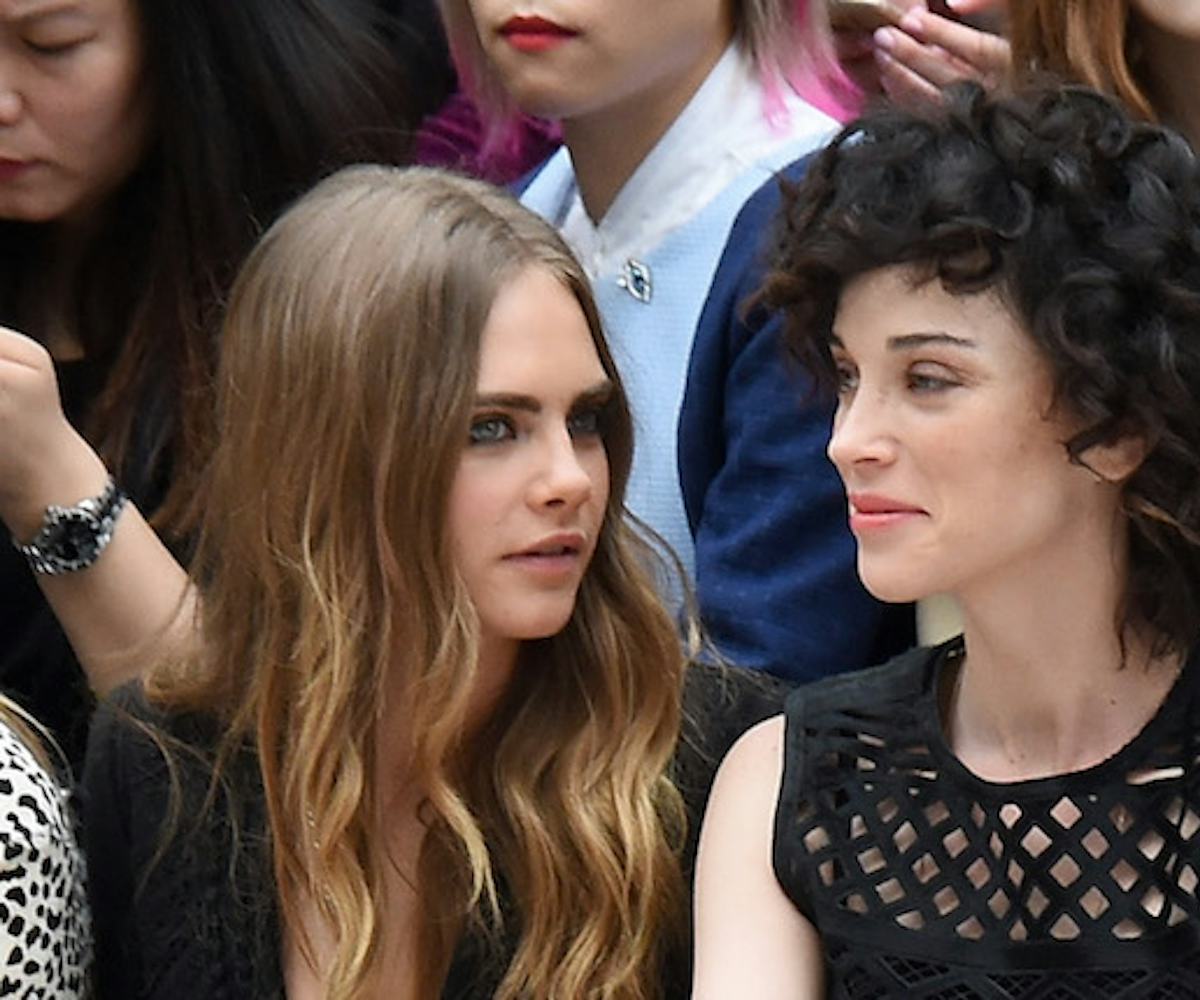 Photo by Stuart C. Wilson/Getty Images.
Are Cara Delevigne And St. Vincent Engaged?
rumors are flying, so let's discuss
Rumors—as they are wont to do—are flying that model/actress/curious wood elf Cara Delevigne and musician/future icon/white-magic priestess St. Vincent are engaged. Are they to believed? Well, hmm, let's get into that, shall we?
So according to a witnesses in Paris who spoke to The Sun, the couple were spotted at none other than Paris' Eiffel Tower in what could be a storybook moment. "There are two lifts going up the tower," The Sun claims a witness told their reporters, "and they were in the one ahead. As my group got out of the lift I could see Cara on bended knee, clearly proposing to her girlfriend." The supposed witness added, "It was really touching. Cara obviously likes to do things traditionally," adding that it wasn't clear if this was a jest or the real thing.
So, before we even get into the specifics of all this, it's probably best to say that the idea of Delevigne, 23, and St. Vincent (real name Anne Erin "Annie" Clark), 32, getting hitched is just impossibly adorable. Really, they're one of our favorite couples. By most reports, they've been an item for almost a year and have been photographed wearing matching rings at multiple public events, so it's not beyond reason that they would indeed take the plunge.
With that said, this is The Sun, folks—the freakin' Sun. In the great tradition of British tabloids, The Sun digs deep to get real, true-fact scoops that no other publication can, yet is fully willing to print rumors and even wholly fabricated stories that their editors know to be spurious or even dead wrong. That's not to say that the editors and the writers of The Sun are liars. Rather, they are aggressive in printing what people want to read. So, even the very quote we're all looking at here is iffy.
Just for an example, another tabloid once reported that Delevingne and then-girlfriend Michelle Rodriguez may have gotten engaged in a helicopter above a waterfall. That, alas, did not happen. Love those tabloids, though
As to the content of the claim itself, let's just suppose it's true. Even the witness claimed that this could all be a joke on Delevigne's part—that's certainly her style. Thing is, we don't even know where on the planet Earth the magical couple is, when this sighting took place, or if there's any other evidence to back any of this up. Delevigne is in France shooting Valérian and the City of a Thousand Planets, so there's that. But the most recent clue to where either of them might be on our planet is this post from Clark two days ago, which would put her in the U.S. (although there's no evidence that she herself took it or when exactly it was taken).
Basically, we're going to have to chalk this whole rumor up to a very confused shrug, which is heartbreaking in a small way. Of course, if there is any factual, well-sourced news about the two ethereal creatures joining in a mystical (and legally binding) union, we'll update you right away.