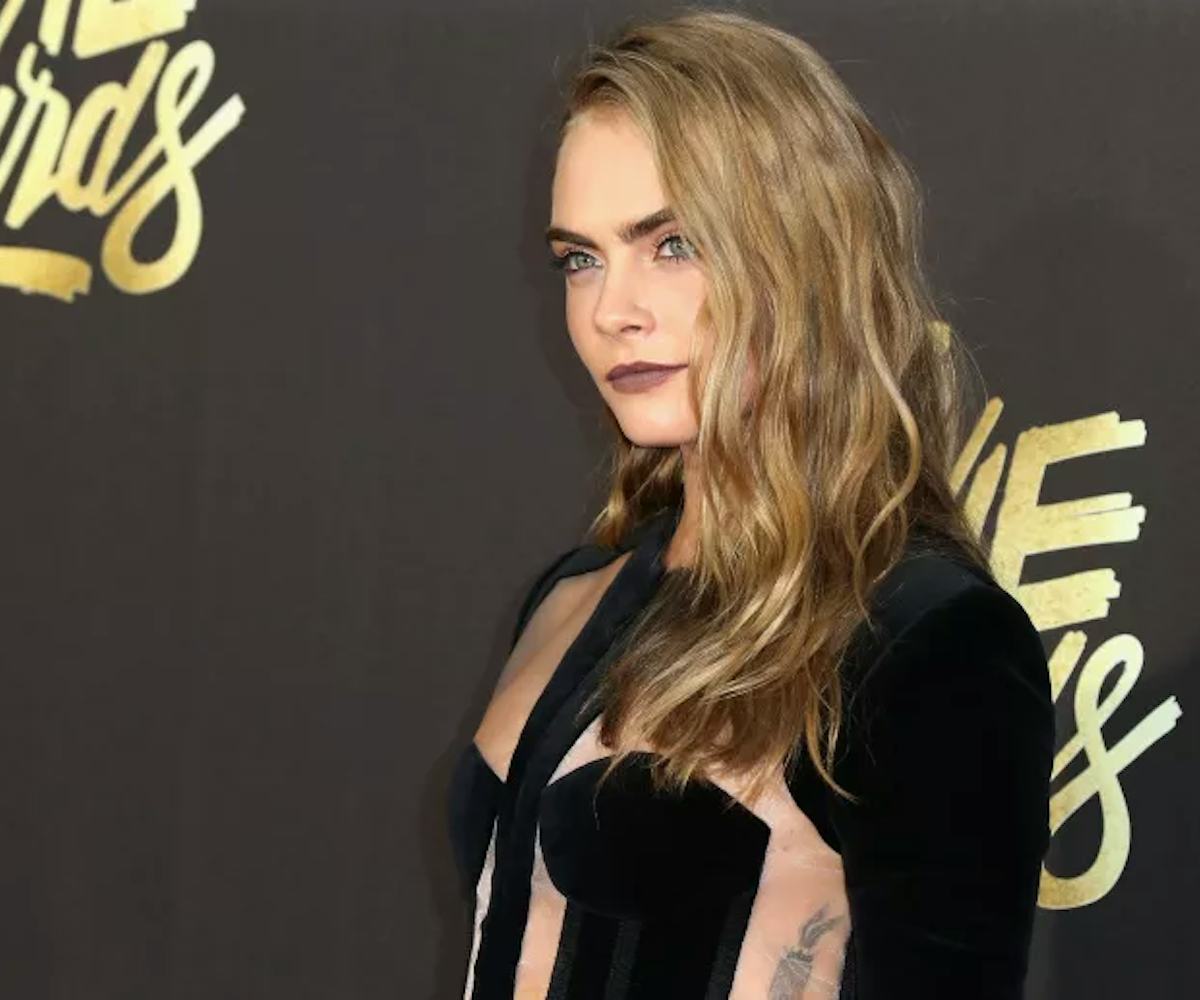 Photo by Frederick M. Brown/Getty Images
Cara Delevingne Says "It's Great" If People Call Her Gay
"We're all liquid—we change, we grow"
In an interview for the September issue of U.K's Vogue, model-actress-perfect-eyebrow-owner Cara Delevingne opens up about her relationship with musician Annie Clark, aka St. Vincent, telling the magazine that before she met Clark, she "didn't know what love was." Delevingne continued: "I didn't understand the depth of it. I always used to think it was you against the world. Now I know the meaning of life is love. Whether that's for yourself or for the world or your partner."
Delvingne and Clark have been spotted together for well over a year now, and, as with many celebrity couples, their relationship has been prime tabloid fodder. Unlike many other celebrities, though, Delevingne and Clark have faced a different kind of scrutiny because they're not the kind of heterosexual couple for whom the media knows how to construct an easy, perfect narrative. In other words, the media—and, by extension, the public at large—have been dying to know how it is, exactly, that Delevingne defines herself so that they too can do the same. Delevingne addresses this phenomenon in the interview, saying, "I'm obviously in love, so if people want to say I'm gay, that's great."
On the one hand, this is a huge step forward for people who have been hoping that celebrities who have been relentlessly photographed with same-sex partners will stop skirting the topic of whether or not they're gay when they're evidently in gay relationships. There's a definite desire and need for all relationships that fall outside of society's long-held norms to be represented so that people who have traditionally felt marginalized can see themselves in the mainstream. That's a big burden to place on celebrities, of course, but it's hard to deny the impact that is felt when Kristen Stewart talks about the love she feels for her girlfriend, Alicia Cargile, or when Delevingne talks about how her life has changed because of Clark.
And yet, Delevingne didn't quite identify herself as gay—she said it was "great" if people said that, but she followed it up by stating, "we're all liquid—we change, we grow." It is, of course, Delevingne's right to not want to define herself on anyone else's terms, and perhaps she doesn't think of herself as being gay. And perhaps she's not! But it's also striking that a woman in such a public gay relationship is still not comfortable saying that she is gay, and will only say it's okay if other people say it about her.
It's understandable that, of all creative professionals, actors might have the hardest time committing to one definition of who they are being presented to the public as. After all, their livelihoods rely on shape-shifting of sorts, a liquidity, and fluid nature. But there's also a sense that it's this particular issue which makes actors fearful of being othered, or seen as only this one aspect of who they are rather than the entirety of their person. The reality is that it has only been a relatively short time since actors have even been comfortable expressing any deviation from prior norms regarding sexuality and gender, so it makes sense that they are trepidatious about using words that might define them in a way they can't control. As Delevingne also tells Vogue: "As a child, I used gay as a bad word, as in, 'that's so gay.' All my friends did." Delevingne is 23, so using "gay" as an insult wasn't that long ago. Or, as Stewart said to NYLON in an interview last year: "If you feel like you really want to define yourself, and you have the ability to articulate those parameters and that in itself defines you, then do it. But I am an actress, man. I live in the fucking ambiguity of this life and I love it... I think in three or four years, there are going to be a whole lot more people who don't think it's necessary to figure out if you're gay or straight. It's like, just do your thing."
No matter how Delvingne does or doesn't define herself to the public, though, it seems pretty clear that she is head-over-heels in love, and that's can only be seen as a good thing. Because, seriously, that is one amazingly talented (and amazing-looking) couple.