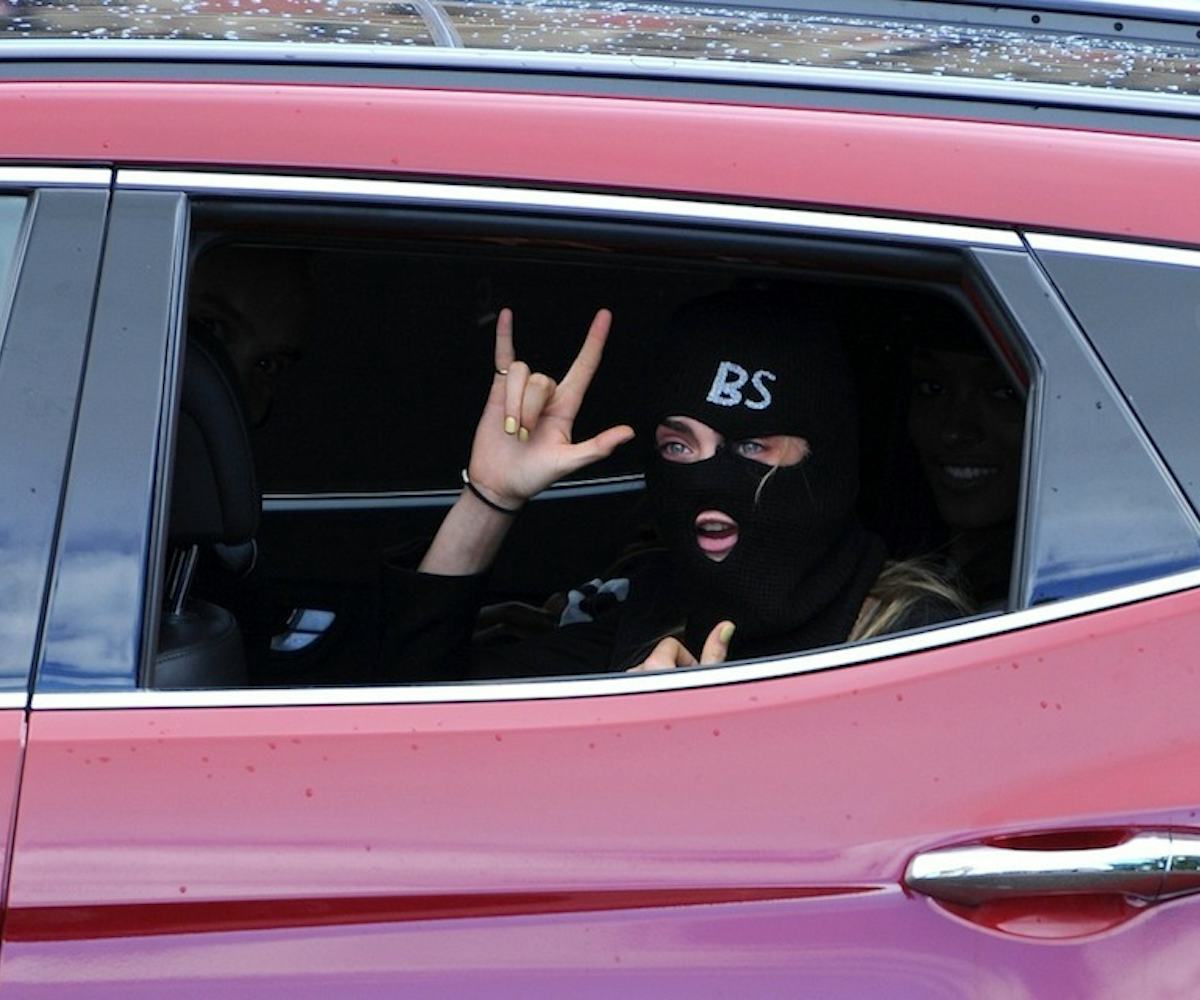 good idea or bad idea: the balaclava
good for skiing, great for days when you're too lazy to put on makeup.
Cara Delevingne might be famous for her face and its signature cross-eyed pose, but she has no qualms hiding her mug behind a balaclava like she did while arriving to Burberry's spring '14 show.
Delevingne rolled up in a red car with her model bestie, Jordan Dunn, wearing a ski mask from UK-based brand Blackscore, that she also had Harry Styles try out backstage at the show. Styles and Delevingne aren't the first celebs to try out the face-blocking style, back in May at the Met Ball, Sky Ferreira and Frank Ocean Instagremmed a pic of them together in balaclavas. Even before that, of course, was Harmony Korine's film Spring Breakers that popularized the unicorn ski mask worn by stars Selena Gomez, Ashley Benson, Vanessa Hudgens, and Rachel Korine and sold at Opening Ceremony, and Kanye West's performance in a rhinestoned Maison Martin Margiela facemask followed by an appearance in a red balaclava at the brand's haute couture fashion show this past January.
We can think of some definite pros for the face-covering headwear, like hiding your visage during a walk of shame or replacing the bug-eyed sunglasses, Venti cappuccino look as the go-to disguise to conceal a morning after hangover. Despite these obvious pluses, wearing one does run the risk of making you look like you're about to hold up a deli. But if anyone asks, just say Selena Gomez made you do it, I guess. 
Tweet us your opinion on the balaclava trend--bonus points if you include a pic of yourself in one!
Sky Ferreira and Frank Ocean at the Met Ball.
Cara Delevingne and Harry Styles backstage at Burberry.
Maison Martin Margiela haute couture fall '13.
Cara Delevingne rolling up to Burberry.