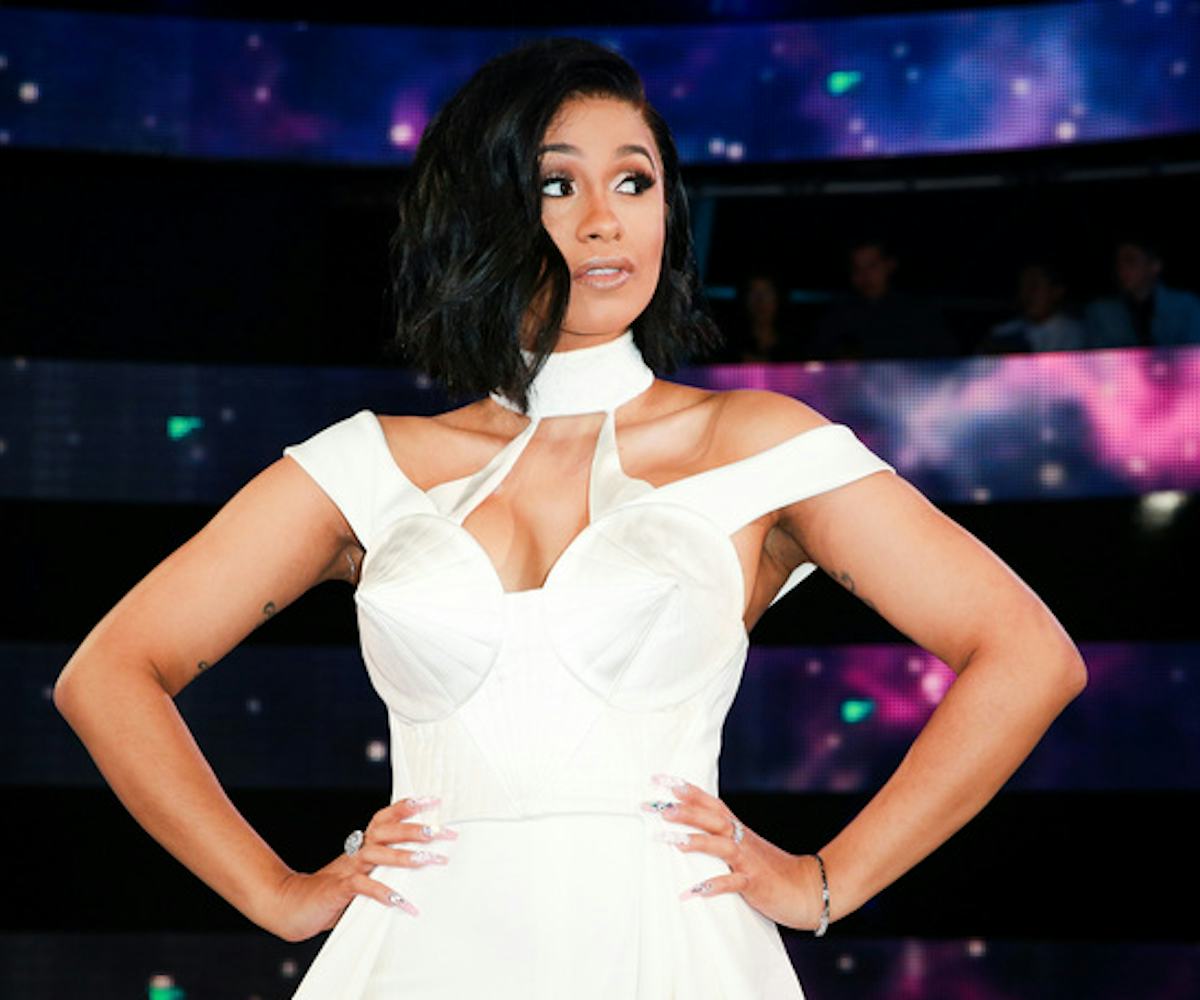 Photo by Rich Fury/Getty Images.
Cardi B Receives Flowers From Taylor Swift, Hate From Azealia Banks
She's still glowing though
Cardi B has been basking in her well-deserved No. 1 high since the announcement on Monday. She's received praise from pretty much everyone in the hip-hop game. She also revealed on Instagram yesterday that, though she dethroned Taylor Swift from the top spot, the singer sent the rapper flowers as congratulations. (Keep your friends close and your enemies closer, we're still onto you Swift). Forget cloud nine, Cardi's on cloud one hunnid, and she's not letting anyone pull her down, though there are some who are definitely trying.
We're talking about Azealia Banks, the rapper who seems to come out of the woodwork whenever it's convenient for her, to hate on whoever's succeeding at the time. From what we can tell, the two never had issues beforehand; Banks is simply in her feelings because she doesn't believe Cardi is up to par with other female rappers out there. She also doesn't think it's right that black men in the industry are stanning for Cardi more than they have for other black women in the past (which may be true, but that isn't on Cardi). "I wanted spicy Latina and she gave me poor mans Nicki," Banks wrote in one of the several since-deleted tweets.
Funny thing is, other actual chart-topping artists, like Nicki Minaj, Missy Elliott, and Rihanna, took the time to show Bardi love. Women should support women, and women of color should especially support other women of color. Cardi B became the first woman since Lauryn Hill in 1998 to have a No. 1 solo rap song. That's a big deal, and it should be treated as such.
What does Cardi think of it all? Well, late last night, the star posted a video on Instagram of Banks singing along to "Bodak Yellow." "One of the reasons Bodak Yellow went #1! Cuz even the HATERS love it!" she wrote. Oh, and look, Banks just announced a new single on her Instagram today. Is she taking lessons from Kris Jenner? Because girl really knows how to divert attention.