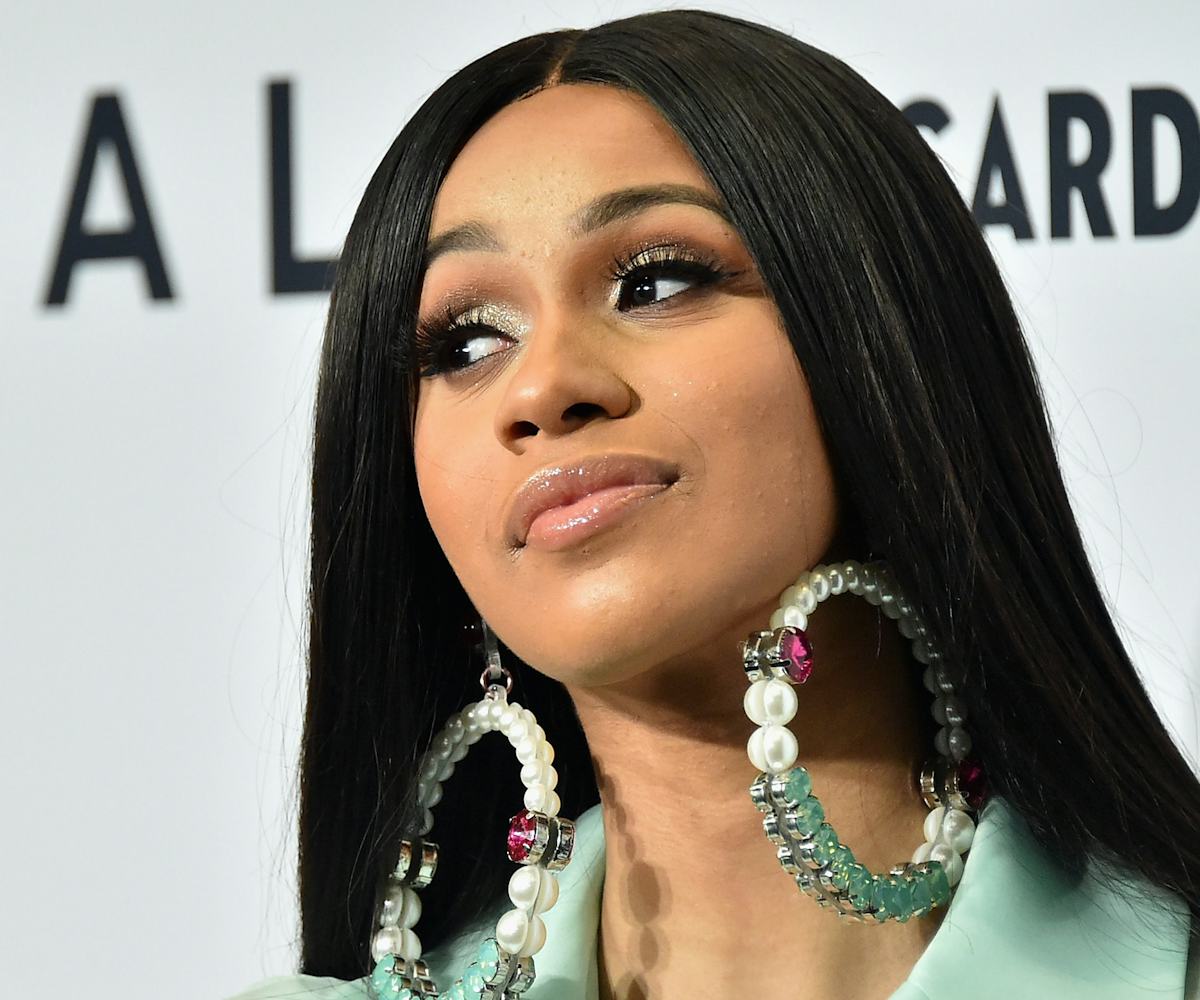 Photo by Mike Coppola/Getty Images
Cardi B Slams The Racist Double Standard Of Trump's "Arm Teachers" Argument
She said the government "only put metal detectors in schools in the HOOD"
Following the tragic Parkland school shooting, Donald Trump endorsed measures he claims would prevent similar incidents—the most controversial of which is to arm "adept teachers with military or special training experience." And while the idea has sparked intense public backlash, with people decrying it for many different reasons, there's one person whose anti-teachers-with-guns rationale is particularly interesting: Cardi B.
On Thursday, February 22, the rapper posted two Instagram images in response to Trump's proposal. The first questioned the feasibility of carrying out this plan while also pointing toward the low wages teachers receive. "Imagine a old ass female teacher bussing a burner...This man really out his mind .America must be entertainment to other countries," she wrote, under a GIF of LeBron James's confused face. The text of the meme read, "y'all want teachers to effectively prepare our youth, carry straps, and bust back at school shooters but at the same time only pay them $40,000 a year." 
Cardi then followed up with another post with a note calling out a double standard, "Ya wanna know what's the problem? That the government only put metal detectors in schools in the HOOD !" She captioned that post with "I remember getting search every morning in high school .Even parents who picked up they kids got searched." Her point about the difference between the security measures placed upon campuses "in the hood" versus those at other schools has struck a chord with many commenters, who have responded wondering why "hood" schools have been the only ones to put strict safety measures in place, with one user writing: "They want to make it seem like they don't have a problem with violence like we do."
This isn't the first time Cardi has spoken about the Marjory Stoneman Douglas High School shooting. Earlier this week, she posted an anti-bullying video on her Instagram, in which she asked her fans to be kinder to others. "I feel like one of the best ways to prevent these type of tragedies is to stop picking on these kids. Stop bullying these kids," she said. "The devil speaks to you the most when you feel helpless. Stop picking on them."