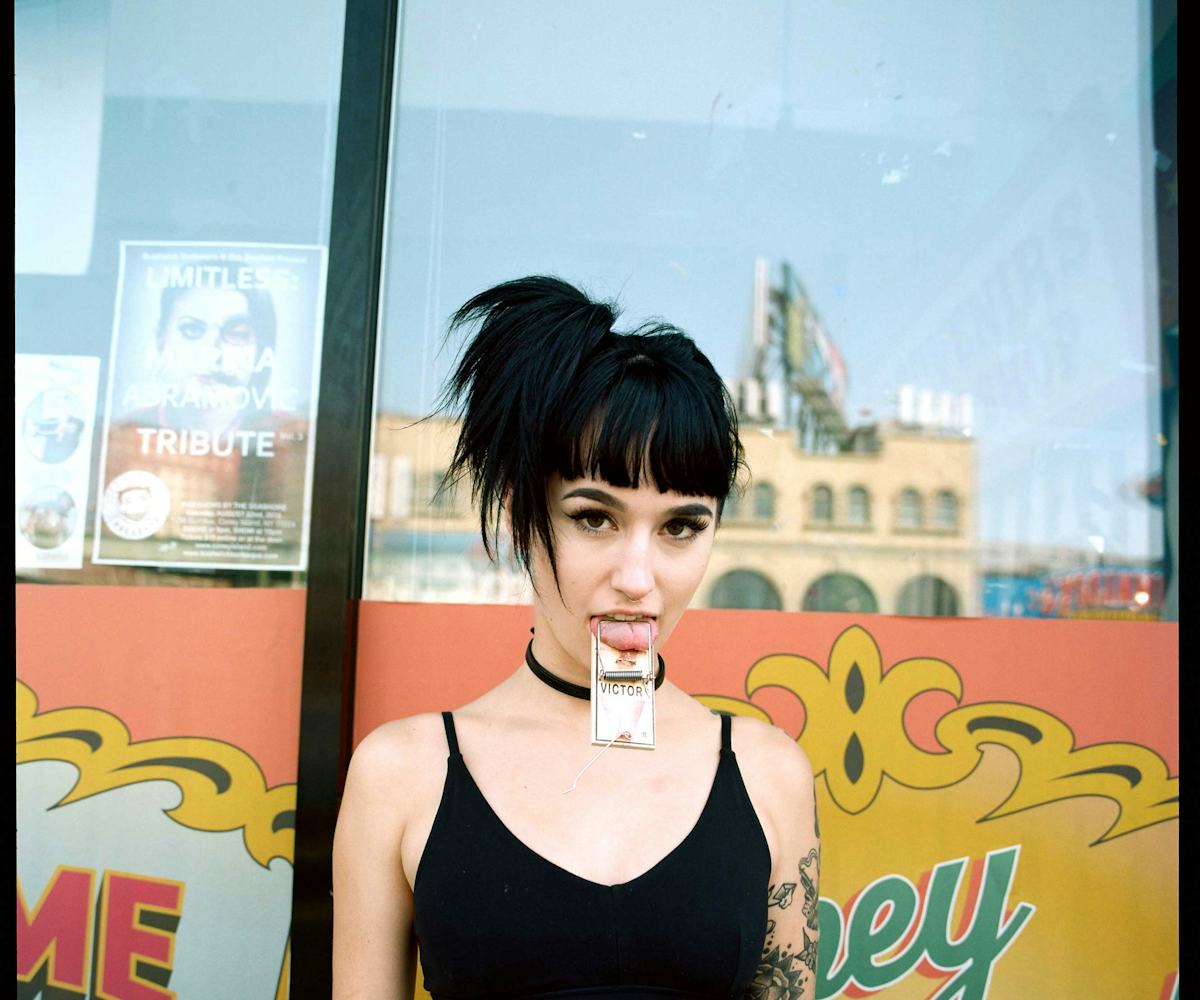 photographed by Beth Garrabrant
Inside A Real-Life X-Rated Freak Show
no throats were burned in the making of this story
It's 8:50 a.m. on a seasonably scorching mid-August morning in what feels like the world's biggest concrete hotbox by the seashore. One by one, students willing to dish out $1,000 to attend Sideshow School filter into Brooklyn's Coney Island USA, including an office manager from D.C., a thirtysomething guy from small-town Maine, and a 21-year-old Houston performer who lost the sword she swallowed the night before. With three of the four students present for the 9 a.m. start time, the class moves into the main theater. As they review what they learned the day before, the straggler of the bunch—a London-by-way-of-Germany burlesque dancer—walks in, takes a seat on the bleachers, and begins snacking on pita bread. In 15 minutes, they'll ease a large metal blade down their throats; in 30, they'll eat fire; and in an hour, they'll blow flames. We'll see how that pita bread stays down.
For the past 13 years, the Coney Island Sideshow School has offered one of the most popular crash courses for seasoned performers and beginners alike (but, presumably, the hefty price tag deters those who aren't serious about honing their craft). Currently headed up by Adam "Real man" Rinn, a self-proclaimed "Coney Island beardo," the three- to four-day curriculum teaches students how to mutilate their tongues with mousetraps, walk on glass, and jam a four-inch nail up their nose. It also focuses on showmanship—because apparently being casually crushed between two beds of nails just isn't enough of a spectacle. "Over the last few years, there's a different type of presentation within sideshows," says Rinn with a sigh. "I call it 'punk rock sideshow,' where it's just sort of raggedy costumes and sloppily done acts. That's not the classical way of telling a story, adding a comedy element, making it appealing to a range of audiences." It's this old-school sensibility that Rinn seeks to keep alive with his courses.
For some, though, this can be tough to teach. "When I first started, it was a very tight-knit circle," says Alejandro DuBois, a permanent performer at the Coney Island Sideshow. He motions for me to come closer and whispers, "They gave you nothing and you learned what you could through observation and you made it your own thing. Now, you can pay to be taught everything that it took me 15 years to learn." Shrugging his shoulders and shifting a wooden show cane in his hand, he adds, "It's flooding the market, but it's also making people step their games up. There's been a huge progression because of sideshow schools."
Traditionally, there have always been three hierarchical tiers of sideshow performers, according to Rinn. At the top were the born-differents, also known as natural-borns. With their various physical deformities—from missing appendages to "werewolf syndrome"—they were considered sideshow royalty, and, contrary to popular belief, were not usually abused or exploited but rather earned the highest salaries. Many even went on to own and operate the sideshows. Beneath them were the self-inflicted, those who gave themselves facial tattoos and piercings. And at the lowest stratum were the working acts: the sword swallowers, magicians, and glass walkers. "Back then, performers were thinking about making money," explains the Coney Island Sideshow's artist-in-residence, Marie Roberts, whose family history in the business traces back to when her uncle worked the Dreamland Circus Sideshow in the '20s. "In a time when there weren't as many options, the sideshow was a place to make a living and have a nice life, rather than be incarcerated as an imbecile."
But with the evolution of social stigmas and political correctness, advances in modern medicine, and ultimately the adoption of new laws that forbid "freak shows" in various states, the sideshow's focus slowly moved away from human biological oddities. Gone are the type of legendary casts depicted in Tod Browning's classic 1932 film Freaks and Ryan Murphy's American Horror Story: Freak Show. However, that's not to say the born-differents have entirely disappeared from the scene. Take, for instance, Coney Island's own Black Scorpion, a performer with Ectrodactyly, or "split-hand syndrome," who acted as an adviser to Evan Peters for his famous AHS role. Ultimately, the sideshows of today are transitional entities, changing with the times but also, in some ways, staying just the same.
One boardwalk frozen margarita down and with a PBR in tow, I enter the theater doors for the Coney Island Sideshow cast's last "adult" performance of the season. It is, theoretically, the kind of thing that the Sideshow students are working toward; I have been promised the greatest of human oddities and the performers' most extravagant, unusual acts. The entire affair proves equal parts mind-blowing and just plain bizarre. Black Scorpion himself narrates in the role of "inside talker." One woman unwraps a Nathan's burger and engages in some intimate behavior with the beef onstage, while a man frees himself from a straitjacket while hanging from piercings in his knees. A burlesque dancer embellishes her act with the occasional swig of her own urine; another performer penetrates her bicep with a thin spear. A dual sword-swallowing routine is followed by what may very well be the most sensual fire-eating act ever executed by man. In the end, one thing is clear: Even sideshows, where the strange and socially "unacceptable" thrive, are subject to time and cultural demands. Sex sells, after all.
I leave Coney Island pondering the future of the sideshow world. As the public's fascination expands and evolves, and the old mentality meets the new, perhaps the community will manage to exist in some strange, hybrid middle ground. "At the moment it feels as if interest is growing. Now, what hopefully follows is support. A community doesn't continue to grow without support," says Black Scorpion. "Sideshow is much like folk music in that it is passed through generations. There is ebb and flow."