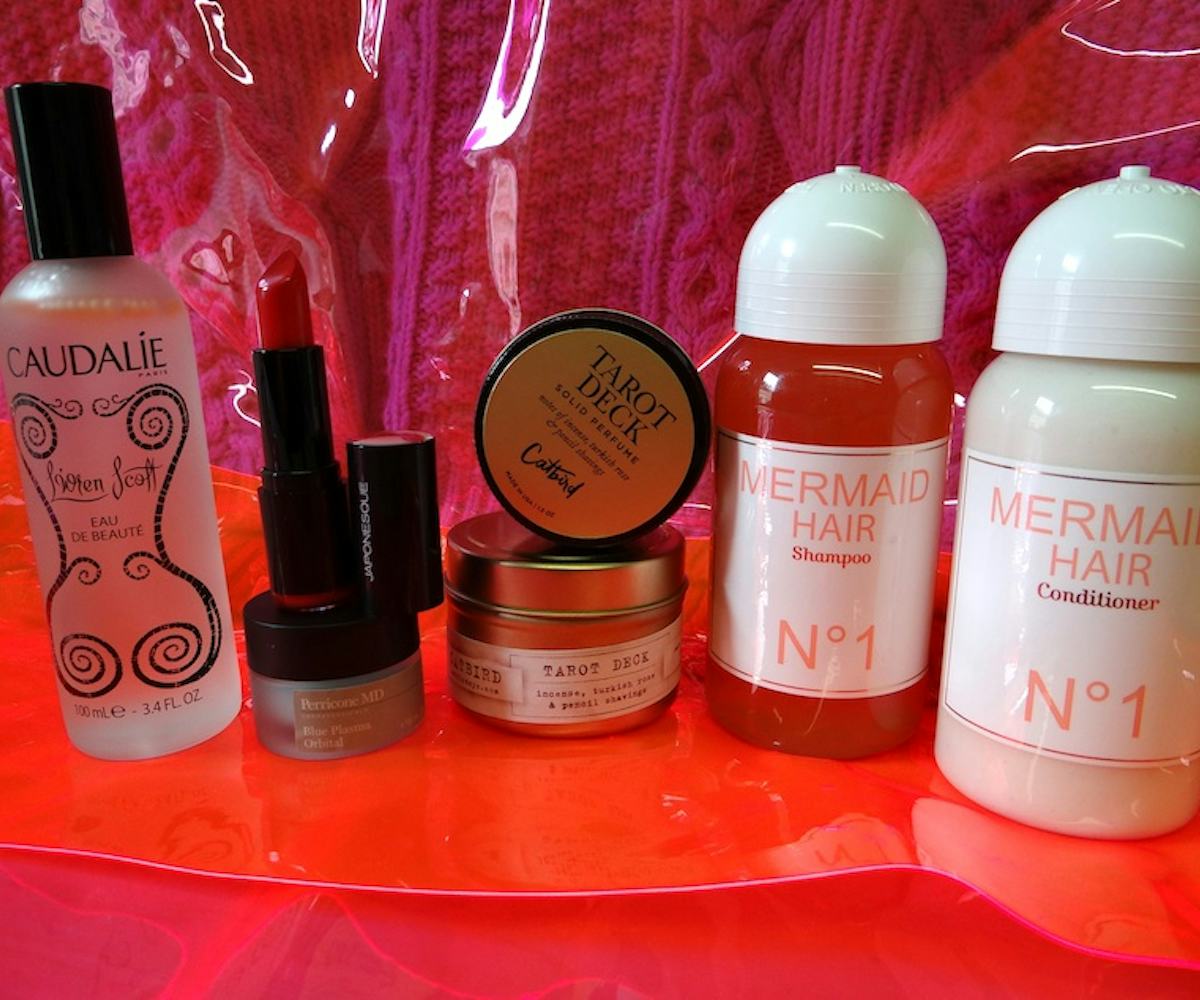 photo by jade taylor
vanity case
from tarot deck perfume to the perfect orange lipstick, behold: the coolest new beauty products!
OLFACTORY GIRL
WHAT IS IT:
Catbird Tarot Deck Solid Perfume & Tarot Deck Pure Soy Candle
WHY I LOVE IT:
When I first moved to New York, it felt like everything had--excuse my French--gone to shit. Fulfilling every stereotype, I decided to walk into a psychic's lounge somewhere deep in the L.E.S. and get my tarot cards read, in hopes for a positive forecast of my future. After sobbing to an incredibly cheesy woman about like, everything--I turned to her and asked, "What's that smell?" referring to the overwhelming aroma burning in the room. She told me it was a blend of various incenses she bought from "secret places" then recommended that I should burn incense whenever I was feeling down or in need of a spiritual lift. Fast-forward many years later and I still find myself thinking of that strange woman every time I burn incense, which is partially why when Catbird (everyone's favorite Brooklyn jeweler) debuted its beauty line, I was immediately attracted to the Tarot Deck Solid Perfume and Candle. Containing notes of incense, Turkish rose, and pencil shavings, the offerings transform into the perfect scent to burn in your home or wear on your skin without being overbearingly "smokey."
FOR THOSE
: Who see a new scent in their future.
FLAMING LIPS
WHAT IS IT:
Japonesque Pro Performance Lipstick in Shade #12
WHY I LOVE IT:
After reigning supreme in the beauty world for 20+ years as the leader in makeup brushes, tools, and accessories for makeup artists and beauty gurus worldwide, it's about time Japonesque expanded to formulating cosmetics of its own. Taking its expansion to the next level, the brand has added almost 300 makeup products to the inventory, redefining the phrase "Go big or go home." However, the stand-out product for me are is Pro Performance Lipsticks line, which I dutifully tested all twelve of, before landing on the last one--Shade #12--and dubbing it my favorite. A creamy orange that just misses the tomato red hue, it only gets brighter with every layer--but believe me, the formula is so opaque that you really only need to apply once.
FOR THOSE:
Who want to mouth off.
EYES WIDE SHUT
WHAT IS IT:
Perricone MD Blue Plasma Orbital
WHY I LOVE IT:
It should go without saying that we don't exfoliate the area around our eyes for a reason: Did you know it's 10x thinner than the skin on the rest of our face? But we all know that exfoliating your skin is one of the most effective methods for resurfacing it for ultimate radiance--a problem most of us want to solve around our eye region--but are obviously limited from doing so. Leave it to Perricone MD to whip up a miracle product called Blue Plasma Orbital--which, by the way, is not a planet--to solve the aforementioned crisis. Basically, it's a non-acidic and non-abrasive eye exfoliator for those who suffer from fine lines, puffiness, dry skin, bags, dark circles, dullness, or um, evidence of last night's party. Pro tip: Use once a day by itself, or layer an eye cream or serum of your choice over for maximum results!
FOR THOSE:
Who want out-of-this world effect.
FACE TIME
WHAT IS IT:
Caudalie Beauty Elixir Limited Edition by L'Wren Scott
WHY I LOVE IT:
You have to give L'Wren Scott props: Between designing her celebrity-favorite clothing line, dating Mick Jagger, and now, collabing with ultra-luxe skincare brand Caudalie to re-design their cult-classic Beauty Exilir--I wonder where does she finds the time? Speaking of time, did you know Caudalie's Beauty Elixir is said to contain a modern version of the face-brightening blend used by Queen Isabelle of Hungary in the 17th Century? Which makes sense, since the spritz, which contains simple ingredients like grape, orange blossom, rose, balm mint, and rosemary, is basically a compact version of the fountain of youth. It decreases the appearance of fine lines, while tightening and minimizing pores, and boosting skins radiance. Scott, a huge fan of the Beauty Elixir herself, decided to imprint it with an artsy version of the female silhouette in homage to the product and women everywhere (regardless of the century) who love it just as much as she does.
FOR THOSE:
Who want to feel like a Queen--or L'Wren Scott-- in one spray.
HAIR METAL
WHAT IS IT:
Mermaid Hair No. 1 Shampoo & Conditioner
WHY I LOVE IT:
Fact: Everyone wants mermaid hair. But where does one begin to achieve it? In the water, duh! Which is why Mermaid Perfume, the mysterious indie brand responsible for yummy-scented perfumes and candles, recently added a sulfate-free shampoo and conditioner duo to their bounty, asking the question: What exactly do mermaids smell like? Apparently, orange blossom flowers and creamy coconut. (Think: the best smelling sunblock you've ever used mixed with the best tasting Piña Colada you've ever drank.) Not to mention, the packaging is so unique that it looks like a hidden whozits or whatzits treasure Ariel pulls out from the bottom of the ocean.
FOR THOSE:
Who know every word to every song in
The Little Mermaid.