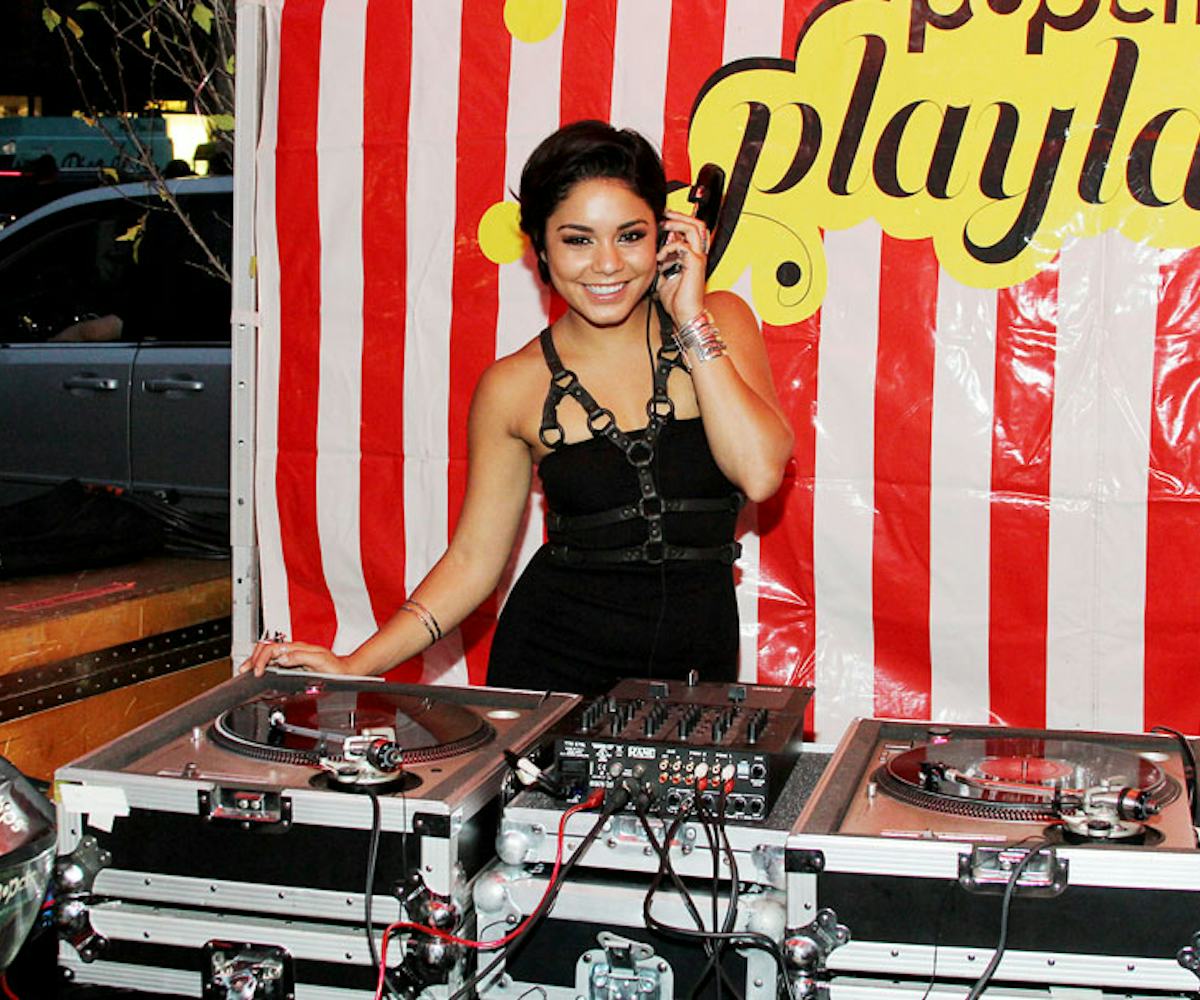 Photo by Rob Kim/Getty Images
why do celebs start djing after a breakup?
Immediately following a breakup, celebrities will try to become DJs. What began weeks ago as conjecture and wild speculation—prompted by the recent announcement that the newly single Bjork has become a DJ—is now an irrefutable (or, highly refutable) fact: After a split, a star can only begin to heal after he or she has booked their first residency at 1 Oak or a struggling hotel/casino/club. This is not an article outlining which celebrities spin, as that information is splattered all over the Internet. Instead we're here to discuss THAT MOMENT when the impulse strikes a particular star. Is it when he/she is happiest? As it turns out, no, DJing happens to celebrities only when they are so sad and heartbroken. The exact reason why spinning has become the panacea for a broken heart remains unknown, but it probably has something to do with alcohol, nightclubs, MDMA, and everyone's attention.
Now, a small disclaimer about the veracity of this article: It is nearly impossible to peg down the moment a celebrity starts DJing (trust me). For some, like Elijah Wood or Idris Elba, spinning has been in them ever since puberty; while for others, like Kirstie Alley or Kim Kardashian, are not so much DJs as they are people who've posed with half-cocked Beats by Dre headphones on. We've pieced together these DJing start dates by searching Google for the terms "debut" and "…started DJing" (naturally), then built a timeline from there. 
A second disclaimer: As is the case in astrophysics, verifying the exact moment a star splits is extremely difficult. For this we've enlisted the help of Famousfix.com and their highly respected (moderately, at best) column Who's Dating Who? This is not an exact science, unfortunately, but we're doing God's work here. So now, TREND ALERT: Celebrities who've turned to turntables to cure their heartache, ahead. 
Vanessa Hudgens split from Hunger Games star Josh Hutcherson in September 2011, and, according to Complex magazine's list of the 10 sexiest celebrity DJs, her standout gig was at the Fashion Night Out party that same month. We can only assume that in lieu of turning to the bottle, Hudgens hit the decks, twisted some knobs, and worked through a very difficult time in her life.
Proving once again that even the toughest moments are teaching ones, Paris Hilton debuted as a solo act in Sao Paolo right on the heels of her breakup with professional DJ Afrojack. She is now, according to her, one of the top five paid DJs in the world. Problem solved.
Lindsay Lohan probably caught the spinning bug from beau Samantha Ronson, but it wasn't until her short-lived romance with football player Matt Nordgren ended that the socialite was spotted behind the booth picking up tips from veteran DJ Diplo. EDM could be just what LiLo needs right now, but probably not.
In perhaps the most public instance of DJing away a broken heart, Nick Cannon spun his own 33rd birthday party last year at Hollywood's Playhouse club, removing his shirt to show onlookers a giant Christian back tattoo which had been scribed over the name of his former love—"Mariah."
It is with great sadness that we announce that Bjork is now a DJ. Not because she's bad at it, in fact, she's quite good (better than Ansel Elgort, AKA Ansolo, some might say), but because it signals the end of her fabled relationship with artist and fellow alien person Matthew Barney.
"The last year there's been a lot of different changes so I've been able to have a lot of time for myself and do different things—things that I enjoy doing like DJing, or starting a cooking show, or getting a house," Joe Jonas told VH1 in August, just one month after his split from his former "Lovebug" Blanda Eggenschwiler. Couldn't have said it better ourselves, Joe.
Wiz Khalifa is a DJ in healing. On May 29 the rapper began therapy as DJ Daddykat at Heat Ultra Lounge in Anaheim, following his tough split from Amber Rose. Wiz made the announcement with Lil Wayne who, no stranger to romantic woes himself, is also becoming a DJ.
So what have we learned? Breaking up is hard to do, but DJing a party is easier than you think. If you're famous and alone right now, just push play on the Steve Aoki remix of "Pursuit of Happiness" and watch the pain dissolve with every pumping fist.