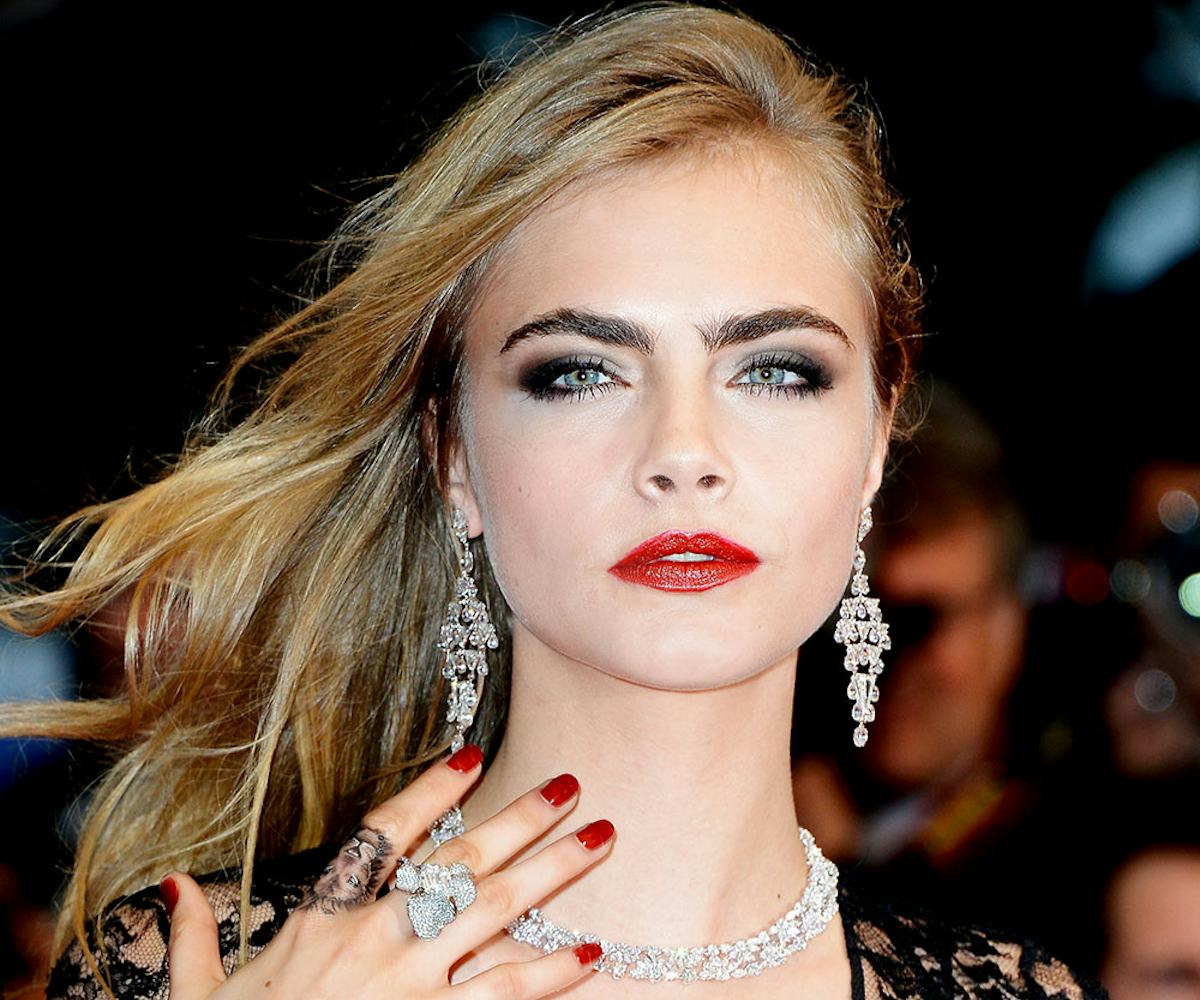 Photo by Pascal Le Segretain via Getty Images
19 super-rad celebs + their finger tattoos
a little pain, a big reward
Once upon a time, tattoos were considered to be a hindrance to one's career. But we survived Y2K and MySpace, so why should we, nevermind celebrities, abide by outdated ideals? That's right: Let's permanently wear our most meaningful thoughts, dreams, and drunken inclinations on our skin. And while we're at it, let's poke holes through our skin and run around in next to nothing. It's 2015, baby. It's a celebrity's world and we're just living in it, so click through the gallery to see famous people with cool finger tattoos. Just because.
Also, worth noting: This is one of the trickiest tattoos to have, since finger tats often get blown out, so if you feel inspired, make sure to consult with your artist before taking the plunge.
read next:
15 Awesome, Surprising Celebrity Piercings
The 19 Most Naked Red Carpet Dresses Of All-Time
14 Celebrities Speak About Their Experiences With Abortion
Cara Delevingne
For her first tattoo, Delevingne got a lion inked on her finger. Roar, or something like that. 
Aubrey O'Day
Now she literally has that je ne sais quoi.
Emilia Clarke
When you're really dedicated to a role, you commit fully. Clarke got this bumblebee tattoo to match her character in her upcoming film, Me Before You.
Florence Welch
When she was a child, Welch collected birdcages. She got this knuckle tattoo in Austin, Texas. "I got it done at 2 am by some massive guy with flame tattoos on his skull called Animal," she told GQ. "It was a proper tattoo experience, but it hurt so much."
Ireland & Hailey Baldwin
Matching cousin tattoos? Cue the awws, as well as the sobs from the bevy of other Baldwins who weren't invited on this tattoo trip.
Grimes
Never one for subtlty, Grimes has a throng of squiggly lines all over her fingers.
Jemima Kirke
Her hands serve as a testament to her love of DIY tattoos.
Kathy Griffin
They say that if you want something done right, you should do it yourself. And if that means putting a ring on your finger, well, you do what you have to do. Take that.
Katy Perry
In order of her Super Bowl halftime performance, Perry got the roman numerals "XLIX" tattooed on her finger. Left shark was a bit disappointed, but he got over it.
Kelly Osbourne
Osbourne got this heart tattoo in 2002 with her boyfriend of the time, Bert McCracken. He broke up with her on Valentine's Day the following year. But, hey, if you decide to get a matching tattoo with your boyfriend of a few months, make sure it's a cute, general one. 
Lana Del Rey
If Del Rey's tattoos—"trust no one," "paradise," and "die young"—don't sum her up, well, buy an album or something. We don't know what else to tell you.
Lily Allen
Excuse me, m'am, did you hear the good—Shhh...
Lindsay Lohan
What about—Shhh...
Rihanna
And—Shhh...
Miley Cyrus
You can actually create a story with all of her finger tattoos. Seriously: An alien with a big heart went to get some sliced watermelon, but he was being watched by a set of all-seeing eyes. They didn't know he came in peace and just wanted equality. But he kept his cool, held onto his cross, and remembered that he was not bad. So he stuck his tongue out, muttered the word "karma," and went on his merry way.
Niykee Heaton
How sweet.
Porcelain Black
She has the word "trainwreck" on the inside of her left middle finger, the phrase "ROCK CITY" emblazed across her knuckles, a cross, cat symbol, an outline of a circle around a black dot, and a bunch of "Russian prison tatoo symbols" to remind her of all the "crazy crap [she] did when [she] was younger."
Rita Ora
Ora has a heart outline on her pinky, and the words "hope," "love," and "promise" on the inside of her fingers.
Zoë Kravitz
We could list the dozens of tattoos Kravitz has on her hands alone, but we'd rather go listen to LOLAWOLF instead.