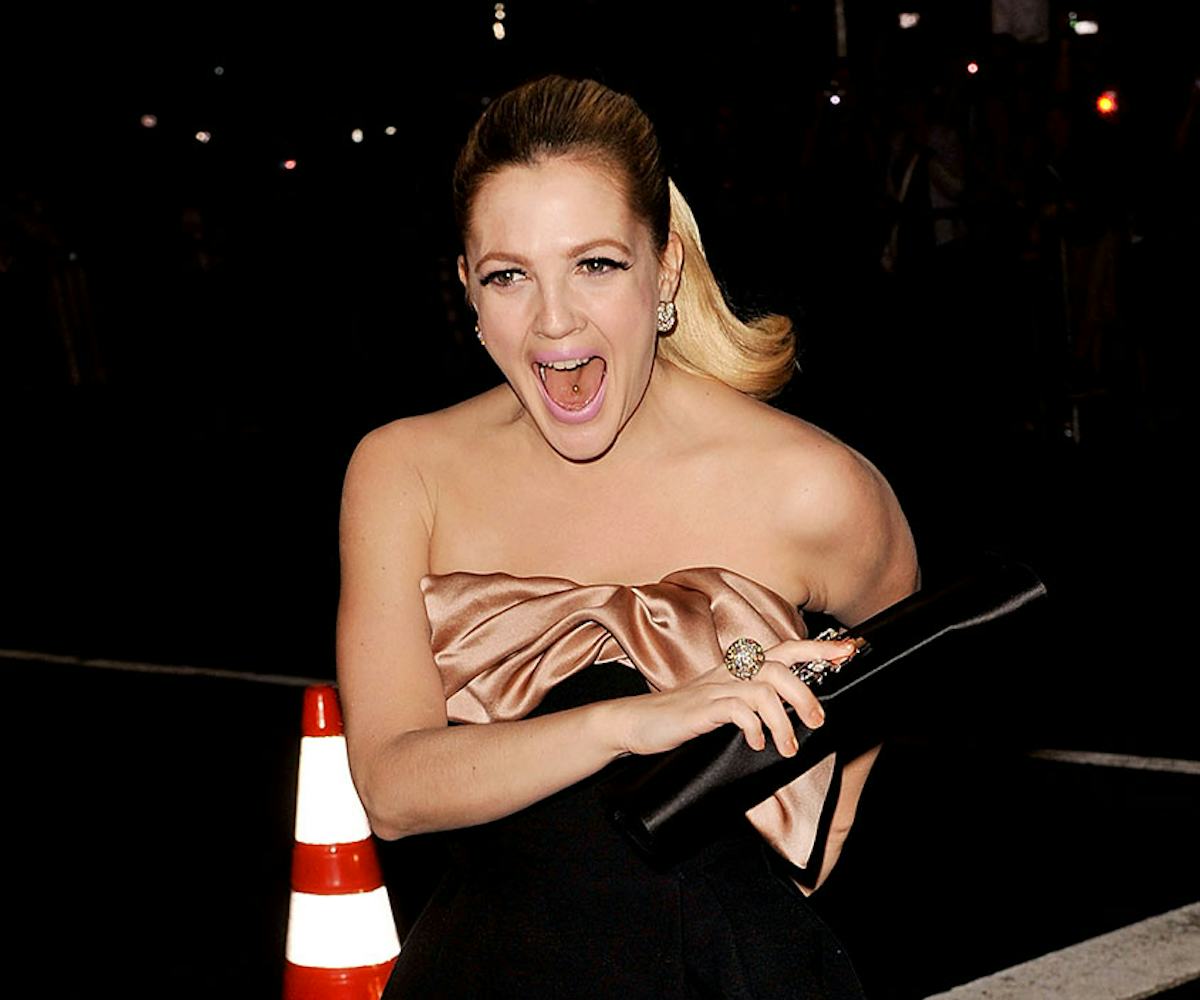 Photo by Kevin Winter/Getty Images
15 awesome—surprising—celebrity piercings
Sometimes people like to poke holes in celebrities' stories, and other times, celebrities just like to poke holes in their bodies. And so, a lot of celebrities have gotten many-a piercing through the decades, or at the very least, through their various appendages. Click through the gallery to see 13 pieces of metal make their way through celebrity skin.
Drew Barrymore
Sure, it shouldn't come as much of a surprise that '90s queen Drew Barrymore got her tongue pierced. We wouldn't recommend getting one of these if you have a palette expander. 
Christina Aguilera
According to Huffington Post, Aguilera had a total of 12 piercings at one point, including a belly-button ring, earrings, an eyebrow ring, a lip ring, a tongue ring, a nose ring, and piercings on her labia and nippple. You can spot at least four in her "Dirrty" video.
Dave Navarro
As everyone knows, a proper nipple piercing should always look as if it's running away from one's body.
P!nk
The singer has her nose and nipples pierced. Next up, the navel.
Rihanna
Any and every true Bad Gal has her nipples pierced. It's a requirement...
Kylie Jenner
...but whether or not getting your nipples pierced makes you a Bad Gal, well, the jury's still out on that one. (Unless Dave Navarro's presiding over that jury...) 
Zoë Kravitz
Call us biased, but Zoë helped usher in the latest crop of septum ring-wearing Millennials.
Amber Rose
Rose has her nipples pierced, and she'll never let them go.
Janet Jackson
Jackson has her tongue, septum, and nipple pierced, the latter of which became a topic of conversation after the 2004 Super Bowl Halftime Show.
Kristen Stewart
After paparazzi photos caught Stewart at Burberry's fall 2010 runway show, rumors flew that Stewart had her nipple pierced. 
Leighton Meester
At one point, Meester had a belly-button ring. But now, as she told Cosmopolitan, she likes that she no longer has any piercings.
Perrie Edwards
Edwards got the nape of her neck pierced in 2013. You can see photos, which Mulder has been investigating, here.
Beyoncé
Queen (of the) Be—lly rings.
Britney Spears
If you were a '00s pop icon, having a belly-button ring was practically a requirement.
Lenny Kravitz
Pardon our French here, but Lenny Kravitz has a gold hoop earring at the base of his cock.