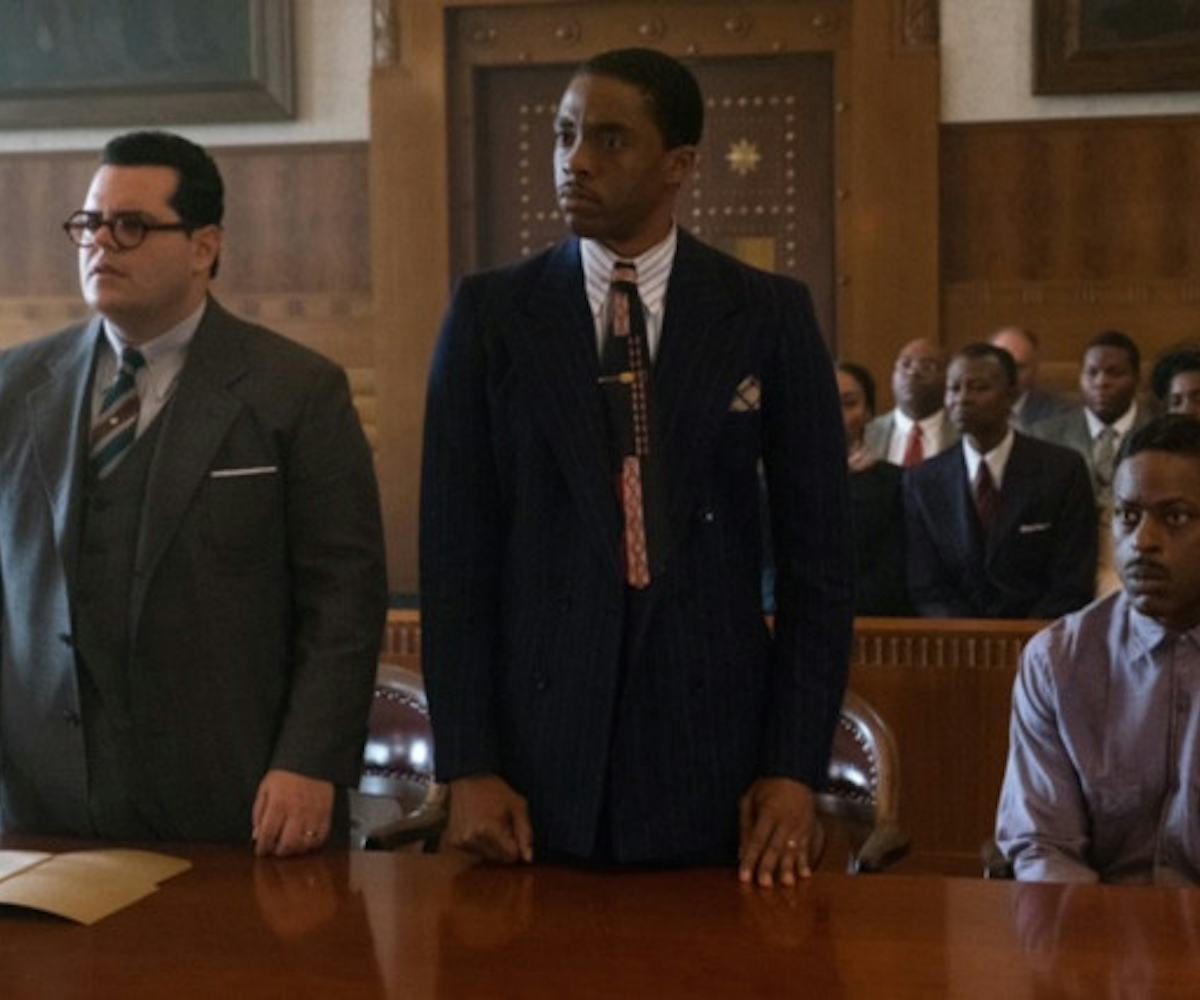 Image via Open Road Films
Chadwick Boseman In The 'Marshall' Trailer Will Give You Chills
"The only way to get through a bigot's door is to break it down"
Not long after the release of the epic Black Panther trailer, the film's star Chadwick Boseman is already promoting his next big project. The teaser for the upcoming biopic Marshall just dropped, in which Boseman plays America's first African-American Supreme Court Justice Thurgood Marshall, and it will give you chills.
"My great-granddaddy, he was a slave," Boseman says in the trailer. "We're not slaves now, are we? We got weapons we didn't have before. We've got the law." 
The film follows Marshall during his early days as a lawyer up until he argued, and won, Brown v. Board of Education in front of the Supreme Court in 1954, effectively desegregating the school system. We witness the obstacles he faced while he was up-and-coming attorney, being attacked by groups of racist white men in bars, having guns pointed at his face, and wading through a sea of hateful signs on his way to the courtroom. 
Marshall's mission, as we learn in the trailer, is to represent black people who've been accused of crimes they didn't commit. "I only represent innocent people, people accused because of their race. That is my mission," Boseman tells Joseph Spell, played by Sterling K. Brown. Spell is a chauffeur being accused of attacking a white socialite in her home.
Josh Gad plays Sam Friedman, a white attorney that Marshall brings on because he wants "a partner that the jury can relate to," he says. Boseman also appeared in the biopics 42, as Jackie Robinson, and Get on Up, as James Brown.
"If you want freedom, you're gonna have to fight for it," Boseman says. "The only way to get through a bigot's door is to break it down." 
Watch the full trailer for Marshall, opening in October, below.