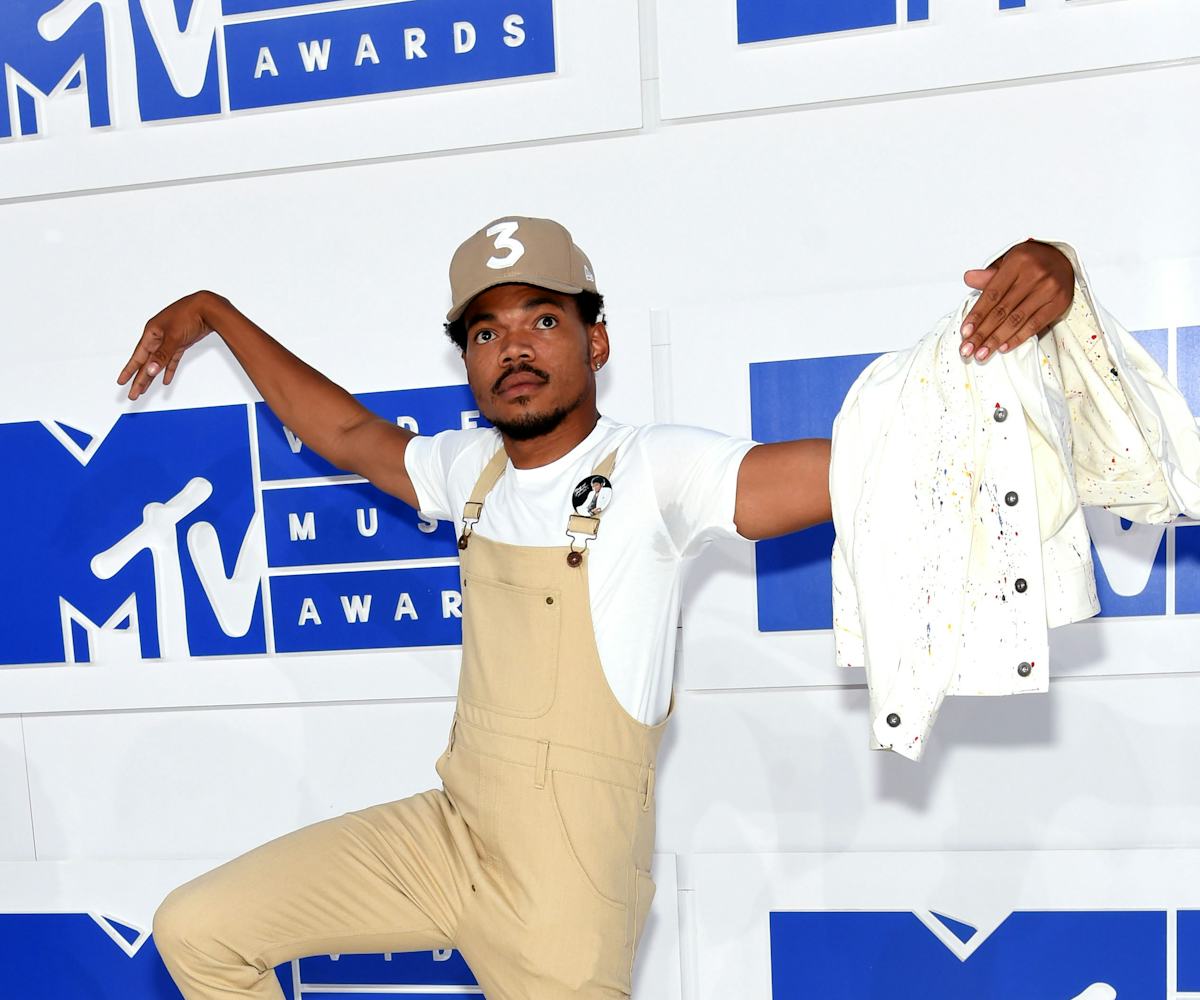 Photo by Jamie McCarthy/Getty Images
Everything You Need To Know About Chance The Rapper's VMA Overalls
We got the details straight from the designer herself
When Chance the Rapper stepped out on the white carpet for the 2016 MTV Video Music Awards, the whole word took notice primarily for one reason: his overalls.
Even trendsetter extraordinaire Jaden Smith couldn't help but admire Chance's look when they passed each other on the carpet. Behind the scenes, almost everyone at Madison Square Garden couldn't stop talking about those tan dungarees—Beyoncé and Kanye West even copped a feel when they welcomed him in a loving embrace.
Through Twitter, everyone quickly learned that the overalls were created by none other than Sheila Rashid. The last time that we talked to the Chicago-based designer was back in February, so we had a lot of catching up to do. Since then, she has been busy making pieces for her next collection and fulfilling orders for all of her clients. 
Rashid is planning on releasing more color options for the drop-crotch overalls in the future, but you can pre-order the tan pair here. Learn more about how all of this happened in the interview, below. 
How did it feel seeing Chance the Rapper wearing your overalls at the VMAs? Did you know that he would be wearing them?
It felt really good. Whitney Middleton, a stylist from Chicago, made the easy connection as far as getting him the pair. Even though I have Chance's number and I see him out a lot in the streets, Whitney definitely made it easier for me to finish the pieces to give to him. I knew he'd wear them to some event, but I didn't know it would be the VMAs.
I made the Desert overalls literally a week before the VMAs. Whitney told me the overalls would be an option, and I didn't want to get my hopes up until she texted me the same day of the VMAs to tell me he was wearing them! This is also the first time he has worn my work. 
Tell us about the process of making those overalls. How long does it typically take to make a pair?
I make the pattern, source the fabric, cut the pattern out of the fabric and sew it. It usually takes me 5 to 7 hours to make a pair depending on the number of pieces to a pattern. 
Aside from your signature drop-crotch, what makes your overalls different?
It's not the traditional way you see them. It's a bit more stylish. 
In the past, Zendaya Coleman has also worn one of your designs. Have you been receiving overwhelming amounts of requests from celebrity clientele lately?
Not much celebrity clientele yet. I will cross paths with those when the time comes. I do get requests from people around the world though.
What is your best-selling item so far? 
Blue indigo drop-crotch overalls. I think it's popular because it's the classic raw denim; you can wear them with anything.
What can we expect to see from you in the upcoming seasons?
I'm working on mass-producing small batches of exclusive pieces. I am also releasing some graphic T-shirts soon of an old style I used to hand paint almost 10 years ago.