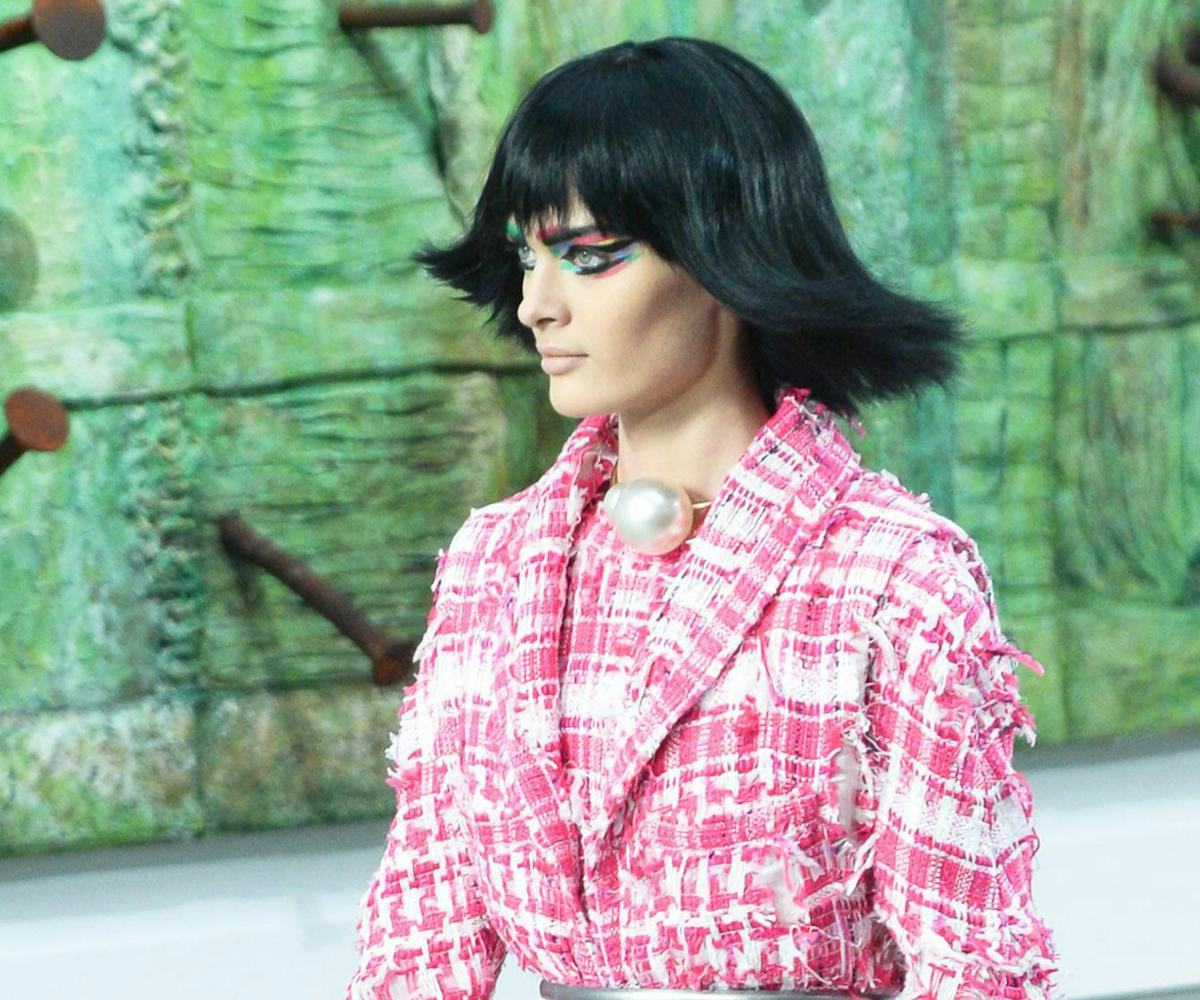 photo by joe schildhorn/bfanyc.com
chanel's rainbow warriors
making the case for eye art being the new nail art.
So maybe we did stay up until 4:30AM this morning to watch the Chanel show live--that's how crazy we are about Karl Lagerfeld's inspired creations for the iconic French brand. The spring '14 collection did not disappoint either, though the bags under our eyes we acquired from staying up all night are a little disappointing. Nothing some Chanel Beaute Initiale Eye can't fix though!
Inspired by artists of all kinds--including Jay Z whose song "Picasso Baby" scored the show--Lagerfeld whipped up a rainbow collection for spring that is equal parts Jem and the Holograms and Lee Radziwill. (You never thought those two references were going to be in the same sentence, huh?)
Perhaps our favorite part of the exhibit-inspired extravaganza was the beauty look created by former Chanel Makeup creative director Peter Phillips. With two black eyeliner stripes framing the eye as a base, Phillips filled in the rest of the models' orbitals with a pastel assortment of colors that evoke the look of a painter's palette. Purple, green, yellow, pink, and aquamarine colors met in abstract shapes, even continuing above the models' very bold, all-black eyebrows. The rest of the face was bare, just a canvas for the romantic eye-makeup. 
The eyes took center stage of Chanel's beauty look, a spot usually reserved by the nails. For the past decade, Chanel has treated its runway show as the time to unveil a new color, but this season it looks like they're sticking with a classic, Chanel Vernis in Black Satin. First released in 2006, Black Satin was the rage of nail counters everywhere--Sarah Michelle Gellar even admitted to stealing a bottles from a friend. The black lacquer became sort of passe as the trend towards neon nail art skyrocketed, but it seems we've come full cycle thanks to Monsieur Lagerfeld. Save the crazy colors and intricate designs for your eyes and keep your nails simple, short, and black is the new Chanel mantra. Once "eye art" blogs become a thing, you'll have definitive proof that Karl Lagerfeld indeed does run the world. 
Until then, check out all of the glamorous beauty from the Chanel show in our gallery.