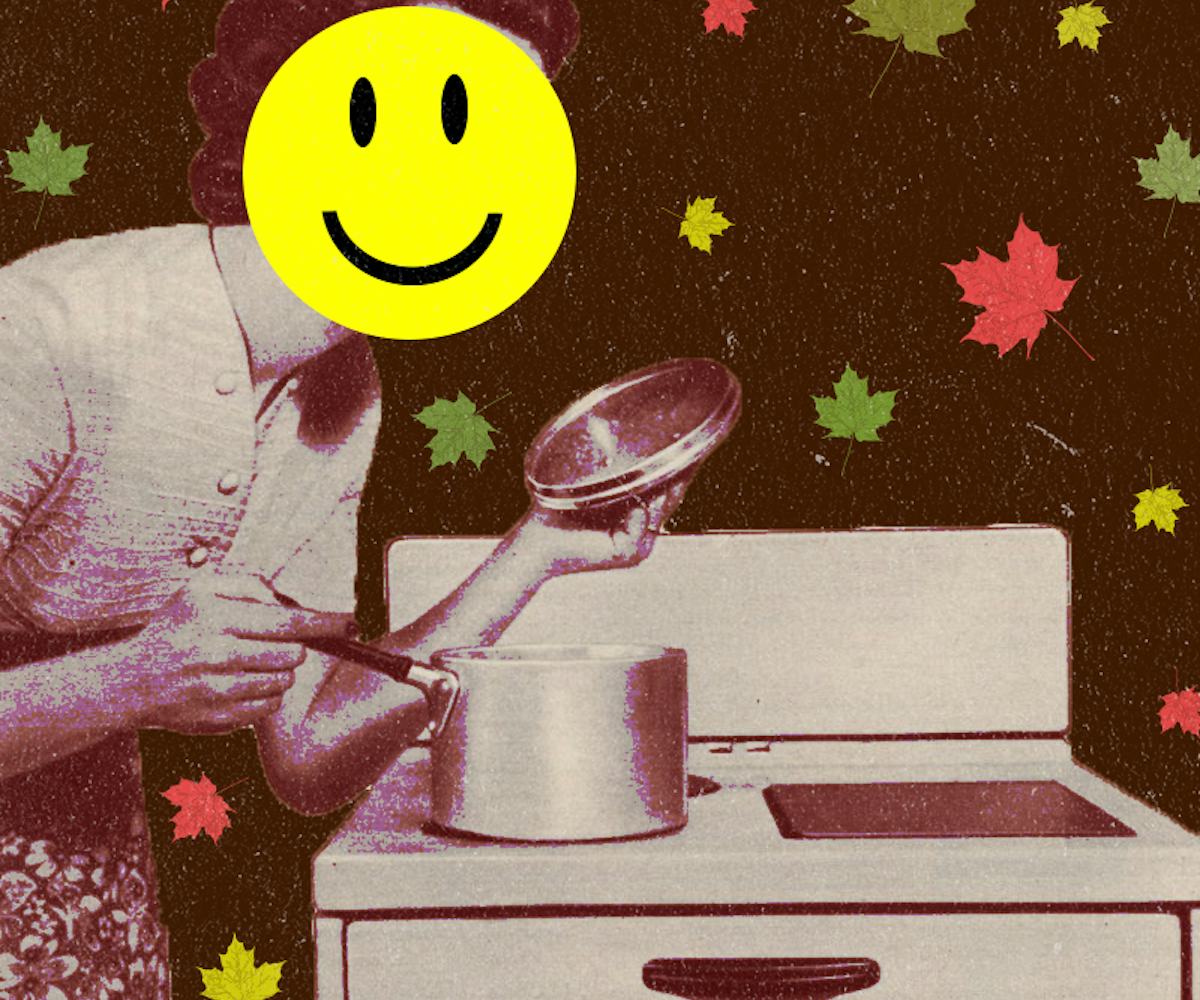 16 Chefs Share Their Favorite Dishes Inspired By Their Fondest Fall Memories
As we brace for the arrival of full-on fall, rotating out summer wardrobes and dusting off our boots, chefs similarly prep their kitchens for the seasonal switch. Replacing heirloom tomatoes and the last of fresh summer fruits, the dishes on these fall menus boast equally amazing harvest consisting of squash, brussels sprouts, and the gift of food gods, amen, truffles.
With an abundance of new-again ingredients on the market, we asked 16 chefs and restaurateurs to share their favorite fall dish inspired by a memory. Ahead, recipes that will leave your fall cravings—not to mention appetites—in check all season long.
Rachael Polhill, Dante
"When I was younger, probably 10 or 11 years old, I remember the first time I had a pomegranate. One of the kids who lived down the street from my grandmother's house had a tree in their garden and gave me one to try. I thought they were weird, but delicious, and have always found it fun picking the seeds out of the skin. I now incorporate the fruit in everyday dishes like my brussels sprouts."
Brussels sprouts with pomegranate and pecans
Ingredients:1 lb. brussels sprouts, trimmed of outer leaves and cut in half
1 oz. pecans
2 tablespoons cooking oil
2 tablespoons pomegranate molasses
2 tablespoons pomegranate seeds
Salt to taste
Directions:
Blanch brussels sprouts in boiling salted water for 1 minute, allow to cool.
Toast pecans on a baking tray in the oven for about 10 minutes at 350 degrees Fahrenheit, allow to cool. Chop roughly with a knife.
In a large saute pan, heat cooking oil until hot. Add brussels sprouts in a single layer, with the cut side facing down. Saute until well caramelized.
In a bowl, mix the cooked brussels sprout with pomegranate molasses and salt to taste. Serve sprinkled with pecans and pomegranate seeds.
Matt Hyland, Emily + Emmy Squared
"My favorite fall food memory is grilling bratwursts with my father and watching football. Most people poach the brats in beer and then grill it, but we would grill brats and then put them in low simmering beer before serving. He said that was 'the Wisconsin way.' We both liked the red brats better, but they aren't as easy to find in the Northeast as the white ones."
Grilled Bratwursts with BeerIngredients:
4 oz. butter
1/2 oz. whole caraway seeds
2 large Spanish onions, chopped
2 pilsners or lagers (my favorite is Two Roads Pilsner)
6 Bratwursts, red or white (Fleishers is my go-to for all meats and sausages)   
Salt and ground black pepper, to taste
Buns for serving (preferably pretzel)
Mustard for serving
Directions:
Preheat grill to high. In a heavy bottom pot, melt butter over medium heat. Add salt, caraway, pepper, onions, and saute until translucent. Add beer and bring to a low simmer.
Grill bratwursts over high heat. I like to get extra char on mine.
Add Bratwursts to simmering beer mixture for five minutes. Serve on a bun with mustard.
Ana Harrison, Freemans Restaurant
"Growing up in West Texas, it was only really cold for four to six weeks of the year. But during that time, my grandmother would make one of my favorite dishes. She would get a sugar pumpkin, cut it into wedges, and in the biggest pot she had, would poach it in a piloncillo simple syrup [a Mexican kitchen staple that can best be described as dark brown sugar mixed with molasses]. Once it was so soft you could cut it with a spoon, she would serve us a wedge with the syrup and a bit of warm cream as dessert. I grew up to have an almost comical love of all things pumpkin-spiced.
"On the fall menu at Freemans, we are serving spiced pumpkin pancakes with cinnamon whipped cream. Covered with maple syrup, it's almost like I'm sitting at my grandmother's table again."
Pumpkin Pancakes
Ingredients:For the pumpkin spice mix:6 parts* ground cinnamon
4 parts ground ginger
3 parts ground nutmeg
2 parts teaspoon ground allspice
1 part ground cloves
1 part ground cardamom
*Parts can be any unit of measurement. In the restaurant, we do it by cups. At home, a tablespoon will probably be plenty for a year of pumpkin spice goodness.
For the pancakes:
2 cups all-purpose flour
3 tablespoons sugar (option to do half white sugar and half dark brown sugar)
1 ½ teaspoons baking powder
1 ½ teaspoons baking soda
1 ¼ teaspoons kosher salt
2 teaspoons pumpkin spice mix (recipe below)
2 large eggs
2 cups buttermilk
1/2 cup pumpkin puree (not pumpkin pie mix)
3 tablespoons butter, melted
Directions:For the spice mix: Make spice mix by combining all the ingredients.
For the pancakes: Whisk together flour, sugar, baking powder, baking soda, salt, and spice mix.
Separately, whisk together eggs, buttermilk, and pumpkin puree. Add the wet ingredients to the dry, mix to incorporate. Fold in melted butter.
Heat griddle or Teflon pan to medium-low heat. Use butter or vegetable spray to oil the pan. Cook pancakes about 3 minutes on each side.
Pancakes can be held in a 300-degree oven for about 20 minutes in order to finish cooking the full batch. Serve with whipped cream or butter and maple syrup.
Piloncillo poached pumpkin
Ingredients:1 small sugar pumpkin
1 piloncillo cone (or 1 cup dark brown sugar and 2 teaspoons molasses)
1 gallon of water
Whole milk or half and half to taste
Pinch of salt
Directions:
Wash sugar pumpkin well. Cut into wedges, leaving the skin on. Remove the seeds and the fibrous part that attaches to the seeds. Reserve seeds for another use.
In a large pot, heat the piloncillo cone, salt, and the water until it dissolves. Add the pumpkin wedges, taking care not to splash water. There should be plenty of water—if it gets too low, the sugar will start to turn to caramel. Cook over low heat for approximately 2 hours, stirring often and adding water to make sure it doesn't burn. Pumpkin is done when it offers no resistance to a spoon.
To serve, place one or two wedges in a bowl, along with some of the poaching liquid. Add warm milk or cream to taste.
Benjamin Meyer, Barcelona Wine Bar & Restaurant
"To me, fall is the best harvest. Nature is incredible and always keeps our food interesting. Perhaps the 'supreme being' was playing a joke or really felt creative on the day of spaghetti squash's inception, because it's kind of weird but also beautiful and delicious. Since I was young, I've been mesmerized by this squash and its simplicity."
Spaghetti Squash "Pasta"
Ingredients:
1 spaghetti squash
¼ cup + 2 tablespoon extra-virgin olive oil, divided
6 cloves garlic, shaved very thin
¼ cup sunflower seeds
1 bunch fresh dill weed sprigs
Kosher salt and freshly ground pepper to taste
Directions:
Preheat oven to 350 degrees Fahrenheit.
Cut squash in half lengthwise, remove and discard the seeds. Rub each half with 1 tablespoon olive oil and season with salt and pepper. Place on a baking sheet and roast for 40 to 45 minutes, rotating the sheet halfway through. Remove from oven and let cool to room temperature. If preparing the day before, wrap and refrigerate until ready to use.
Use a fork to gently scrape the flesh from the peel. It will come apart like thin noodles.
Heat remaining ¼ cup olive oil in a large saute pan over medium heat. Add shaved garlic and cook until lightly browned and aromatic. Gently stir in spaghetti squash (do not mash or mix roughly). Once squash is warmed through, season with salt and pepper.
Plate in layers to build height. Finish with a sprinkling of sunflower seeds and dill. If you think it needs it, drizzle a little more extra virgin olive oil on top.
Sean Telo, 21 Greenpoint
"Portuguese allspice is something I use year-round, but it's particularly useful in the fall when I'm typically cooking with more spices. My grandmother used it to make Portuguese rice, which I've adapted into the Hudson Valley Foie Fried Rice at 21 Greenpoint."
Foie Fried Rice
Ingredients:
1 cup jasmine rice
*
1/2 sweet white onion, diced
2 cup chicken stock
1 small roasted tomato
2 tablespoon Portuguese allspice
3 oz. Hudson Valley foie gras, cubed
3 oz. Linguica sausage, pulled into small pieces

2 cloves garlic, sliced
1 rib of celery, diced  
2 fresh eggs, cracked into a bowl
Salt and pepper to taste
Sliced scallions to garnish
Directions:
*I like to cook rice in the oven. It's easy and comes out perfectly every time.
In a deep rectangular dish, add the rice, onion, chicken stock (hot), roasted tomato, and Portuguese allspice. Cover with plastic wrap, foil, and bake for about a half hour at 400 degrees Fahrenheit. When the rice is done, let it cool completely before frying it.
In a hot cast-iron pan, sear the foie gras until one side of the cubes is dark brown. Remove the foie from the cast-iron and add the Linguica. Fry until done. Remove the Linguica and add the garlic and celery. Season with salt and pepper and cook until just done, then add the rice.
Fry the rice and vegetables until a crust forms on the bottom of the pan, then add the foie and Linguica back to the pan. Gently fold the rice over itself to include the foie and Linguica then crack two fresh eggs on top.
Bake in a hot oven until the whites are set but the yolks still runny. Garnish with sliced scallions.
John Delucie, Bedford & Co. at the Renwick Hotel
"I get very excited at the possibly of a great truffle season. The weather is turning, wardrobe goes from high-tops to boots, and sweaters come out of storage. I love to shave truffles simply over fresh pasta with extra-fatted butter or do the most decadent mac and cheese."
Truffle Mac & Cheese
Ingredients:4 oz. Cavatappi (De Cecco)
3 oz. Mornay Sauce (recipe below)
1 tablespoon chopped parsley
1 black truffle as needed
2 tablespoons grated parmesan
salt and pepper to taste
For the Mornay sauce:
4 1/2 tablespoon unsalted butter
1⁄2 Spanish onion, diced
1 fresh bay leaf

1/8 teaspoon black pepper
6 tablespoon all-purpose flour
1/2 teaspoon salt
1/8 teaspoon freshly grated nutmeg
3 cups whole milk
5 oz. Bloomsday cheddar
Directions:
For the Mornay sauce: In a medium saucepan, add butter, onion, bay leaf, and black pepper. Saute over low heat until onion is translucent.
Add flour, salt, and nutmeg and continue stirring until flour is light golden and has a mild nutty aroma. Stir in milk and cook over medium heat, stirring occasionally to keep from scorching on the bottom. Simmer until flour is cooked and sauce is thick enough to coat the back of a spoon. Strain through a fine mesh sieve.
Return to the stovetop over low heat and whisk in cheddar. Continue stirring until completely melted. Remove from stove, cover, and store in a warm place until ready to use.
For the pasta: Bring a large pot of water, seasoned with salt, to boil. Once boiling, add the Cavatappi to the pot.
In a saucepan over medium, add the Mornay sauce and continue to stir until sauce is hot but doesn't simmer (this will make the cheese gritty).
When pasta is just harder than al dente, add it to the saucepan along with the parsley. Continue to cook in the sauce until pasta is al dente and coated in the Mornay sauce. Shave in some truffles and toss to infuse the flavors into the sauce.
Transfer to a baking dish and top with more parmesan cheese. Bake at 500 degrees Fahrenheit until golden brown on top. Once golden brown, remove from oven and top with shaved truffles (as much as you would like).
Anand Sastry, Highway Restaurant & Bar
"Growing up in London, I used to love eating squash, and they would always be in season in the fall. Now, I incorporate them into my fall menus as a squash toast and cook with cider vinegar, apple juice, and a little honey."
Squash Toast
Ingredients:
12 oz. butternut squash, peeled
2 tablespoons butter
1/2 cup cider vinegar
1 cup apple juice
1.5 oz. honey
Seeded bread of choice, toasted
1.5 oz. toasted pumpkin seeds 
Chopped parsley for garnish
Salt and pepper to taste
Directions:
Finely chop squash evenly into small pieces.
Place squash in a pan with butter (you can also use olive oil if you prefer) on low heat with a tightly fitted lid. Let the squash soften. Take the lid off after 10 minutes, add vinegar and apple juice. Keep stirring until reduced and all the liquid has evaporated, and the squash is thick and moist. Add honey, salt, and ground black pepper.
Add a little ricotta to spread on toast and then top with the squash and toasted pumpkin seeds. Garnish with parsley.
Alex Pilas, Eataly Downtown
"Butternut squash and sage bring back memories of Thanksgiving. These fall flavors are reinterpreted into this classic Italian dish."
Squash Ravioli with Brown Butter and Sage Sauce (Serves 4)
Ingredients:For the Ravioli:
Basic egg pasta dough (click here for the recipe)
1 1/4 pounds butternut squash (or pumpkin, if desired)
4 oz. amaretti cookies, crumbled
1 1⁄4 cups Parmigiano Reggiano, grated
1 tablespoon lemon zest, grated
Salt to taste

For the Sauce:
1⁄2 cup unsalted butter, softened
8 sage leaves
1 cup Grana Padano, grated
Salt to taste

Directions:
To make the ravioli: Preheat oven to 400 degrees Fahrenheit. Cut the squash into large slices, remove the seeds and pulp, and bake until it is soft, about 30 minutes. Remove the squash from the oven and let it cool. Once it is cool, scrape the flesh of the squash off the rind, wrap it in a kitchen towel, place it in a colander, and let it drain for 10 minutes.
Combine the amaretti cookies, Parmigiano Reggiano, and lemon zest. Add the drained squash and a pinch of salt, and stir until the filling is smooth and fully combined.
Roll out the egg pasta dough to form a thin sheet. On this, arrange small amounts of the filling, about the size of an egg yolk, then fold the sheet over and cut rectangles out of it around the mounds of filling. Be certain to seal the edges of the pasta.
Cook the ravioli in 6 quarts of well-salted boiling water (think: as salty as the sea) for 2 to 4 minutes, or until the pasta is al dente.
To make the sauce: Heat butter in a medium-sized saucepan, lay the sage leaves in the pan, and heat until the butter is sizzling gently. Toast the leaves for about a minute.
Add 1 cup of boiling water to the butter and sage. Stir, allowing it to simmer for about 2 minutes, reducing the liquid by half. Keep the sauce hot over very low heat, and return it to a simmer.
Remove the ravioli from the water and place them directly into the pan with the melted butter and sage. Adding hot water to loosen the sauce if necessary, toss until a homogeneous sauce is formed. Cook the pasta for a minute until it is thoroughly coated with sauce, remove the sage leaves, add the grated cheese, and serve in warmed bowls.
Jacob Hadjigeorgis, Jacob's Pickles
"This dish is one of my favorites during the fall season at Jacob's Pickles. Buttermilk biscuits make awesome french toast, and we love working with local seasonal ingredients. The candied spice pairs nicely with the open doors at JP on a brisk day."
Sweet Potato French Toast
Ingredients:
For the sweet potato French toast:
2 pieces of sweet potato biscuit
1 quart french toast batter
1/4 cup olive oil
Candied yams: 2 oz. butter
2 cups of roasted sweet potato, diced
1/2 cup brown sugar
1/2 water
Directions:
Take two pieces of the sweet potato biscuit and cut each piece in half. Dip each piece separately in a french toast batter. In a cast-iron skillet, add the olive oil and heat on medium heat until oil is to a smoking point. Place the biscuit in the skillet and brown all sides, 3 to 4 minutes on each side.
In a separate saute pan, add the butter and sweet potato, and cook for 2 minutes. Add the brown sugar and cook for another 2 minutes. Add the water and lower to a simmer until sauce is thickened. Place yams on top of the french toast and drizzle sauce on top and around.
Ivy Stark, Dos Caminos
"Fall means Hatch green chiles for me—growing up, my family would place our orders for a bushel in January, drive down to our roaster near Santa Fe, New Mexico, and drive back to Boulder, peeling and eating them warm with salt and butter all the way home. There is nothing like the smell of the chiles roasting over a wood fire. Whatever we didn't use right away, we froze and saved for the winter months for enchiladas and salsas."
Chiles Rellenos con Queso (makes 8)
Ingredients:
For the chiles rellenos:
4 cups queso Oaxaca, pulled
1/2 cup epazote, thinly julienned
8 green Hatch chiles, roasted, peeled, slit lengthwise, and seeded
All-purpose flour seasoned with salt and pepper for dredging
5 large eggs, separated
Vegetable oil or lard for frying
For the roasted tomato-chipotle salsa (yields 1 quart):
10 medium tomatoes
6 cloves garlic
1 medium white onion, sliced
2 to 4 canned chipotles en adobo
1/4 cup red wine vinegar
Salt to taste
Directions:
Combine the queso and epazote in a bowl. Stuff the chiles with about 1/2 cup of cheese, press the opening together tightly, and dust with flour.
In a bowl, beat the egg whites until stiff; in a separate bowl, beat the yolks slightly with a pinch of salt and gently fold the yolks into the whites to make the batter.
Pour enough oil into a large skillet to measure 1 inch and heat over medium-high heat until the oil measured 375 degrees Fahrenheit on an instant-read thermometer.
Dip the chiles into the batter and fry until golden, about 3 minutes on each side; drain on paper towels and reserve. Serve over roasted tomato-chipotle salsa.
For the salsa: Preheat the oven to 350 degrees Fahrenheit.
On a sheet pan, roast the tomatoes, garlic, and onion until tender and lightly browned, about 15 minutes. Transfer them along with the chiles and vinegar to the jar of an electric blender and purée until smooth. Pour the mixture into a medium-size saucepan and gently simmer for about 20 minutes; season to taste with salt.
Nakamichi Shinohara, Nare Sushi
"No miso soup taste like home, except my mom's miso soup. It is the most ordinary dish in Japanese cuisine, but each region has its own definition of miso soup in terms of character and flavor. The last time I had miso soup from my mom was almost 10 years ago. Honestly, her miso soup needs improvement from a chef's perspective, but it is perfect from a son's perspective because she always cooks it with a special 'ingredient.' Can't wait to have it again as it's one of the most memorable dishes from my childhood especially in the fall as it starts to get cold."
Miso Soup (Serves 4)
Ingredients:
2 tablespoons white miso paste
5 cups dashi
4 oz. tofu, cut into cubes
Pinch of dried seaweed, scallion, and micro greens
Directions:Mix miso paste and hot dashi until blended. Bring to an almost boiling point and then reduce heat to low and simmer for 3 minutes. Divide tofu, dried seaweed, scallion, and micro greens among four serving bowls. Pour soup into the bowls evenly.
Greg Denton and Gabrielle Quiñónez Denton, OX
"This dish takes us back to a cold and rainy trip to the Oregon coast where we celebrated our anniversary a couple years ago. On our first night, we ate this dish as a perfect accompaniment to grilled mushrooms for a simple yet satisfying vegetarian meal. The next day, we picked up some fresh clams in town and steamed them open in the toasted garlic lemon oil. We spooned them over the warmed leftover squash and ate it all with a side of grilled chorizo. Both meals were easy to prep, fulfilling, and flavorful, and, with a nice bottle of wine, even romantic!"
Coal-Roasted Spaghetti Squash (serves 4, adapted from Around the Fire)
Ingredients:
1 large spaghetti squash (about the length of a football)
5 tablespoons extra-virgin olive oil
Kosher salt and freshly ground black pepper to taste
1 cup Toasted Garlic–Lemon Oil
3 to 4 ounces aged, firm goat cheese (we love Briar Rose Creamery's Chevarino Romano, a pecorino-style goat cheese)
2 tablespoons fresh flat-leaf parsley leave, chopped
Directions:Preheat the oven to 375 degrees Fahrenheit and set a rack in the center of the oven.
Halve the squash lengthwise and scoop out the seeds. Drizzle the interior of the squash with some olive oil and season with salt and pepper. Transfer the halves, cut side down, to a baking sheet, then rub olive oil on the skins. Roast until the flesh is just tender, 30 to 40 minutes.
Remove the squash from the oven and let rest until cool enough to handle. Cut each piece in half again to create wedges. Starting at the top layer, scrape each squash portion with the tines of a fork to loosen up the strands, letting the skins serve as a "bowl." Season again with a drizzle of olive oil and a pinch each of salt and pepper. Keep warm until ready to grill.
Prepare a grill to medium-high heat. If using coals, once the fire has died down and the coals are glowing red, spread them out to create a level surface.
Place a metal cooling rack directly onto the coals, if using, and transfer the squash quarters to the cooling rack, cut side up. If using a gas grill, place the squash over the hottest area and cover the grill. Cook until the squash is heated all the way through, about 15 minutes. (The tough outer skins will get charred but should remain intact.)
Remove from the grill, and place each portion on a plate or in a bowl. Drizzle with the garlic-lemon oil, making sure to divide the garlic slices evenly. Using a fine grater, grate the goat cheese over the top of each squash quarter, distributing it evenly and abundantly. Garnish with chopped parsley.
Kevin Chojnowski, McCarren Hotel & Pool
"Growing up, we didn't have any heirloom secret family recipes or anything like that. I remember my mom and dad always made really good lumpy mashed potatoes and gravy. Our stuffing was Stove Top and my favorite thing was to slice a piece of the canned cranberry 'sauce'—with those perfect lines from the side of the can—and place it in the center of the plate right on top of everything. But my favorite was the day-after sandwiches. We'd get Portuguese rolls, put some mayo on them with turkey, stuffing, and cranberry sauce. Quite often this would be our lunch on the car ride back from my grandmother's house, where we usually stayed for Thanksgiving."
Thanksgiving Leftover Sandwich
Ingredients:
Roasted turkey, sliced
Leftover stuffing (I grew up with Stove Top Stuffing, but homemade from scratch makes this even better)
A good crusty sandwich bread from the bakery (I used a multigrain Kaiser roll)
Mayonnaise
Cranberry sauce from the can, sliced thick
Turkey gravy (recipe below)
For the turkey gravy:1/3 cup unsalted butter1/3 cup flour1/2 cup of drippings5 cups of turkey stock 1 fresh bay leaf
A sprig of rosemary
2 sprigs sage
5 sprigs of thyme   
1 1/2 tsp fresh lemon juice
Directions:
For the gravy: In a two-quart sauce pot, melt the butter over a low flame. Once melted, mix in the flour with a wooden spoon to make a roux.
Add the drippings to the pot and mix the roux and the drippings together, making it as smooth as possible. Once mixed in well, add the turkey stock and continue to cook over low flame, stirring constantly with the whisk so that the roux does not stick and burn at the bottom of the pot. Once the pot comes to a simmer, add the fresh herbs and continue to simmer for 5 minutes.
Remove the pot from the heat and pass the gravy through a fine mesh strainer. Add the lemon juice and salt as needed.
For the sandwich: Warm leftover Thanksgiving turkey and stuffing in the oven to reheat and crisp up the turkey skin until golden. A mix of dark and white meat is good.
Slowly warm some gravy in a sauce pan over the stove.
Pop the Kaiser roll in the oven to warm, so that the mayonnaise melts into the bun. Spread a generous amount of mayo on both sides of the bun.
Place the turkey and stuffing on the roll. Drizzle a generous portion of gravy over the turkey and stuffing. Then place a thick slice of cranberry sauce on top of the gravy.
Place the top of the bun on top and squish it down a little bit.
Joseph Paire, Barcelona Wine Bar & Restaurant
"As the season changes into fall, I look forward to the coolness in the air, the aroma of warm spices, and, most of all, brussels sprouts. Believe it or not, brussels sprouts are my favorite fall ingredient. The best way to prepare them is in the deep fryer. They'll come out tender on the inside and with crispy leaves on the outside."
Crispy Sprouts and Potatoes
Ingredients:
12 fingerling potatoes
6 cups canola oil
10 large brussels sprouts
Salt and ground black pepper to taste
Directions:
Bring a medium pot of water to a boil. Add potatoes, reduce heat to medium, and simmer until fork-tender, about 10 to 15 minutes. Drain and pat dry.
In a large, heavy-bottomed pot fitted with a deep-fry thermometer, heat oil to 350 degrees Fahrenheit. Core brussels sprouts by cutting in a conical pattern around the base. With the palm of your hand, gently smash the potatoes. Carefully add them to the hot oil and cook until golden brown.
Add sprouts to the oil (be very careful, the sprouts can make the oil pop) and cook for 45 seconds. Remove sprouts and potatoes from the hot oil with a slotted spoon. Drain on paper towels or wire rack. Season with salt and pepper and serve immediately.
Mike Price, The Clam
"Growing up in Maryland meant clam chowder was our go-to fall favorite for either lunch or a light dinner. This particular recipe uses corn, one of my favorite fall ingredients."
Clam Chowder (serves 6)
Ingredients:
For the chowder base:
4 oz. bacon, diced
3 cloves garlic
1⁄2 medium onion, diced
2 stalks celery, diced
1 cup sweet corn kernels
1 tablespoon thyme, chopped   
2 quarts clam stock
2 cups heavy cream
1 cup new potatoes, peeled and chopped
For the clams:
3 cloves garlic
1 tablespoons butter

3 thyme sprigs
1 cup white wine
3 oz. littleneck clams (washed)
For the soup:Reserved rendered bacon
1 tablespoon butter
1 cup diced leeks, washed and drained
1 cup sweet corn kernels
1 cup medium diced new potatoes
Reserved chowder base (recipe below)
Reserved cooked littleneck clams (recipe below)
Reserved clam cooking liquid
1 tablespoon chopped parsley
Oyster crackers to garnish
Directions:
For the chowder base: In a medium sauce pot, render diced bacon until crispy and remove. Add garlic cloves to bacon fat and brown, reserve.
Add onion, celery, and corn as well as chopped thyme. Cook vegetables until tender and add clam stock. Bring to a boil and add cream and potatoes. Simmer until slightly reduced and the potatoes are tender.
Puree the chowder base in a kitchen blender and pass through a fine mesh strainer. Adjust seasoning and reserve.
For the clams: In a medium sauce pot, saute the garlic cloves in butter over medium heat until browned. Add thyme sprigs followed by white wine.
Bring pot to a boil and add littleneck clams and cover. Cook over medium heat for 5 to 6 minutes until opened. Reserve clams and liquid.
For the soup: In a medium sauce pot, add reserved rendered bacon to butter and cook over medium heat.
Add leeks, corn, and new potatoes, cook slightly.
Add the chowder base and simmer until the potatoes are tender. Adjust consistency and seasoning with the clam cooking liquid, salt, and pepper.
Add chopped parsley and ladle the chowder over the cooked clams in individual soup bowls. Garnish with oyster crackers if desired.
Kerry Heffernan, Grand Banks
"Fall for me is best defined by the smell of roasting peppers, a great example of which I was lucky enough to see again yesterday. I was also lucky enough to be able to still get blue crabs under my dock in Sag Harbor [New York], and with this full Harvest Moon, there are no doubt some shedders—wild soft shell crabs—about. As we can't really have anything like this open flame roaster aboard an old wooden boat [where Grand Banks is located], I adapted the flavor profile with griddled shishito peppers and the warmth and spicy depth of our harissa emulsion for this newly debuted soft shell crab dish."
Ingredients:
For the harissa emulsion:2 tablespoons fresh lemon juice1 tablespoon fresh lemon zest (no white or pith)
3 tablespoon high-quality harissa (more if you prefer spicier)
2 egg yolks  
1 tablespoon garlic
1 cup canola oil
For the griddled shishito peppers:
1 pound fresh Shishito peppers, red and green if possible (can also be substituted with small sweet peppers or even something a little spicy like a Hatch chili if desired)
2 tablespoons canola oil
Salt and fresh ground pepper to taste
Directions:
For the harissa:
Combine two tablespoons of warm water, lemon juice, lemon zest, harissa, egg yolk, salt, and garlic in the basin of a blender and blend at medium to high speed for 30 seconds, slowly begin pouring in canola oil in a thin and steady stream until sauce thickens to the consistency of a very heavy cream.
For the shishito peppers:
Preheat griddle (outdoor grill with the wood would be even better) or even just a heavy cast-iron pan to medium-high heat.
Wash, dry, and liberally season peppers with salt pepper and oil.
Griddle peppers, charring a bit on each of two or three sides, to get dark brown color, peppers should soften and appear to have wilted a bit.
Serve immediately warm with sautéed or fried softshell crab and harissa dressing.