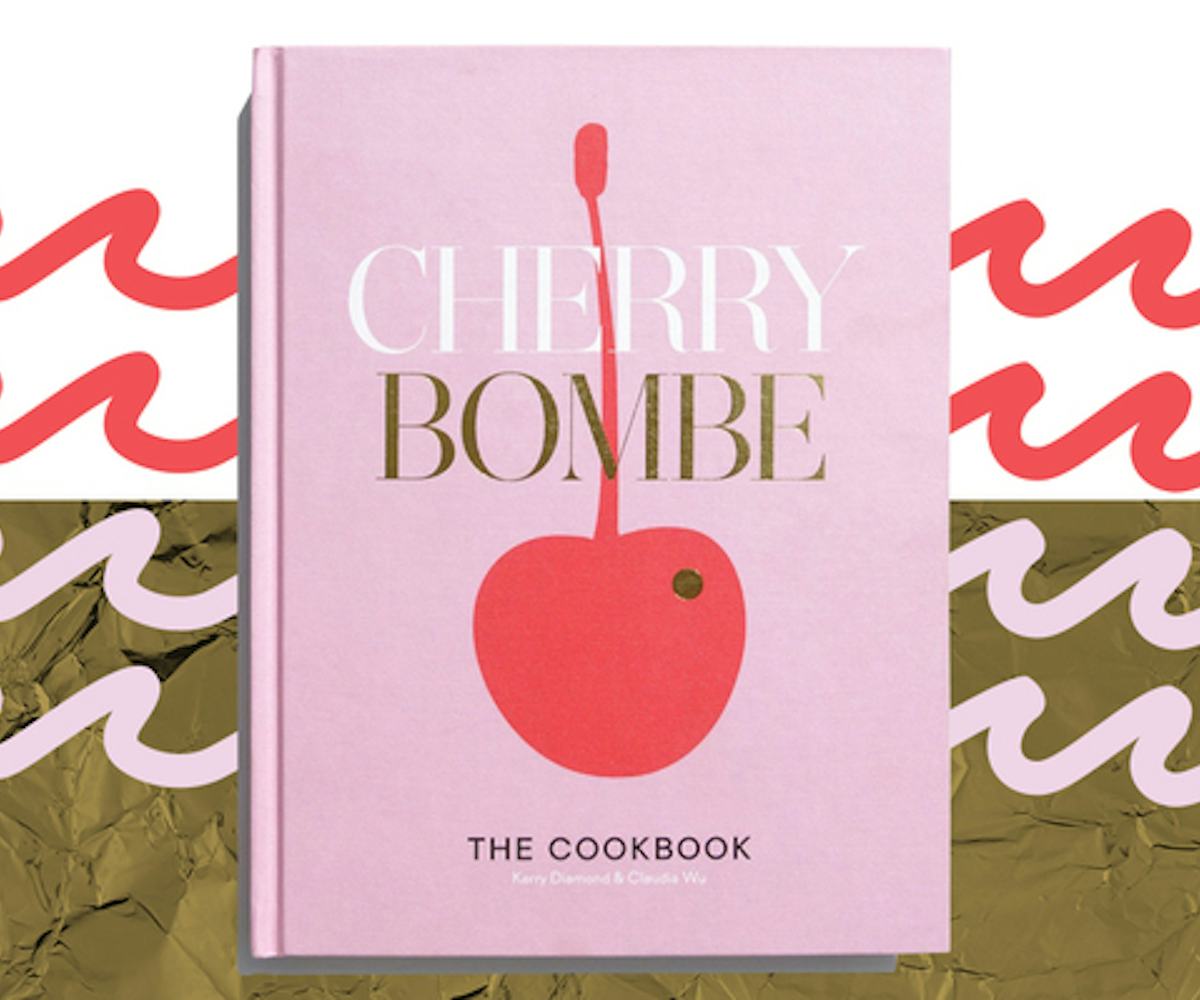 All photos courtesy of Cherry Bombe.
Inside The Cookbook Featuring 100 Recipes From 100 Amazing Women
Talking 'Cherry Bombe' with Kerry Diamond and Claudia Wu
When Kerry Diamond and Claudia Wu launched Cherry Bombe Magazine back in 2013, they just wanted to give women working in the food industry some much-needed spotlight. With a shared background in fashion magazines (the pair met working for Harper's Bazaar) and love of food (Diamond and her partner own three restaurants in Brooklyn, New York; Wu is an avid baker), they already had a strong set of contacts in place, so they started reaching out to friends and colleagues for contributions. Not long after, Wu says, they found what the publishing world was missing. "The stories people were pitching us touched on this whole aspect of women not getting enough recognition in the food press and food media. It started to take on something that had more of a voice beyond just a food magazine."
Now, three years and nine issues later, Diamond and Wu are leading a bona fide movement to change the way women are represented in the food world. In addition to the magazine, the Cherry Bombe brand has grown to include a weekly podcast, a bicoastal convention, and a star-powered new cookbook, created by women about women.
Cherry Bombe: The Cookbook, out today via Clarkson Potter, is a beautiful (and very pink), 256-page hardback containing 100 recipes from 100 different contributors. The offerings span every cuisine style under the sun and range from mains and side dishes to soups, salads, snacks, and desserts. And because each recipe comes straight from these women's home kitchens, every dish comes equipped with a short story about its meaning.
Among the goods, you'll find model-cookie aficionado Karlie Kloss' spicy ginger cookies, Salad for President author Julia Sherman's caesar brussels sprouts salad, Top Chef host Padma Lakshmi's sweet and sour shrimp, and DJ Justine D.'s too-pretty-to-eat Cherry Bombe Cake Balls, which Wu says are probably the prettiest and the most challenging recipe in the book. "It's all really approachable and doable, except maybe for Justine's Cherry Bombes. Kudos to anyone who gets the book and tries those."
Below, we talk with Diamond and Wu about the book, their food memories from childhood, and favorite recipes.
What are some of your first memories of cooking growing up?
Kerry Diamond: I loved making grilled cheese as a little kid. But I would insist on walking to the corner store and getting sliced American cheese from the deli counter. Wonder Bread was okay, but Kraft Singles were not. I had standards even back then.
Claudia Wu: Food was really important to our family. I come from an Asian background, and my mother cooked dinner for us every night. Going out to eat was a luxury, and if we did go out it was to Burger King, so I grew up having a huge interest in food and cooking with my mother. Then I got into baking, so I always had a sense of the importance of food and family and sharing—the nurturing side of making things for people. My family isn't necessarily outwardly demonstrative, so food was definitely the way we showed love to each other.
There are some amazing women included in the cookbook. How did you go about choosing who to include?
CW: We mostly hit up contributors to the magazine. The book isn't just chefs and people who work in restaurants—there's also Andrea Gentl, who's a photographer, and Sierra Tishgart, who writes for Grubstreet. We wanted people in and around the food world who we thought would be amazing to have in this collection of women. We tried to spread it out and have people in different cities from around the country because we wanted the book to have a broad reach. We also wanted to be able to go to different cities and have someone there that we could celebrate with.
How did the submission process work?
CW: We know that everyone can Google a recipe. The brief we gave to our contributors was that we wanted a recipe that has some sort of meaning. We wanted to make it something that probably wasn't on the internet. Some of the recipes in the cookbook are actual family recipes, or recipes for things that acted like comfort foods, or something that they had a childhood memory of. We didn't really leave it to them what recipes they wanted to give us. [Laughs] We wanted something that had a story behind it—something that was personal to each of them.
Do you each have a favorite dish in the book?
CW: Yes! Amy Chaplin has this cake. It's a coconut spelt cake with raspberry jam. I basically took that cake home from the photo shoot and ate it all by myself over the course of a week. It's not for everyone—it's kind of healthy, and it's made of spelt and coconut—but the frosting is amazing. It's coconut with agar-agar, and you have to make it overnight, but it's the most delicious thing. The other recipes I really love are Martha Hoover's purple grain salad and Angela Di Amiga's red cabbage salad. I also make Camille Becerra's banana bread for all of my friends and family for the holidays. It makes a great present.
KD: Not to be cheesy, but the collective power of 100 women sharing recipes from their moms, their grandmothers, their friends, themselves, makes me a little weepy. It's impossible to pick one. I love them all.
Do you feel like the food industry has changed for women since you started CB? 
KD: Absolutely. Just look at New York City. It wasn't the best place for female chefs. You had April Bloomfield, but most people would have been hard-pressed to name another major female chef. Now the city is filled with killer talent, like Angie Mar at the Beatrice Inn, Missy Robbins at Lilia, Suzanne Cupps at Untitled, Emma Bengtsson at Aquavit, and Daniela Soto-Innes at Cosme. I could easily name a dozen more. That wasn't the case a few years ago.
Cherry Bombe: The Cookbook is out today, October 10, and you can order it here.