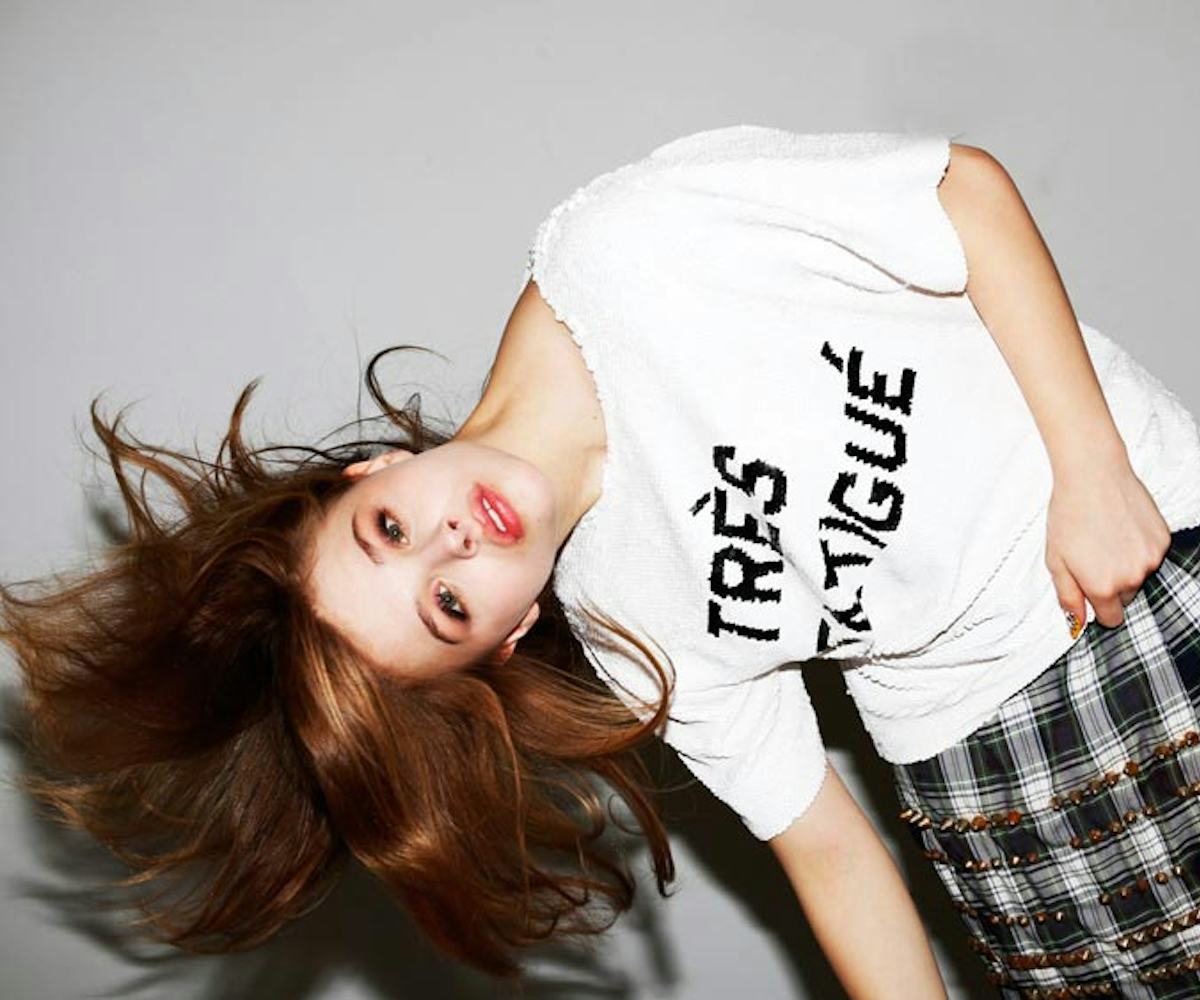 photo by jason nocito
chloe grace moretz loves getting r-rated
+ her new movie, the equalizer.
Despite her shiny golden hair and sweet smile, Chloe Grace Moretz has never been one to play the role of the innocent, young girl-next-door. Instead, she has skipped reenacting childhood on the big screen, and has instead chosen to star in R-rated movies from early on, like the blood-sucking Abby in Let Me In and last year's Carrie remake. To say her efforts have paid off would be an understatement: She outshined Nicolas Cage and Aaron Taylor Johnson as murderous pre-teen Hit-Girl in 2010's Kick-Ass and has since worked with many of Hollywood's top talent, including A-list directors like Tim Burton and Martin Scorsese. And she's not even legal.
In her new film, The Equalizer, Moretz plays a prostitute indentured to the Russian mafia — another meaty role — whose only hope is a retired black ops commando portrayed by consummate leading man Denzel Washington. Don't think she approached the gritty, seedy world of prostitution lightly; the thoughtful actor actually went out there to meet young women who were put in similar situations at Children of the Night.
Can you talk about finding the character during rehearsals with Denzel?
We didn't have rehearsal time together. We kind of just went up on set and just did it. Robert is the only guy in her life that doesn't treat her like a piece of meat. He's the only guy who doesn't check her out up and down the minute she walks in the room. He's the only guy who asks her how she is, how's she doing, how's her day. That means more to her than anything and I think her demeanor obviously took that on in that she didn't feel like she had to put herself on. Every time she opens that diner door she puts herself on, she pulls her bra up, she pulls her shirt down, she puts on what everyone thinks she is. She fixes her wig.
Did you have time to research the role? 
I actually went to this organization called Children of the Night and I actually met a lot of the girls who were actually put in this situation. A lot of them had this thing where they didn't really look you in the eye at all, really. When they talked about what happened to them they'd tell you these stories and they'd be real jerky and real shifty, but when you actually connected with them then they would actually kind of grant you their look, and it meant so much to see that and they kind of let you in and you understand that doesn't happen very much. 
How hard is it to let go of that emotion?
When you're six years old and you're crying in movies, you're thinking about you're pet dying and stuff. There's a moment where you kind of ask your mom where you're like wait, my pets okay, right? I'm just making sure. We're good here, right? When you start to kind of believe the kind of emotions you're telling yourself to make you feel a certain way, it's when you need to kind of step away. You aren't Elena, you aren't Teri, it's just a job. You can have some cereal and watch Real Housewives of Atlanta.
You were doing R-rated roles before you became a teenager.
I never really shied away from a part and I think that's just because I'm kind of overzealous. I feel like acting is how I find out who I am a bit. And I get to soul search a little bit and figure out my emotions.