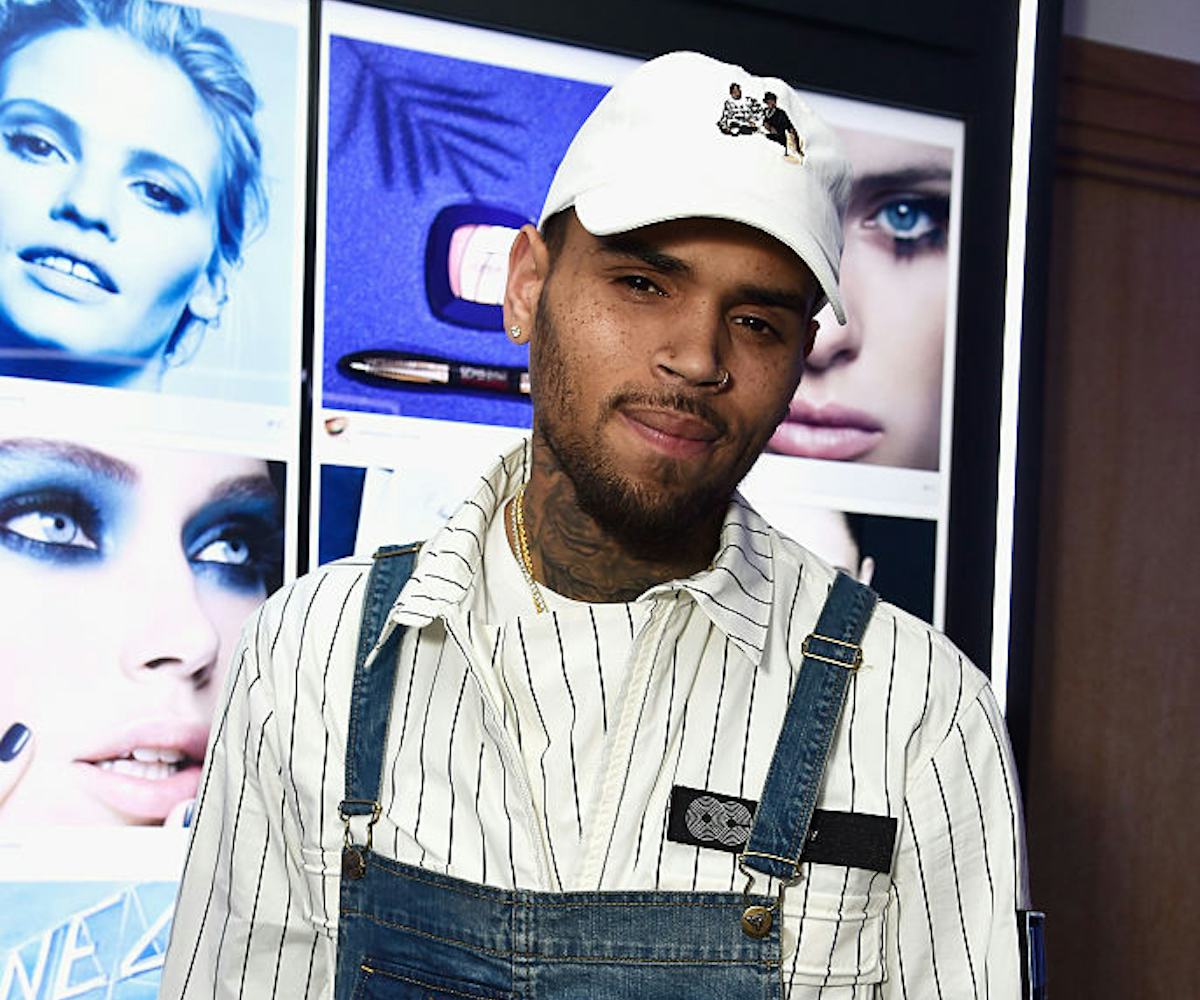 Photo by Pascal Le Segretain/Getty Images
Chris Brown Rants On Instagram After Allegedly Threatening A Woman With A Gun
This is hardly the first time he's been in trouble with the law
Musician Chris Brown has taken to Instagram this afternoon to defend himself against allegations that he used a gun to threaten a woman in his home. TMZ first reported that police had gone to Brown's home in Tarzana, California, early this morning following a 911 phone call in which a woman claimed that Brown had threatened her with a gun. 
Brown, who is no stranger to either brushes with the law or violence against women, has since taken to Instagram to explain to his millions of followers what exactly is going on. In the first video, he begins by explaining that he was "asleep half the damn night" only to awake with helicopters hovering overhead and police at the gate. Brown expresses his innocence, while also not forgetting to pointedly denigrate women (because why not), and says that he's done nothing. He also points out that there's a real disparity between how the police respond when he calls them to report "a stalker" (they don't come until the next day) versus how they reply when someone complains about him (the SWAT team arrives at the gate).
In the second video Brown posted, he claims that all that's happening is that he's getting better publicity, scoffs at the idea that he's "barricaded" himself in his house, and says "fuck tha police." Brown also invokes the group Black Lives Matter, and calls out the police for being "the worst gang in the world."
And then finally, Brown put up one more video, in which he made sure to ask people to download, stream, and/or buy his latest work, and said, "Ironic how I put a crazy video out, and then you all got a bullshit ass story." Ironic or not (we vote not), the whole situation is certainly troubling. And while Brown makes a point of saying that he doesn't care what people think of him—"All of y'all can suck a fart out of my ass"—he also expresses dismay at what it has meant for him to be in the public eye. Turns out, he doesn't like it. "Fuck this fame shit," he says.
And, you know, we get it. It's gotta be really hard to be famous, so many people paying attention to you when you do things like, you know, allegedly threaten a woman with a gun or beat your girlfriend and destroy property and go on Instagram rants. Like, really hard. Maybe the only solution is for Chris Brown to leave the public eye, so we never have to hear from him again. Yeah, maybe that.