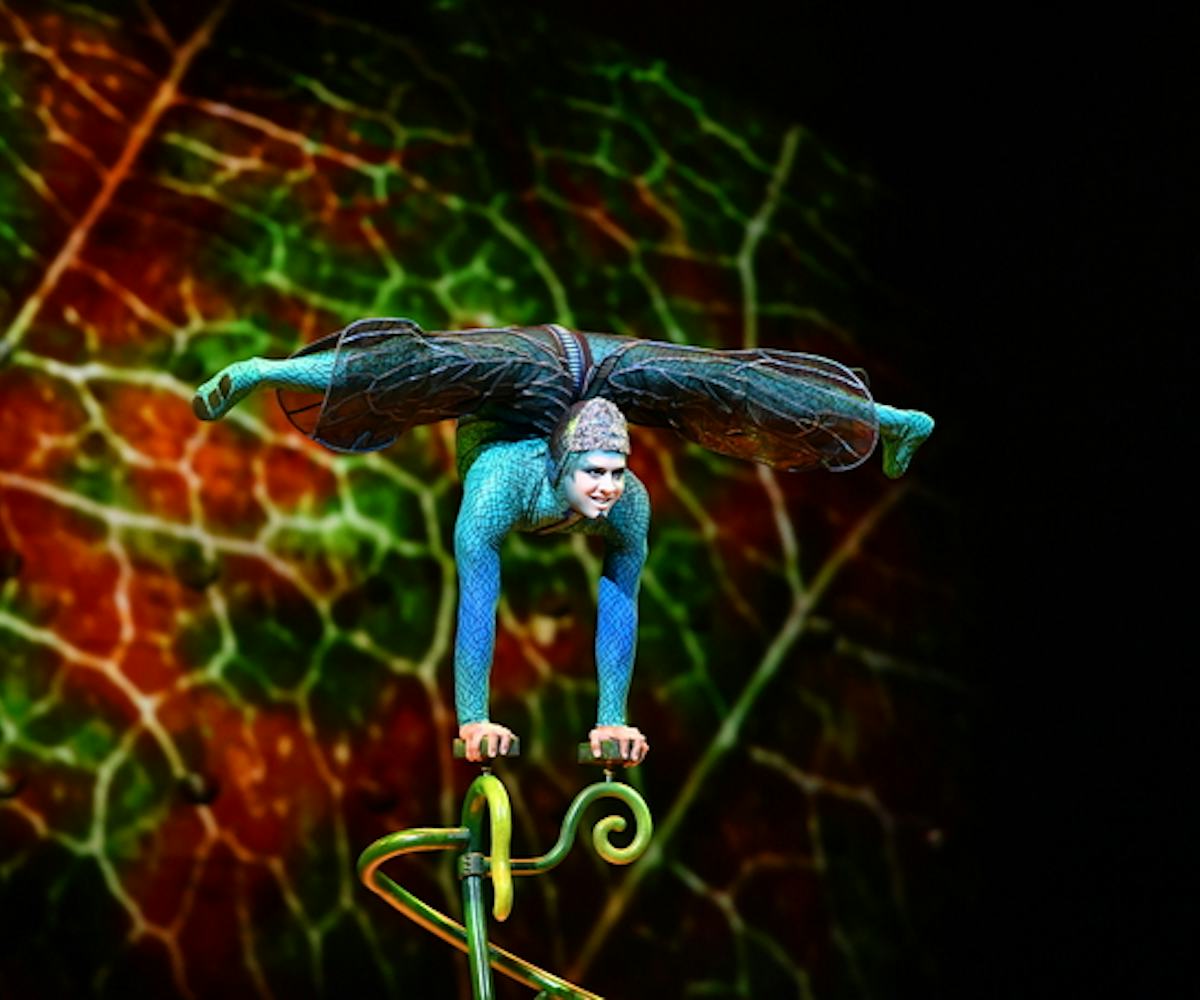 Photo courtesy of Cirque du Soleil OVO
How A Circus Performer Does Beauty
We go behind the scenes at Cirque du Soleil's OVO show
If you've ever been to Cirque du Soleil, you know that those incredibly talented performers, who pull off some mind-blowing stunts and tricks, also sport some truly incredible costumes and makeup as well.
What blows our minds almost as much as all of the flips, contorting, and other crazy stunts, is that each performer is responsible for doing his or her own makeup—albeit with a bit of initial guidance. Unlike what you'll see behind the scenes of a runway show or photo shoot, there isn't a genius makeup artist backstage painting each performer's complex face—no, the genius makeup artists are the performers themselves. So, essentially, on top of being hardworking and hard-training professional acrobats, they need to have their makeup application skills down pat.
We were intrigued by this and dying to know more about how these performers double as makeup artists. I mean, have you seen some of the makeup at Cirque du Soleil?
That's when we decided to go behind the scenes of Cirque du Soleil 's OVO show, which is one of the Montreal-based circus' many traveling performances. We chatted with Camille Santerre-Gervais, a Russian cradle flyer, and Kyle Cragle, hand-balancing contortionist, about all things beauty.
In case you're not already familiar with OVO, it's all about bugs—with each performer playing a different role in the insect kingdom. And so the intricate costumes and makeup are just as crazy and exciting as you'd imagine.
"Every Cirque performer starts by having a professional come up with our makeup look, and we then take pictures so our makeup looks can look almost identical to what they created. After that, we get two sessions with them to learn how we can do it, along with a step-by-step portfolio," says Santerre-Gervais. However, after that, they're pretty much on their own.
Both performers say their relationship with makeup started long before Cirque. For Santerre-Gervais, it all began when she was competing as a gymnast, keeping it simple with mascara and highlighter. But for Cragle? It started with binge-watching YouTube tutorials on drag, Halloween, and costume makeup back when he was 12 or 13. "At that time and age and where I grew up, it wasn't common for men to wear makeup, so I would just do it for fun in my house. Then I really got started as a professional working in circus arts, so I got to wear makeup and practice it more often."
But what I really wanted to know, as I stared at both Santerre-Gervais' and Cragle's glowing faces, is how the hell they kept their skin looking so flawless. Both had perfect complexions, and based on their hectic travel schedule (they head to a new city every week with five days of performances per week), I needed them to spill their secrets, stat.  
As you can imagine, being on the road for a majority of the year can do a bit of damage to your skin—especially when you're putting on a full face of makeup (metallic foils and face paint, included) each night.  The best way to combat damage, according to these two busy acrobats? Opting for natural, gentle, and nourishing products. "For me, I don't like to use any chemicals," says Santerre-Gervais. "The stage makeup we use has chemicals in it, so when I take it off, I use coconut oil and other natural products that won't irritate my skin." She also applies lotion to her face constantly, to keep it hydrated and combat airport skin, and stresses that it's not always about having the most expensive products when it comes to good skin.
Cragle agrees, using tons of rich natural oils like coconut, rose water products, and micellar water to keep his skin on point, and bringing in tea tree oil and witch hazel when his combination skin feels too oily.
The hero product? This unassuming "Magic Eraser" towel that you can buy on Amazon. Both Santerre-Gervais and Cragle swear by it so much that I've already decided to order one for myself. They're able to remove all of their heavy stage makeup using it, without having to use any harsh cleansers and makeup removers. Another hero is Touch In Sol's No Poreblem Primer. It will completely blur away your pores and works as the best primer to makeup (stage or every day), according to Cragle.
Of course, self-care is another way keep their skin (and minds) in good health. "We do a lot of face masks together," says Cragle. "There are definitely a lot of 'girls nights' with masks." He goes on to say that while they all like to do things together, everyone has their own form of self-care. "For me, it's more mental and just making sure I allow myself to relax. Doing face masks is really relaxing, but I think we just have to do a really good job of disconnecting from the show on our days off and try our best to get out. And sometimes the best thing is to just sit in the hotel and relax, or go outdoors to get Vitamin D." For Santerre-Gervais, yoga is her form of self-care. "I have my yoga mat here, so it's really just taking some time to breathe and relax."
Below, learn a bit more about Santerre-Gervais' and Cragle's stories—and how they became the talented acrobats (and makeup artists) they are today. We've never wanted to run away and join the circus more.