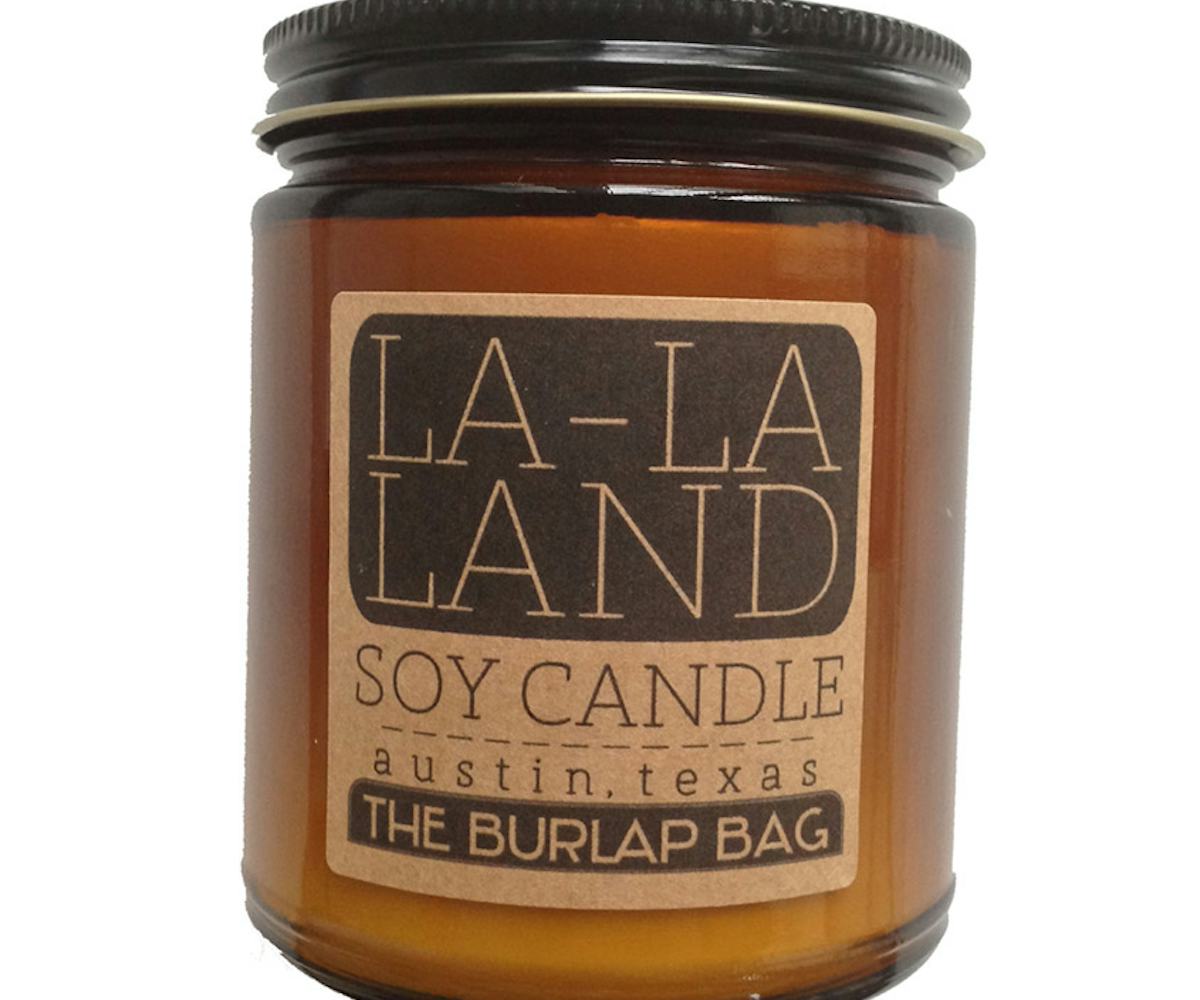 city find: the coolest candles in austin
smells like teen spirit—or, you know, cuddles.
Is there even such a thing as too many candles?! Let's face it, you need them for everything: reading tarot cards when the lights go out in a thunderstorm, making your apartment smell good the morning after the party of the century, adding some extra coziness to a major relax sesh after a ridiculous week.
I get it, you probably already have your go-to scent for each of these situations, (thunderstorms, post-parties, chillaxin'), but every once in a while I'll walk by a new candle at a flea market that's completely irresistible--and right now is one of those times. That's because the soy candles from The Burlap Bag in Austin, Texas are totally awesome. With names like Crazy Cat Lady, Cuddles, and La-La Land, these handmade goodies are more than just burnable goodness, they're super fun.
So go scoop up your new fave at their West 30th Street gift shop in Austin or online right here. Because, trust me, Unicorn Puke is a scent you just can't live without.
Want to know about more cool stuff from Austin? Sign up for the NYLON Daily Newsletter below to get the scoop on the best flea markets, parties, and more awesomeness in your city every day!
The Burlap Bag Soy Candle - Unicorn Puke (smells like cotton candy), $12
The Burlap Bag Soy Candle - Crazy Cat Lady (smells like japanese grapefruit), $12
The Burlap Bag Soy Candle - Baked Bread (smells like baked bread), $12
The Burlap Bag Soy Candle - Cuddles (smells like amber, sandalwood, musk, and vanilla), $12
The Burlap Bag Soy Candle - Coffee Fix (smells like coffee with sugar), $12
The Burlap Bag Soy Candle - La-La Land (smells like vanilla, oak, and cedar), $12
The Burlap Bag Soy Candle - Toothfairy Breath (smells like eucalyptus and spearmint), $12
The Burlap Bag Soy Candle - Squeaky Clean (smells like lavender and basil), $12
The Burlap Bag Soy Candle - Hippie Scent (smells like incense), $12