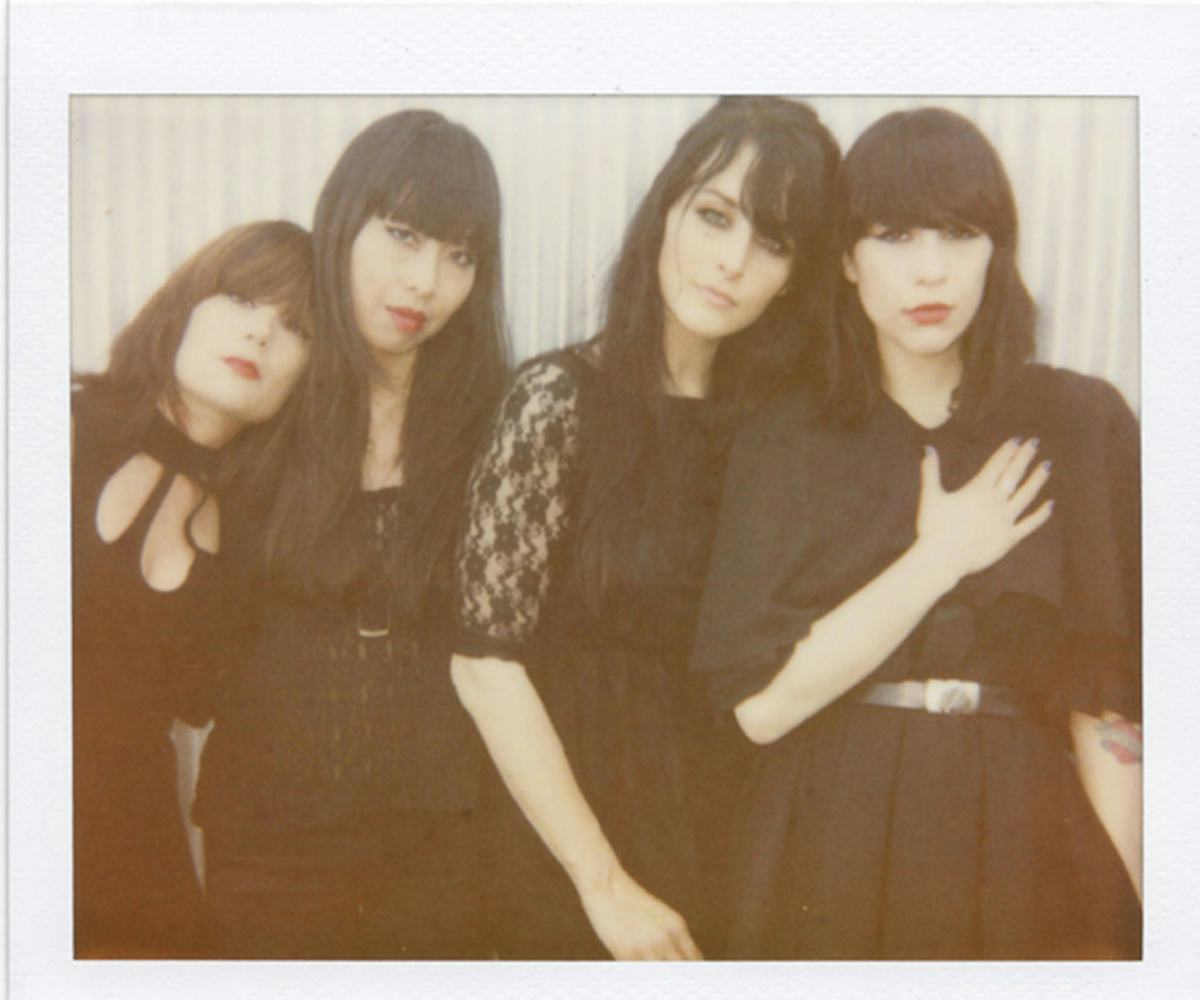 photo by patrice jackson
the nylon weekend guide
see our top picks for what to do in your city this weekend!
It's Friday night and you have no idea what you're even doing yet this weekend?! No worries. We've got you covered in the form of the NYLON Daily Newsletter. The awesome/amazing/fill-in-the-blank email goes out to 10 cities every day, letting you know about the coolest stuff you definitely shouldn't miss. It's kinda like opening up an envelope filled with confetti and party horns. Get a glimpse into what you'll get every day of the week by checking out our entire weekend guide for your city below. If you like what you see (and seeing as a David Lynch-themed art show, a Moonrise Kingdom craft sesh, and a Dum Dum Girls show are all part of the fun this weekend, we know you will) then sign up for the NYLON Daily in your city right here.
Austin
What's better than shopping? Shopping while sipping on cocktails of course! One of our favorite stores is throwing a party this Saturday that you won't want to miss. Hop on over to Madewell in the Domain and sip on some Michelada cocktails while you peruse selections from new emerging designers like Alyson Fox and Cold Picnic (just to name a few). These designers have been hand picked by the style stars behind Of a Kind, the shopping site dedicated to showcasing new designers and their unique work. DJ Mahealani will be providing the party tunes, and don't forget to get your photo snapped in the Smilebooth! Added bonus: if you end up spending $125 or more, you'll get 20-percent off!
See the whole Austin Weekend Guide + Get invites to cool parties at all your favorite boutiques around town by subscribing to the NYLON Daily right here!
Boston
There's just something way cooler about handmade notebooks than ones you can get just anywhere--and bookmaker Athena Moore totally gets it. Her awesome designs come with 10 years of hand binding and art experience, making seriously cool work that you might even find too cool to write in. Stop by Washington Street Art tomorrow, where the creative lady will be showcasing her favorite pieces as part of her Bound Together exhibit's opening reception.
Click here to see what else is going down in Boston this weekend +To find out about more cool local artists and their exhibitions by subscribing to the NYLON Daily!
Chicago
Whether your fave bookcase just broke or you just moved to a new place and need a spot to put all your fave reads, we know just the spot to get it tonight. And actually, instead of getting a new one, you're going to have the chance to make it yourself. Stop by the Rebuilding Exchange tonight, where you'll learn how to create your own goodies-holder with shelves, completely from scratch using reclaimed wood. Because making your own furniture is way cooler than buying it.
Get the whole Chicago Weekend Guide + Sign up to see what other cool workshops are happening by clicking here to subscribe the NYLON Daily!
Las Vegas
You might have to cancel whatever plans you had for tomorrow night, unless they included checking out the live set that's going down Backstage Bar & Billiards. Trust us when we say you definitely don't want to miss rad groups Dum Dum Girls, Blouse, and Creep Magnet who will all be stopping by the venue for Saturday night shows. So before you check out funny girl Lena Dunham, go see an indie noise pop girl band, a dream pop trio, and a group of local rock'n'rollers in real life.
Click here to see the entire Las Vegas Weekend Guide + Find out about more cool shows going down in Vegas by subscribing to the NYLON Daily!
Los Angeles
Thinking about ordering Chinese for dinner tonight? We've got a better idea--scope out the Facebook page for the Chinese Cuisine Festival, aka San Gabriel Valley Restaurant Week. Tons of awesome authentic restaurants are serving up delish specialties--and items off of secret menus--just for you (think roast duck with sweet soybean paste and yummy bok choy). Yeah, this is totally better than ordering takeout (at least for one night).
See the entire LA Weekend Guide here + Subscribe to the NYLON Daily to get the deets on all the awesome food fests around town!
Miami
Even though there's no dress code at Kill Your Idol's throwback party tonight, you should still totally go decked out in crop tops and side ponytails, seeing as the rager's theme is Flashback, where they're spinning jams from the '80s-'00s. Not sure about you, but we'd give almost anything (just not our fave pizza) to go back to the rad decades, and tonight you'll actually get the chance. Get pumped to hear old Britney and drink up awesome specials at the Espanola Way spot tonight.
Get the whole scoop on Miami parties this weekend + Subscribe to find out about them every day right here!
Nashville
It's always awesome when you get to celebrate a new record with the honorary band themselves. This weekend, it's happening at Exit / In, where you'll get to scoop up the latest album by local indie rockers Daniel Ellsworth and The Great Lakes. Kid Tiger just dropped earlier this week, so there's a good chance you'll be one of the first to hear its jams live. Plus, since Alanna Royale and Blank Range are also stopping by for sets, you definitely won't want to miss it.
Click here to see what else is going down in Nashville this weekend + Subscribe to find out about more cool shows all week long!
New York
There are some things you just can never have enough of, like macaroons, Girls marathons, and accessories--whether scarves, bangles, or totes. Go get your fix (plus find dresses, T-shirts, and cardigans) at Baggu this weekend, where the Williamsburg shop is hosting a Lauren Manoogian Collection + Faux/Real sample sale, with up to 75-percent off. That's right--you'll get a huge deal on three different brands, all weekend-long. So, no we won't blame you if you leave with more than you can carry.
Find out what else is happening in NYC this weekend + Subscribe to the NYLON Daily to get the scoop on all the coolest sample sales!
Orange County
When a super cool vintage shop and an awesome record store team up to throw a music party for, basically no reason it all, you know it's going to be rad. Join Burger Records at Tarte Vintage to see pop dude Rexx, psych folk band Santoros, local garage rockers The Molochs, and instrumental group Flying Hand all for only five bucks. Plus, since you'lll already be at the cool throwback store, you might as well do some shopping...
Get the whole OC Weekend Guide + Subscribe to the NYLON Daily in Orange County right here to learn about more parties going down at Tarte Vintage!
San Francisco
Calling all Twin Peaks fans: there is a David Lynch themed art show (yes, you heard right) opening at Spoke Art this Saturday. It's called In Dreams, and it's going to feature over 50 awesome artists from around the world who emulate and are inspired by the director-slash-artist's style and work. Plus, awesome prints and limited-edition posters will be for sale online on Monday, so, there goes your paycheck.
See the whole SF Weekend Guide + Find out when all the cool art shows are going down by subscribing to the NYLON Daily here!
Are you a Gmail user? Our newsletter might be hidden out of sight in your promos tab! If you want to make it even easier to see the coolest events in your city, here's what you can do: Click on the "Promo" tab and find a NYLON Daily Newsletter. Drag it into your "Primary" tab. Gmail will notify you of the change and ask you if you'd like to do this for all future emails from NYLON Daily. Just say yes! <3