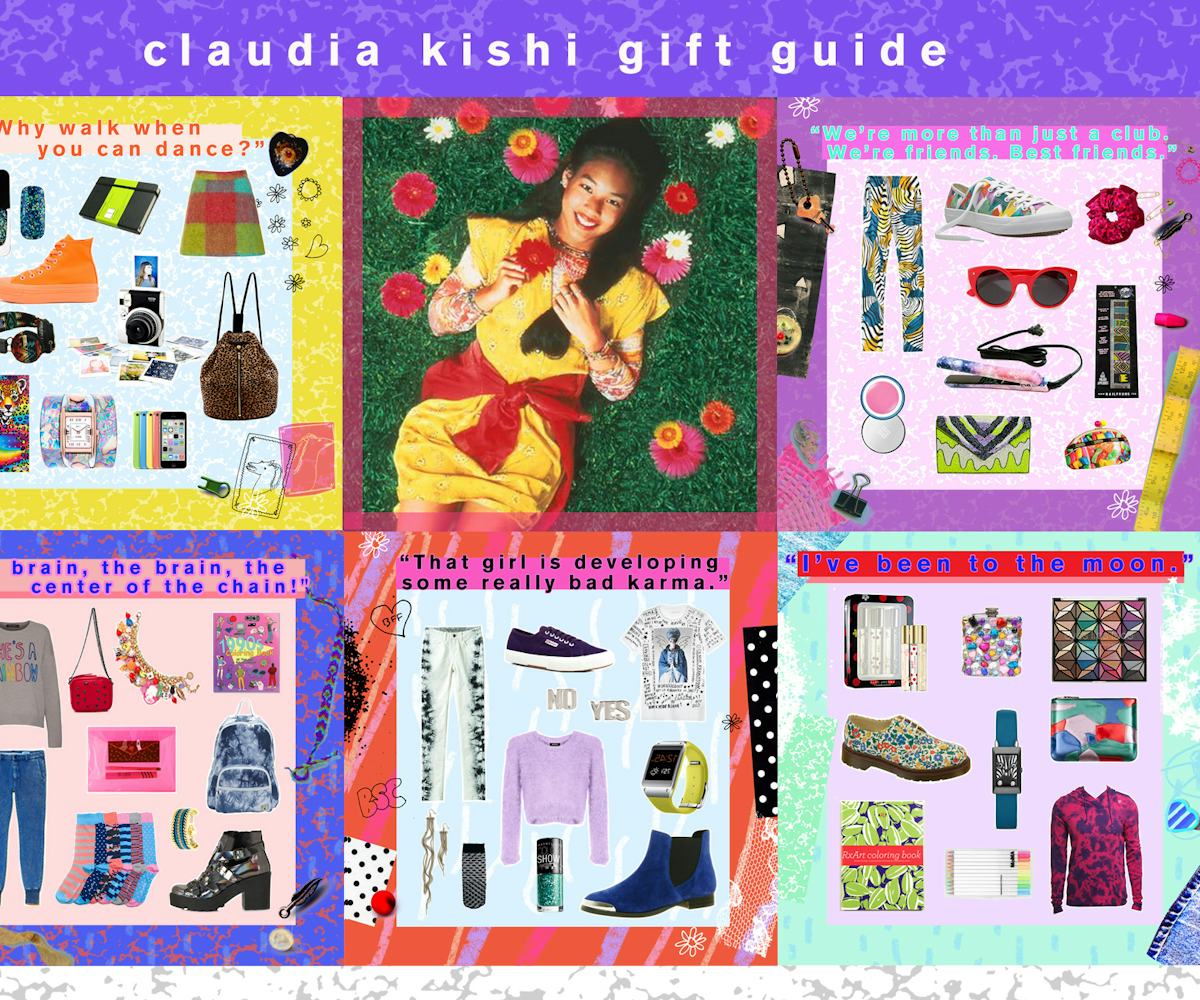 the claudia kishi gift guide
for the girl who needs some tie-dye jeans and a lisa frank calendar.
Ready or not, here it comes! Holiday season has arrived, and that means tons of shopping. But let's be real: your average gift guides are boring, so we're going to do things the NYLON way with lists inspired by our fictional dream BFFs. Every week we'll be picking the best gifts for our movie muses, so keep checking back to find that perfect item for your friends or for yourself. 
Let us start by saying this: who doesn't want to be Claudia Kishi? As the artsiest member of The Babysitters Club, Kishi has a wardrobe that launched a thousand blogs (like What Claudia Wore), speaks Japanese, and is besties with Grandma Mimi. She was easily the most fashionable member of The Babysitters Club (sorry Kristy), and probably the kookiest, meaning that her holiday wish list was likely filled with notebooks, tech gadgets, printed pants, and heaps of sparkle nail polish. So if you are a Claudia, or know someone who is, let us present the most epic gift guide for a '90s-obsessed technicolor dream girl. 
Need more gifts?
The Holly Golightly Gift Guide
The Margot Tenenbaum Gift Guide
Iris Von Arnim Sweater -- $850
Closed Faux Denim Sweatpants -- $254
Venessa Arizaga Bracelet -- $310
Urban Outfitters 1990s Coloring Book -- $10
Topshop Metallic Boots -- $180
Formula X x Sephora Nail Polish in Outburst -- $12.50
Converse Platform All Stars -- $65
Urbanears Pendleton Headphones -- $79.90
Customizable Moleskine Notebook -- $40
Photojojo Instax Camera -- $225
Elizabeth and James Backpack -- $545
Missguided Eyelash Sweater -- $32.50
Maybelline Polka Dot Nail Polish -- $3.99
Forever 21 Stud Earrings -- $2.80
Marc Jacobs Dot Rollerball Fragrances -- $39
Dr. Martens Floral 1461 Shoes -- $110
Urban Outfitters Gemstone Flask -- $28
Marc by Marc Jacobs Zebra Watch -- $175
MoMA Fluorescent Pencils -- $25
Comme des Garcons Wallet -- $243
Givenchy Lip and Cheek Balm -- $30
Kate Spade Saturday Sneakers -- $64.99
Eva NYC Straightening Iron -- $50
Marc by Marc Jacobs Scrunchie -- $32