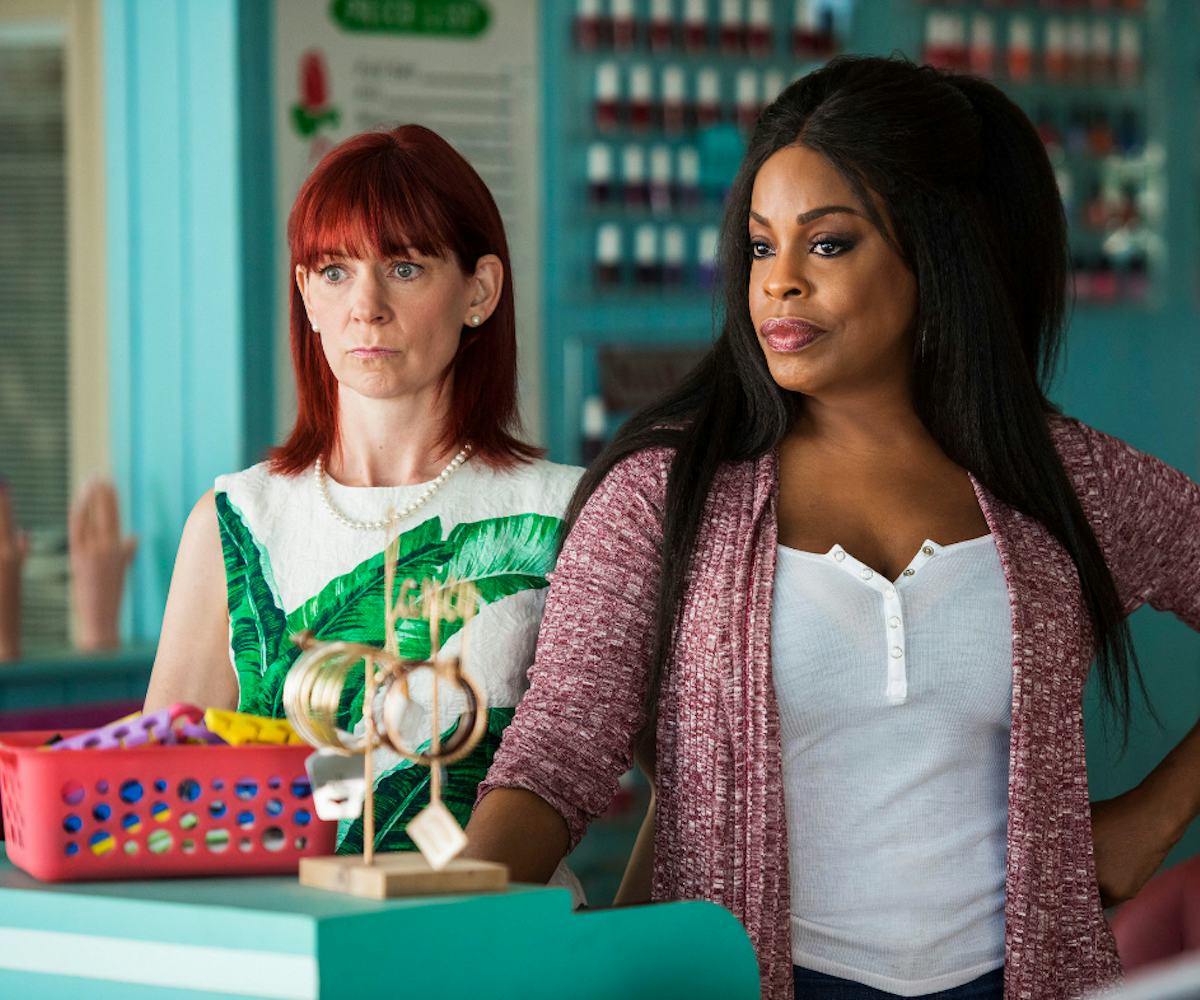 Photo by Wilson Webb for TNT
Manicures And Mayhem: The Nail Artist From 'Claws' Shares Her Secrets
Gracie J. has taken nail art to a new level
If New York City was the so-called "fifth lady" of Sex and the City, a character in its own right, then surely the manicures on TNT's Claws deserve a co-star credit, so prominently—and colorfully—do they feature in the new show's wild narrative. Claws centers around the exploits of five women working in a nail salon in Manatee County, Florida; there's tough but with a heart of gold salon owner and ringleader, Desna (Niecy Nash); right-hand woman, Julie (Jenn Lyon); just-out-of-jail and former Young Republican, Polly (Carrie Preston); mute lesbian enforcer, Quiet Ann (Judy Reyes); and Virginia (Karrueche Tran), the show's Jesse Pinkman to Desna's Walter White.
Yes, that's right, Walter White was just invoked. Claws is already drawing comparisons to Breaking Bad, for the way in which it blends the lives of everyday people, the kind you'd find working at a strip mall nail salon in Florida, for example, with the high risks and high rewards (and high violence) world of drug trafficking. But Claws distinctly has its own voice, thanks to the five stellar lead actresses, all of whom portray the kind of unapologetically bold women rarely seen on TV at the same time. 
One way in which their individual characters are expressed is via the incredible nail art each woman sports, with designs reflecting the various trials and tribulations they face over the course of the show. Recently, I visited the set of Claws (it films right outside of New Orleans, despite taking place in Florida) to talk with Gracie J., the woman behind the nail art magic on the show, about how she got the gig, how she decides what nails to do on what character, and how she got into this line of work. 
How did you got connected with the show?
Last summer I did a spread with Essence in which they were featuring nail artists to know, and that's how [the producers] found me. Like a year later, I got an email from a Gmail account. I thought it was a prank, so I was like, "Oh yeah, what's this show about?" Once I saw Niecy Nash, Karrueche Tran, Judy Reyes, Carrie Preston... I saw nails, TNT, this group of talent, I did not hesitate. I jumped on it, and was like, "Sign me up! When do I come down?"
How do you decide what nails to give each character?
It starts off with knowing the characters—what kind of personality do they have, what their life story is, and where they are presently and where they're trying to go forward. A lot of people think nails are just like, "Let's just throw on a color and do a design!" But with this, we have to do a lot of script breakdowns. We have to know how to read a script and know what's going on in a scene, because of how a certain design might affect a scene. And it's important to come up with designs that are cohesive with what's going on with the characters. Like: Are they on a date? Are they on a heist? The nails definitely take on their own persona.
How long have you been doing nails?
I've been into nails since I was 13, and I'm currently 27 years young. Ever since getting my first job, I was spending all my money on nail products. It was one of those things that I thought was a hobby and didn't realize it's something I was meant to do. But I'd always gotten compliments on my nails, and people used to notice my nails all the time. So I met up with this photographer who invited me to work with her on set, and the very first time I worked with her I felt comfortable and I felt it was my place. But my mentality went straight to the round-the-way chop shops; I didn't think I could make any money. It wasn't until later on when I started working for M.A.C. Cosmetics that I was like, "Wait a minute, is this how much they're paying people on set to do nails?" And I thought, I can do a better job at this. So I went to school to get my license and decided to pursue this for a year, thinking if it doesn't work out, it's fine. That was almost five years ago.
There's so much stuff that many women do that we don't even realize we can monetize because we're not told how much value it has.
I tell women that all the time! I'm very pro-pushing women to make a business of yourself and put yourself out there. You can make money at anything, and you can be successful at anything, you just have to perfect your craft. Once you figure that out, everything else comes with it. My model has always been work smarter and not harder. This whole opportunity is not just about me, it's for every other nail stylist. I think we too often get overlooked in beauty. We don't get the recognition that we should.  
And someone else will make money off you if you're not making it off yourself.
Exactly. And that's what I did not want to do. I didn't want to break my back making money for someone else and not getting the benefits of it. 
Claws premiered June 11 on TNT and you can check out more of Gracie J.'s work here.