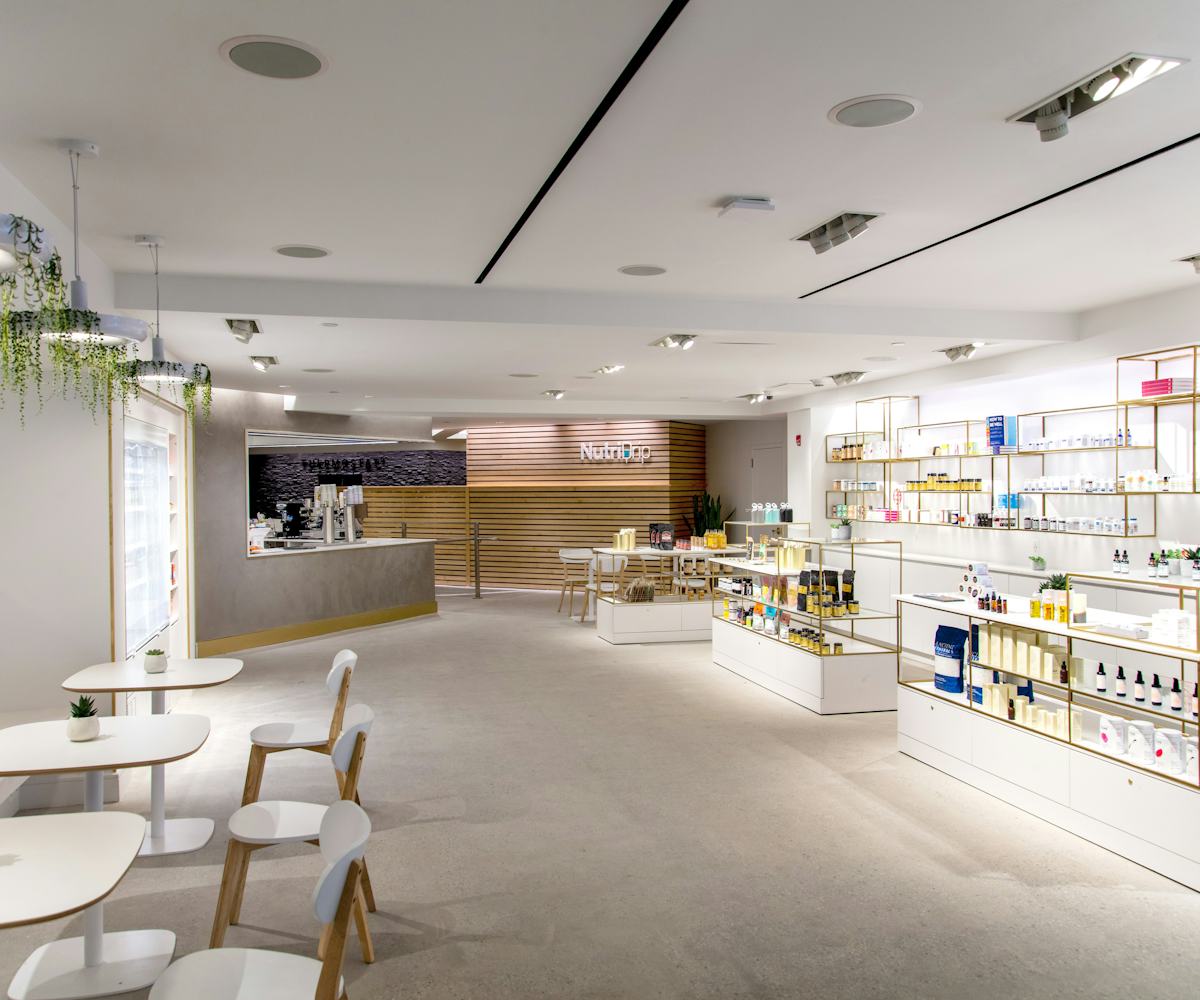 Photograph courtesy of Clean Market.
Step Inside Clean Market, A Wellness Retreat In The Middle Of NYC
Founded by Clean Food Dirty City's Lily Kunin
It takes me a while to find Clean Market. I mistakenly get off a stop too early on the subway and decide to walk instead of wait for the next train. I then take the wrong exit before, and only realize that I am walking in the entirely opposite way a few blocks later. I blame it on Midtown, a neighborhood I'm never in, and having a hectic workday prior to this. I am late, sweaty, and frazzled by the time I walk through the door for my appointment. Yet, as I make inside the wellness hub—that functions as a treatment center, retail space, and a cafe—my heart rate instantly slows down and I relax. The minimal, bright space, outfitted in a white color scheme, wood detailing, and lots of greenery, feels like somewhere outside of New York City. It's serene and somehow, given its location, quiet. After I am done with my cryotherapy, infrared sauna, and IV NutriDrip treatments, I feel even more so like I just left the city and went on a retreat upstate.
When I share my experience with Lily Kunin, founder of Clean Market and the very popular wellness website Clean Food Dirty City and author of Good Clean Food, I can hear the excitement emanating from her voice: "I love that you felt that way! It's definitely what we want people to come in and experience: some type of state change. So whether it's just from one of our functional smoothies or one of our services, it is a little escape from the city and an experience that kind of, like, takes you out of that everyday hustle and bustle." In fact, it's one of the reasons the recent L.A. transplant (who previously lived in New York) wanted to open the space specifically in Manhattan. "I love L.A., but it has a lot of health and wellness incorporated into every neighborhood," she says. "I felt like there was a really big need, and that Clean Market was filling a gap, in New York, especially in Midtown. I wanted it to become this oasis and retreat from the busy, hectic energy of New York." 
An LED sign—that reads, "energy, flow, detox, brain, immunity, beauty, gut health"—welcomes visitors. And while it may seem like a trendy way to decorate a space that will, undoubtedly, attract millennials with its buzzy services, it's also a reminder of the backbone of everything that Clean Market offers. "In functional medicine, when those seven pillars are all working together and aligned, you're achieving optimal health and well-being. So we really picked out services that we felt supported those functions in the body, and the same goes for every single product and item on our menu as well." 
In addition to supporting the seven pillars, the treatments currently offered—cryotherapy, infrared sauna, IV drips, and booster shots—are, according to Kunin, a "balance of really effective services and really approachable, adoptable services that you can integrate into your everyday life." So while she's aware that New Yorkers might be well-versed in the benefits of cryotherapy, in reducing inflammation and muscle recovery, and infrared, in promoting a better detox and increasing energy, she hopes they might discover something new while picking one of 14 nurse-administered NutriDrips vitamin solutions, whose benefits go from promoting immunity (a popular one, according to Kunin, before travel) to improving hair, skin and nail health, and relieving hangovers.
This blend of approachability and discovery extends to the retail space whose products—that range from True Botanicals face oils and Meow Meow Tweet natural deodorant to Pure Encapsulations supplements and Golde turmeric tonic blends—Kunin personally researches and tests alongside her functional medicine director and nurse practitioner, as well as other team members. "The ingredients are obviously super-important," she says of the meticulous process that every single product that lands on the shelf undergoes. "We look at the ingredients, we look at the sourcing, we look at whether there's clinical testing for all the medical-grade supplements." And while you might instantly recognize certain cult products, like Moon Juice dusts and Lord Jones CBD candies, there is still plenty to discover. "You might be really familiar with CBD, but then you come in and can discover all the products we carry that use CBD. For example, we just started carrying a CBD honey which is amazing for before bedtime," she says. "It's just kind of like taking familiar ingredients and introducing them into even better, more effective products."
Similar guidelines spill over to the menu of the cafe-smoothie bar, with Kunin, who has a degree from the Institute for Integrative Nutrition, paying close attention to the sourcing of ingredients and making sure that they are sustainable, and the menu organic and free of gluten and refined sugars. A lot of the products spill over literally into concoctions, like the Moon Juice functional lattes, that Kunin designed in collaboration with the brand while living in L.A., and superfood smoothies and bowls that borrow maca, grassfed collagen, and hemp protein from the retail shelf. There is also the option to add boosters, like probiotics, CBD, and B12 to any drink.
And it's that ability to custom-tailor a visit to Clean Market that is also at the core of the space, right alongside the seven pillars. "It's really a make-your-own experience. You can come in and browse retail and pick something up to take home, like a non-toxic basic like toothpaste, or you can come in and get a smoothie on your afternoon break, or you can create a few hours or an afternoon out of it and do kind of the whole circuit with infrared and cryo and IV and a drink," she says. "I think that the really amazing thing is, [no matter what you choose,] there's still an impact on the way you feel and your health." 
That bodes well for someone who walked in late.