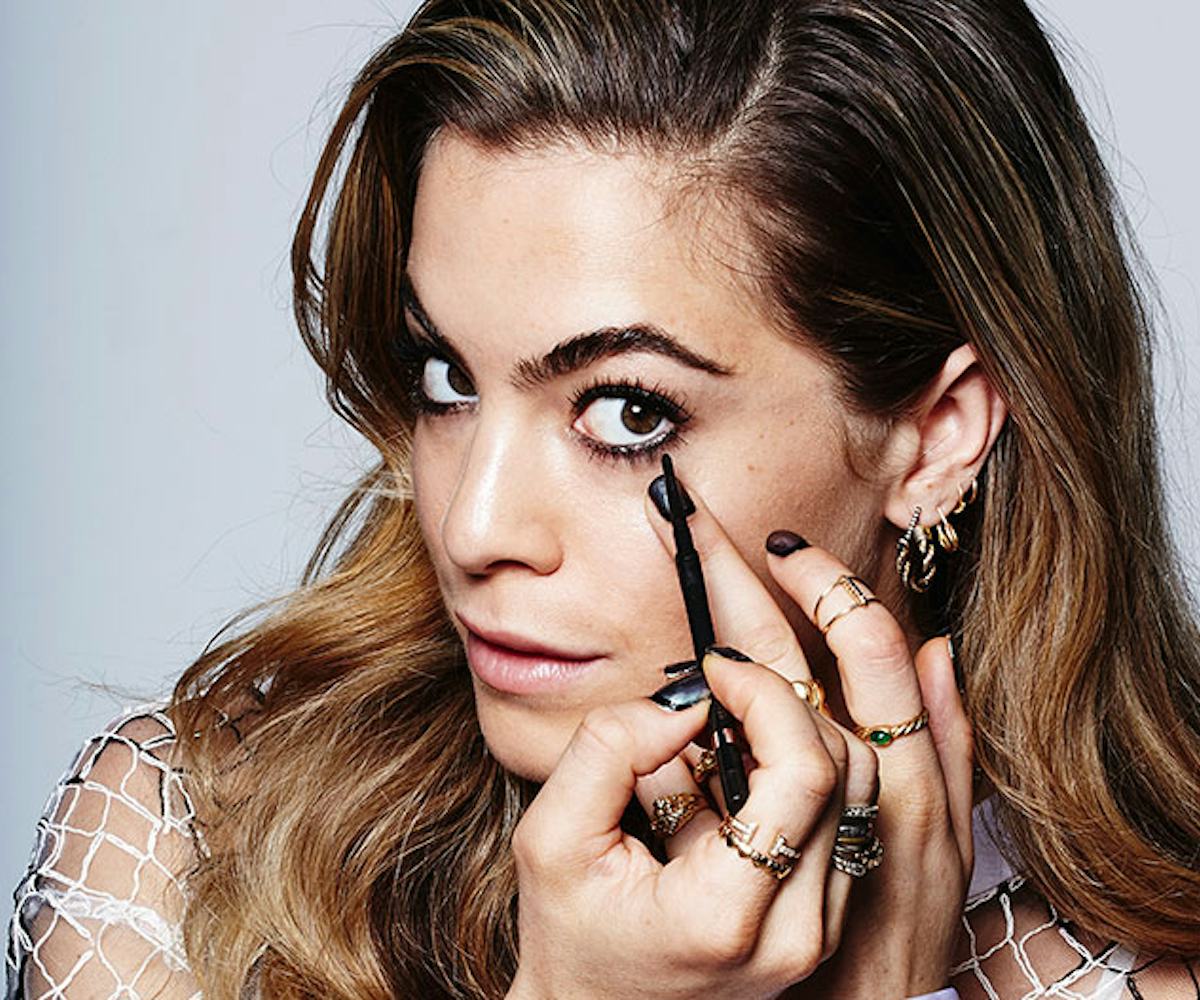 Photographed by Brayden Olson
give your smokey eye a makeover with this fresh, new ombré
When you're trying to execute the perfect beauty look, the right eyeliner is crucial—and how you use it is just as important. We've teamed up with Clinique to bring you a six-part series dedicated to mastering the art of lining the windows to your soul. Over the coming weeks, we're going to show you how to achieve an array of styles that make your go-to cat eye look like child's play—all with unexpected pops of color from Clinique's new Chubby Lash Fattening Mascara and Skinny Stick Eyeliner for fall.
There's a certain air of sophisticated drama to the smokey eye. It packs just the right amount of edge to spice up any look. Our makeup artist, Min Min Ma, wanted to put a twist on the tried-and-true technique for New York-based DJ Chelsea Leyland. By incorporating pops of green and paying attention to the lashes, Ma was able to amplify Leyland's casual magnetism up to a near-perfect 10. See why Leyland is one of our beauty icons below and how to get a look similar to hers in the pages ahead!
What does beauty mean to you?
When I think of beauty, I think of health. When your healthy and clean, rested and strong, this is reflected on your skin. Beauty comes from within, in a physical way, but also in a greater sense. I think if you're a good person, if you're a kind person; if you've got good intentions; if you care what's on the inside of other people then this reflects on the outside and you will appear more beautiful to others. You will radiate from the outside. Beauty, to me, is about health and feeding your skin in a nourishing way. Trying to stay away from chemicals and use as many things from the Earth as possible to nourish our physical body.
What's the best piece of beauty advice you've been given?
The best piece of advice for that is to take care of your insides. Take care of your body for that will reflect on the outside. When I was younger, I had friends who would never get bad skin or anything. They would eat so many sweets or drink so much alcohol. All of those kinds of things will catch up with you later. The bigger message is it is about looking out for yourself. You might have people around you eating McDonald's everyday and are sticky skinny, but it all catches up and it all has to come out in time.
If you've only got a few minutes to get ready, what are a few things you absolutely have to do?
Rose water spritz. I don't know if it really works, but it always makes me feel refreshed and clean. It gives you a nice splash. I like putting on oils to smell good, too. Even if I look terrible—I make my own oils, mix them up—I put some of that on and I feel fresh. Eyedrops are a really naughty one, but white eyes always makes it look like you've gotten two extra hours of sleep.
Photographed by Brayden Olson; Makeup by Min Min Ma; Nails by Miss Pop; Hair by Enrico Mariotti; Styled by Marissa Smith.
Ma prepped Leyland's skin using a tinted moisturizer and matte powder. A beige lip was applied to add a little color, but not too much to draw attention away from the eyes.
Next Ma advised Leyland to add black eyeliner to her waterline and upper lid with a skinny stick eyeliner. Using her fingers, Leyland began to lightly smudge the liner.
Clinique, Skinny Stick Eyeliner in Slimming Black, $16.50, available at clinique.com.
Using a combination of teal, mint, and navy eyeliner sticks and a Q-tip, Leyland "smoked out" the areas surrounding her eyes with unexpected pops of color. She began by outlining the inside of her eyes with a mint eyeliner. Using a Q-tip and a scooping motion away from her eye, she began to "smoke out" the color around the eye. She then drew a thin line of navy under her waterline. Before grabbing a fresh Q-tip, Leyland applied a thin line of teal to the outside of her top lid. She then lightly smeared the navy underneath her eye. Using the same, now navy-covered Q-tip, she blended the teal and mint across the top of her eyelid with small, circular motions. The finishing touches were added by clumping the mascara on her eyelashes.
Clinique, Skinny Stick Eyeliner in Slimming Black, $16.50, available at clinique.com; Skinny Stick Eyeliner in Olive-tini, $16.50, available at clinique.com; Skinny Stick Eyeliner in Thin Mint, $16.50, available at clinique.com; Skinny Stick Eyeliner in Skinny Jeans, $16.50, available at clinique.com; Chubby Lash Fattening Mascara in Jumbo Jet, $17.00, available at clinique.com; Pop Lip Colour + Primer in Beige Pop, $18.00, available at clinique.com.
Et voilà! A smokey eye with a twist.