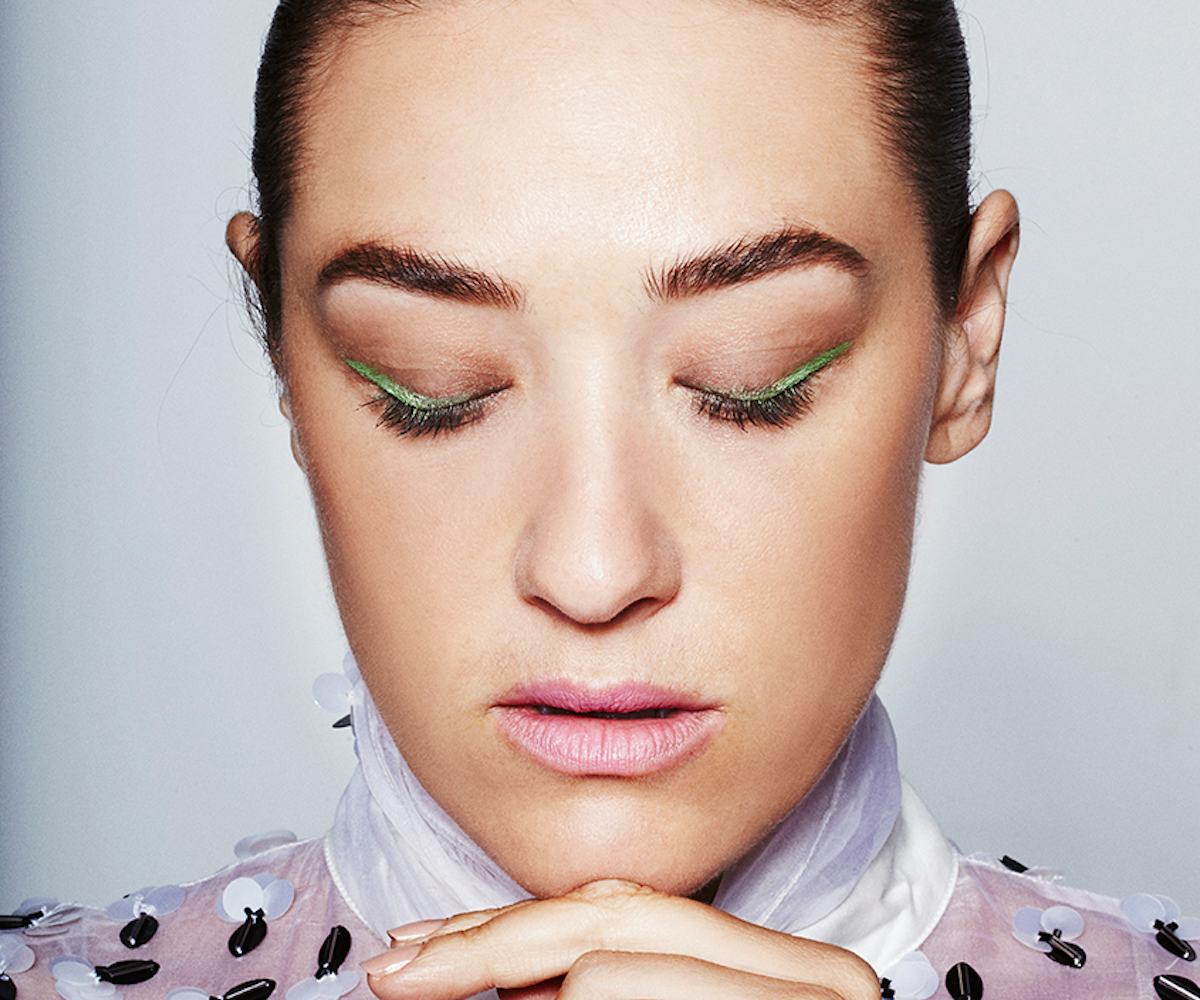 Photographed by Brayden Olson
give your go-to cat-eye a major makeover
talk about a minimalist's dream
When you're trying to execute the perfect beauty look, the right eyeliner is crucial—and how you use it is just as important. We've teamed up with Clinique to bring you a six-part series dedicated to mastering the art of lining the windows to your soul. Over the coming weeks, we're going to show you how to achieve an array of styles that make your go-to cat eye look like child's play—all with unexpected pops of color from Clinique's new Chubby Lash Fattening Mascara and Skinny Stick Eyeliner for fall.
Like a little black dress, the cat-eye is a timeless classic. Depending on how you flick it, you could add a heighten sense of drama or an air of delicate innocence. There's a reason it's a go-to, but it's that very reason it can become fatigued. (Yes, even a classic needs a little spicing up from time to time.)
And who better to show us a new look than New York-based DJ and designer Mia Moretti. Ever the style chameleon, Moretti can pull off the bohemian dream girl one day and transform into a futuristic Wes Anderson muse the next. It's effortless to her and we envy her for it. Beauty is about your character in life. Moretti understands this well and shared with us her most prized tips, tricks, along with an inspired remix of the classic cat-eye—one we'll be rocking all the time this fall.
What does beauty mean to you?
Beauty is an extension of your personality. To me, beauty should always make you feel better about who you are. Beauty should put you in the mood you want to be in when you leave the house. If you're down or tired, whatever the case may be, I always use beauty as a costume. It helps me get in the mood I need to be in for whatever I've got going on. I don't like taking a funk out of the house. Beauty is about shapeshifting.
What's the best piece of beauty advice you've been given?
Get a good night's sleep, trust your instincts, and reapplying the famous accessories rule to your face: take one thing off before you leave the house.
If you've only got a few minutes to get ready, what are a few things you absolutely have to do?
Grab a makeup wipe and clean your face before throwing on a tinted moisturizer, red lip, and mascara.
Photographed by Brayden Olson; Makeup by Min Min Ma; Nails by Miss Pop; Hair by Enrico Mariotti; Styled by Marissa Smith.
To begin, makeup artist Min Min Ma prepped Moretti's face with a tinted moisturizer and a blush-colored lip to add just the right amount of warmth to her face.
Clinique, Pop Lip Colour + Primer in Fab Pop, $18.00, available at clinique.com.
Beginning at the middle of her top eyelid, Moretti began to slowly draw a thin line of mint green eyeliner at the lash line. As she neared the point of the lid where you would flick up for a normal cat-eye, Moretti flicked it out towards her temple, keeping the line straight.
Clinique, Skinny Stick Eyeliner in Thin Mint, $16.50, available at clinique.com.
To finish the look with a little more drama, Moretti finished the line on her top lid with a dark green eyeliner.
Clinique, Skinny Stick Eyeliner in Olive-tini, $16.50, available at clinique.com.
Et voilà! A true two-step eyeliner variation that packs a whole lotta punk punch.
The same method translates well with any color, but we found that a white eyeliner brings an element of elegance to the finished look. Rather than use two colors, Moretti drew one single, thin line of white along her top lash line. As she neared the "flick area," she twisted the eyeliner stick ever-so-slightly to create a small point.
Clinique, Pop Lip Colour + Primer in Fab Pop, $18.00, available at clinique.com; Skinny Stick Eyeliner in Angel Hair, $16.50, available at clinique.com.
To add more contrast to the look and make the eyeliner pop, Moretti took a burgundy mascara and applied it on both the top and bottom of her lashes with smooth strokes.
Clinique, Chubby Lash Fattening Mascara in Bodacious Black Honey, $17.00, available at clinique.com.
Boom. Now this is how you make white eyeliner look as classic as black.