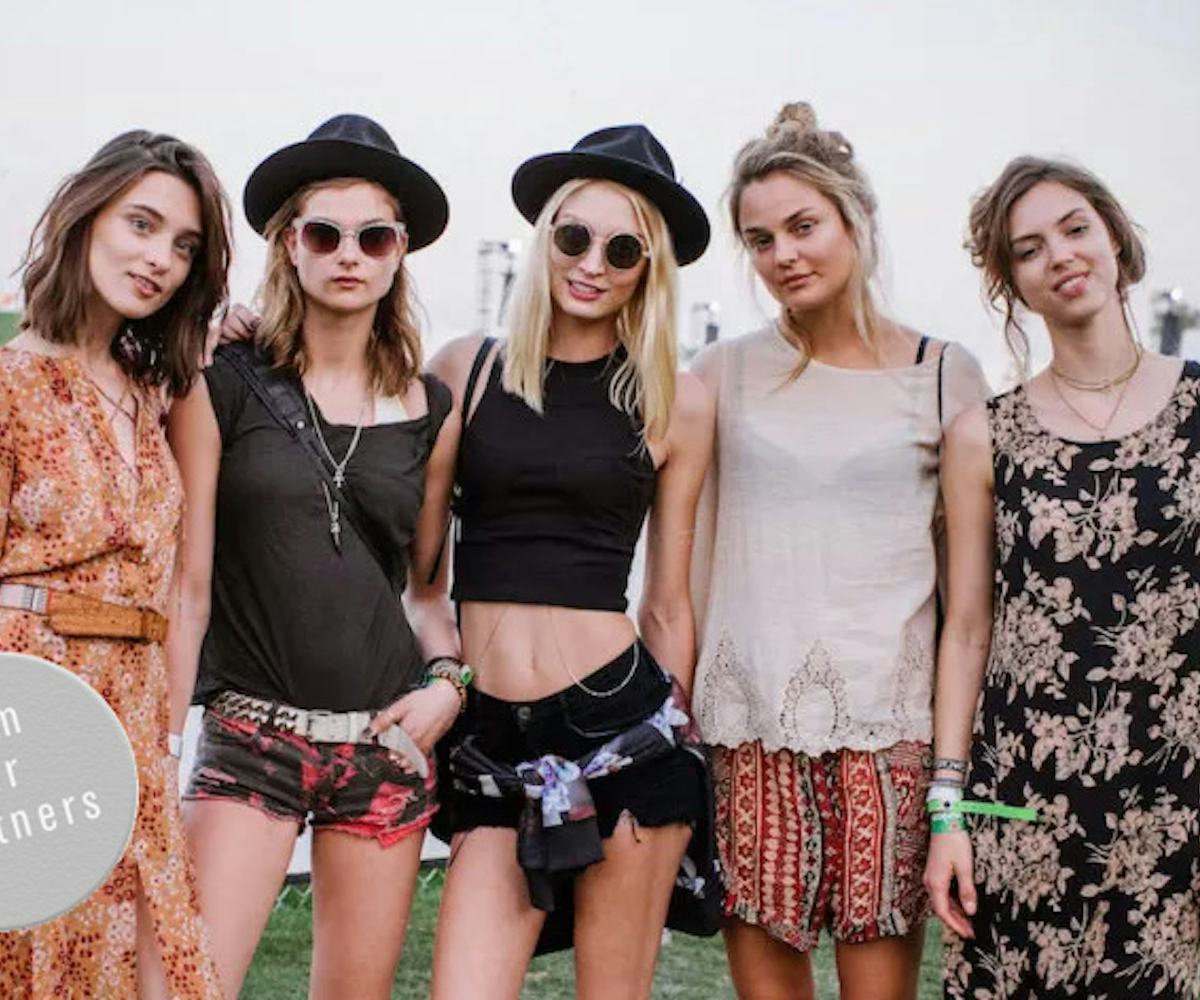 Photographed by Nina Westervelt.
How To Live That Coachella Life Without Actually Going
Music festivals are fun and all, but paying for them is not. Saving up really isn't that fun, either, but goals are important things to set and fulfill. However, you don't have to go to a festival to live that festival life, though. You can throw yourself a Coachella-like party or pregame wherever, whenever. All you need is a little imagination, some Instagram-ready outfits, tunes, and ambiance. Some call it Nochella, others call it Fauxchella, we don't have a name for it per se, but we do know the things you need to have the best no-whatever time, ever. Ahead, the 10 must-have items for your DIY festival party. Treat today, treat tomorrow, and celebrate. That's at the heart of most festivals, anyway. Plus, we hear most of the fun happens outside of the grounds rather than on.
Now this is one jumpsuit we'll be wearing all year round.H&M, Patterned Jumpsuit, $17.99, available at H&M.
If that jumpsuit gets cold, put a kimono over it.
H&M, Kimono, $34.99, available at H&M.
When Songza, the online radio/playlist platform, announced it was to be no more last fall, our hearts broke a little. How else were we going to listen to playlists as eclectic as Indie Makeout? Google Play. That's how. Songza merged with the service and brought all its playlists along with it. Now you can play mixes, fit to each of your Coachella moods: turn up, chill out, and everything in between.
Check it out here.
Bluetooth that perfect playlist and you're all set.
Marshall Headphones, Acton Black, $249, available at Marshall Headphones.
You told yourself you were done with the whole string lights thing after college, but nothing beats the mood they create. Go ahead and upgrade them. String them from the ceiling and it's like you're in your own John Green novel.
Urban Outfitters, Firefly String Lights, $28, available at Urban Outfitters.
Warm weather calls for chilled white wine. It's all the flavor and buzz without the stained teeth that inevitably come with drinking red wine. (Plus, Cupcake just came out with mini bottles of Prosecco, which makes adding a little bubbly to your menu that much more easy.)
Cupcake Vineyards, 2015 Cupcake Vineyards Sauvignon Blanc, $11, available at Cupcake Vineyards.
Because that wine and bubbly aren't going to cool themselves.
Corkcicle, $14.95, available at Corkcicle.
Why settle for regular wine glasses when these ones roll?
Viski, Raye Rolling Glasses, $39.98 for a set of four, available at Fab.
Instagram all you want, but everyone knows it's not really Coachella unless you have instax photos. (Remember to get film!)Fujifilm, instax mini 8 Instant Film Camera, $59.99, available at Best Buy.
Coachella + fringe = necessaryH&M, Vest with Fringe, $49.99, available at H&M.