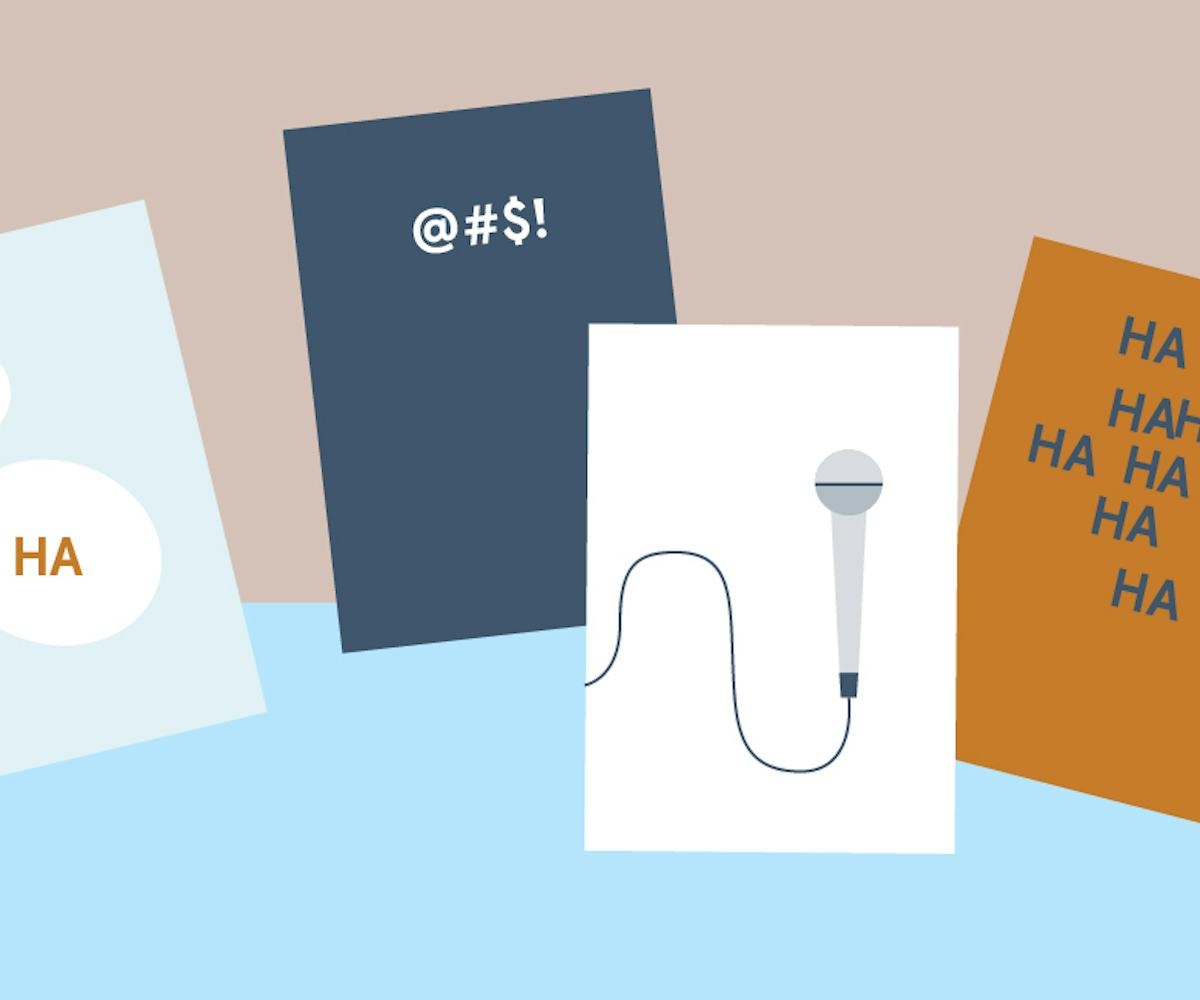 Funny Business: Why Comedians Are Trying To Conquer The Book World
It's a chance to impress grandma
Right now on iTunes, some of the most popular podcasts are run by comedians; The Joe Rogan Experience, NPR's Wait Wait… Don't Tell Me!, The Pat McAfee Show, and more are all cracking the top 100. Comedian Heather McDonald, who previously appeared on Chelsea Lately, started her podcast just two and a half years ago and has since accrued nearly 5,000 ratings on iTunes, over 2,000 patrons paying McDonald anywhere from $2 to $50-plus per month, and 19,000 members on her podcast's Facebook group, Juicy Scoop Obsessed.
And comedians' domination of the charts makes sense. They're often natural storytellers, engaging, comfortable with performances, and sharp on their feet. They can use the new medium to connect with audiences—and generate income!—in often unprecedented ways.
But while a turn to podcasts makes sense for comedians, they've also long been a part of the literary market, even though books can be a trickier area to conquer. Unlike podcasts, blogs, or social media, you can't produce and immediately share book content—both because it takes a longer time to create and because, unless you're self-publishing, you have to clear certain hurdles to get your full-length book in front of audiences and into bookstores.
"When it comes to publishing non-fiction, I think the most common misconceptions are that a book can launch someone's career, and, also, that any person famous enough can have a successful book," says Noah Ballard, a literary agent at Curtis Brown, Ltd., who has represented comedians including Josh Gondelman and Andy Boyle.
Peter McGuigan, a literary agent at Foundry Literary + Media, also notes that some people in entertainment are surprised at the small numbers that even the best-selling books are bringing in. "It's not the '80s, and these days, people have to adjust their expectations," he explains.
Sure, some comedians get lucky and get seven-figure book deals, but many comedians are not selling books just for the money. Moreover, the relationship between a book publisher and a comedian—even in the absence of these large-figure transfers—is still appealing on both sides.
So what is the appeal of books, and what does the book industry offer that comedians can't get elsewhere?
A Chance to Reflect
Books can offer comedians a chance to not just tell an isolated funny anecdote but reflect over great spans of time in their lives. Some of that is due to the speed (or lack thereof) of publishing. As comedian Iris Bahr, one of McGuigan's clients and author of Dork Whore and Machu My Picchu, explains, she can often perform stand-up material that she writes the same day—sometimes the same hour. By contrast, the turnaround time with books is much longer.
That, in turn, leads to different kinds of material that Bahr shares. "I revealed things in my book I don't think I would have revealed as readily on stage," she says, noting that the process of writing in a solitary space makes it easy to open up—and forget that one day, there will be a large audience on the other end of it. 
McDonald, author of You'll Never Blue Ball in This Town Again and My Inappropriate Life, agrees, noting that some comedians' books are collections of funny essays and anecdotes—but in today's market, audiences have access to that kind of material via social media, blogs, and podcasts, often for free. "There isn't a desire to buy a $24 book with 12 funny stories in it," she says. McDonald herself took a different approach, crafting each of her books around a segment of her life. Her first book dealt with her experiences up to age 30, while her second book picked up where the first left off and described her marriage and the process of raising her children.
At the moment, McDonald has no plans to tackle a third book, noting that she is able to provide fresh entertainment via her twice-weekly podcast, Juicy Scoop. "Until my life significantly changes, like my kids maturing, then maybe I'll feel like I have a new perspective to share in the literary world," she says.
A Guarantee—and a Chance to Impress Grandma
A book contract can often offer something that is rare in the entertainment industry: a guarantee. When publishers give you money to write a book, says McDonald, "there is a guarantee, providing you do your job and write it, that it will become a physical thing, unlike with movie scripts or television writing."
"Plus, pitching a proposal to publishers was one of the first things I was able to do as a writer that felt legitimate in an old-school way, the kind of thing that would impress a grandparent," Gondelman, author of You Blew It! with Joe Berkowitz and the forthcoming Nice Try: Stories of Best Intentions and Mixed Results, says. "A book seemed like a sturdy, concrete manifestation of my work."
Of course, that doesn't mean the process is easy. Gondelman's literary agent, Ballard, notes that most non-fiction books are sold on proposal-basis. In other words, the entire project gets pitched to a potential publisher before the manuscript is actually written. After the sale, comedians are still responsible for crafting a 60,000- to 80,000-word manuscript, he explains, something that takes time and persistence.
"Being a celebrity or a successful comedian isn't enough anymore if you want a book deal," Ballard explains. "You also have to have a great idea." He notes that books have to have not only a "hook"—what's interesting or topical about a project—but also a "platform"—or why people care about that particular writer's opinion. "The book is the capstone of a body of work framed by a subject on which the author has positioned themselves as an expert," he explains.
Looking Forward
Today, the book market continues to change, as does comedians' place in it—often in positive ways. Ballard and McGuigan both note that publishers are buying more books by comedians than ever before.
"Publishers put a higher-than-ever value on the platform, and since comics are out there, building social media, on TV, podcasts, etc., it's natural that publishers would suddenly take a greater-than-ever interest in signing them up," McGuigan says.
"The industry seems very charmed by comedians at the present because, I suspect, they are an extension of the 20th century's writer-as-character," Ballard adds. He notes also that artists and creative types are always a fascinating subject matter for publishers and the books they produce. "Having that access to their neuroses, hang-ups, challenges, and triumphs—while also making us laugh—is the truly miraculous thing about comedy and those who practice it," he says.
For successful comedians like McDonald, Bahr, and Gondelman, a book remains just one way to add to their growing media empire, often with material that wouldn't make sense in another medium.
And sometimes, there's also just that particular mystique of books that remains enticing to comedians. As McDonald says, "the most flattering thing that anyone can say to me is, 'I read your books.'"