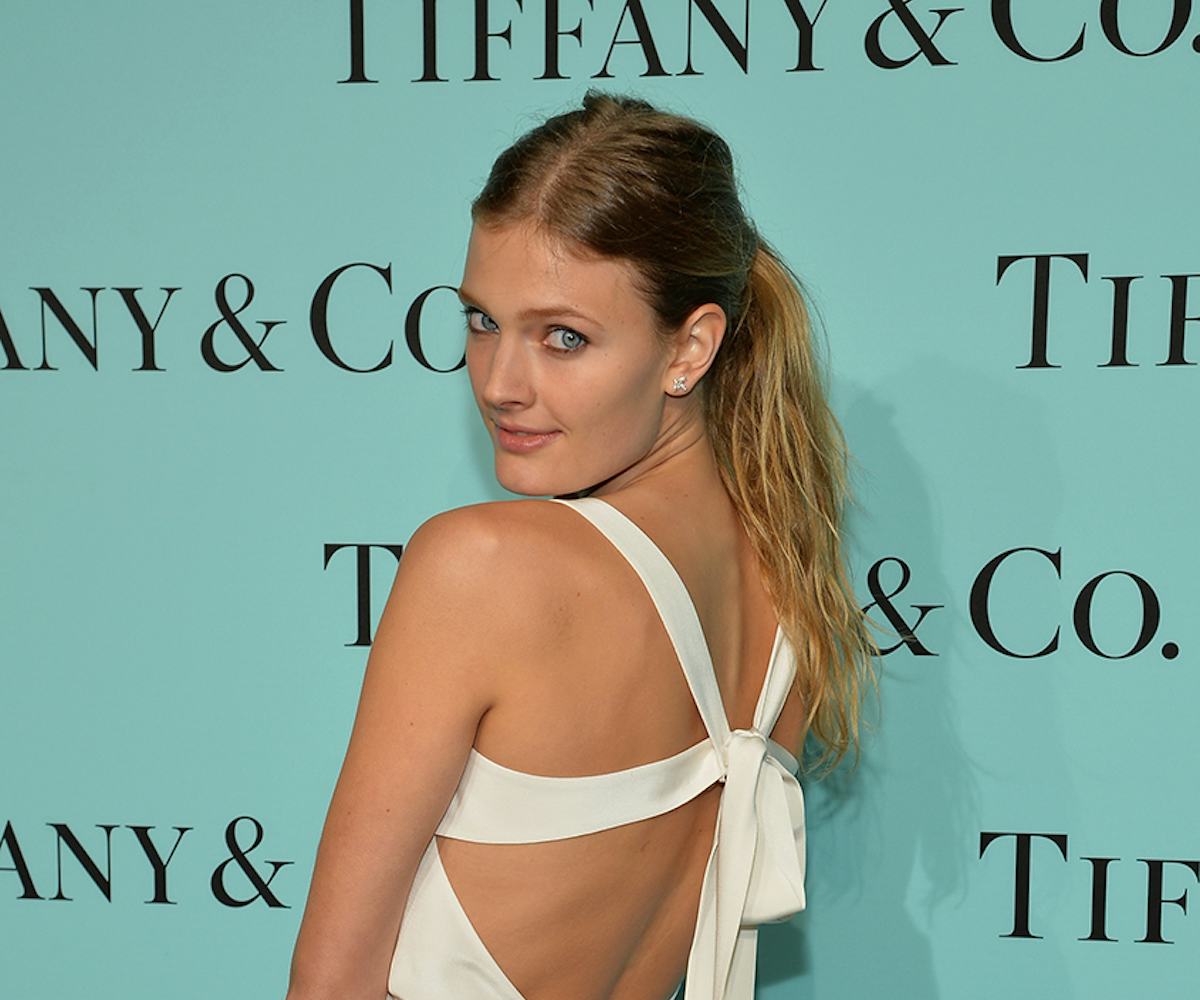 photo by getty images
one trick pony
why the center part ponytail should be your go-to this spring.
Drop the hairbrush. Spring's raddest hair style is a little unfinished and totally appropriate for every situation. I'm talking about the center part ponytail, as modeled by Constance Jablonski.
At a dinner at Tiffany's, the French face opted for a chicly undone hairstyle--less sporty than a sleek pony, more casual than a captial-U updo, and even cooler than your standard beachy locks. Personally, I'm obsessed with the 'do because it's easy to create and requires no midday maintenance (you know nothing is worse than hitting the bathroom at lunch only to realize your perfect bed head hair has deflated to look more Pig Pen than Kate Moss). 
Here's how I'm doing it: 
HYDRATE: Kerastase Bain Nutriv 2
I'm repairing my hair after the worst winter ever from root to tip with this new shampoo from Kerastase. It makes dry, sad locks turn soft, healthy, and happy in just one use--isn't that the dream?!
AIR DRY: No products needed, just some fun in the sun!
HIT THE BEACH: Bumble and Bumble Surf Spray
So you don't live in a tropical paradise? That's OK, a little surf spray will add texture to your hair for the illusion that you just finished a long boarding lesson and are about to get your tan on. 
TIE IT UP: Ricky's Bungee Hair Tie
The real secret to a perfect ponytail is the hair tie. While elastics you can wear on your wrist are nice, the ultimate trick is to use a bungee. It allows you to keep your ponytail in place and create a cooler shape since you don't have to pull the hair through the elastic. For a center part ponytail, I make like I'm about to create a '70s, Jackie Burkhart ponytail at the nape of my neck, and then hoist up my hands to mid-head height, paying little care to the bumps created up top. Leaving your pony a little messy feeling is a lot more fun. 
FINISH IT OFF: Kerastase Touche Perfection 
The worst thing that can happen to a ponytail is dry ends. That's why I've been keeping a tube of Kerastase's new treatment for dry ends in my purse. Just massage it on when your feeling a little starchy and--voila!--you have silky tips yet again. It might actually be magic.