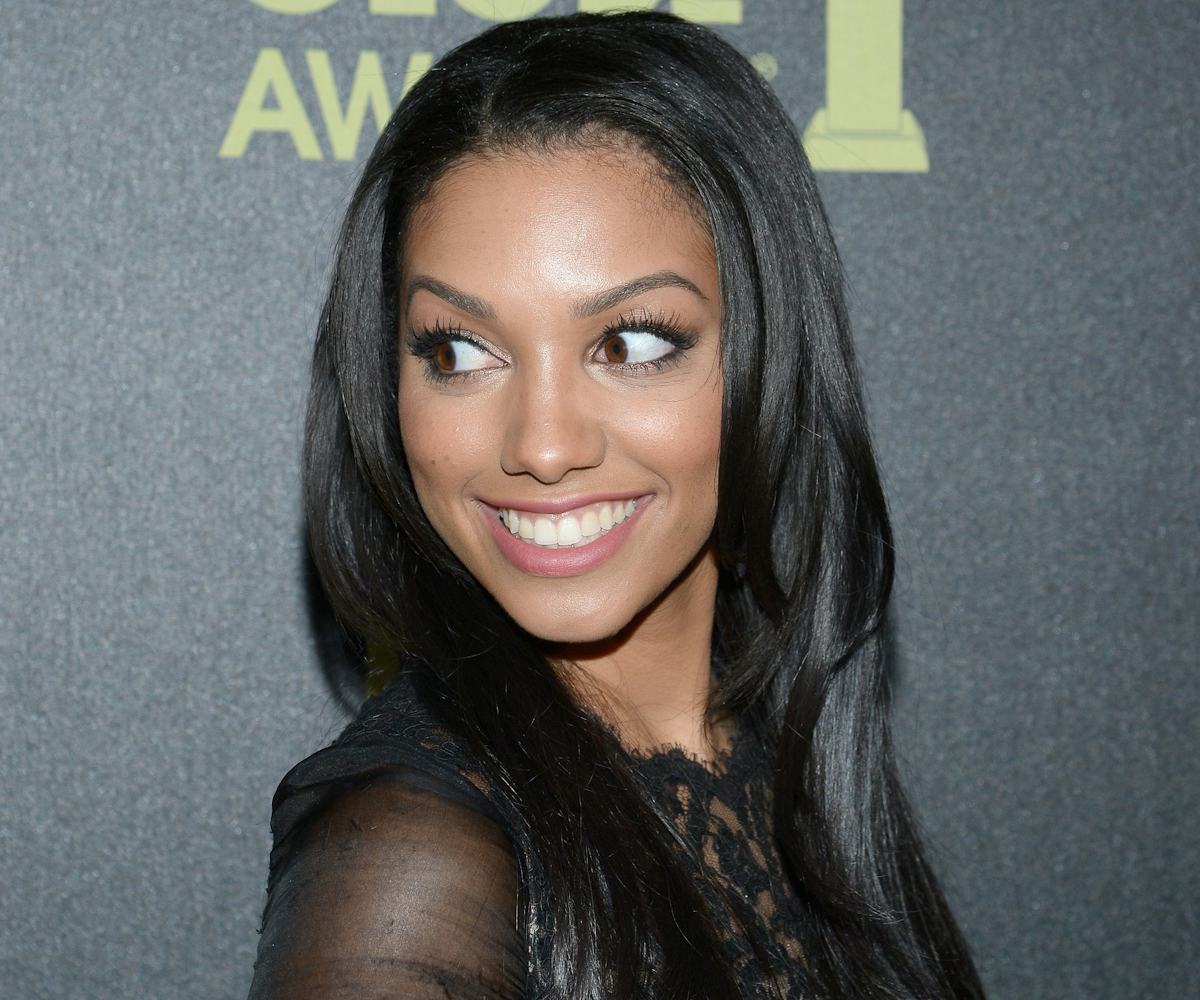 Photo: Kevork Djansezian/Getty Images.
Corinne Foxx Shares The Key To Becoming Miss Golden Globe
While the grounds of the Beverly Hilton are under an intense makeover for tonight's Golden Globes festivities, the scene eight floors up was a different story. Corinne Foxx chatted with us about her prep for the big night as Miss Golden Globe and advice from her thespian dad Jamie Foxx. Guests were greeted with mini bottles of Moët & Chandon champagne, which were artfully stacked in a display reminiscent of a tree (RIP Christmas). Over courses of decadent salads and seared salmon, Corinne casually chatted with attendees and demonstrated exactly why Hollywood Foreign Press Assn. President Lorenzo Soria selected the 21-year-old for the highly coveted gig.
What's the process for becoming Miss Golden Globe like? Do you apply? Do they choose you?
I was chosen. They came forth and wanted me to do it and of course I was so excited, because I've been waiting for them to maybe hit me up sometime. You know? I wasn't sure who the next [presenter] was going to be so when they said they wanted me to do it I was like "Oh my gosh, yes."
What are your duties as Miss Golden Globe?
Basically I'm like the assistant of the Golden Globes. I hand out the trophies on the night of and direct people where to go after they win. That's what I'm doing.
Do you know what you're wearing?
It took forever. I looked at maybe 50 dresses. I was really picky about it, but I just picked it this week so it's a secret. You guys can see it on the night of. 
Have you been doing anything to prepare for Golden Globes night? Workouts?
If you want to know what I ate today, a bagel, a cookie, some of this dessert, so no. I should've been, but nothing in particular. I did a Galvanic facial. You look crazy when you're doing it. You look like a mass murderer. I looked nuts. So I did that a couple weeks ago. I might do it again.
Is there anyone your excited to see or anyone you want to win?
I really want to see Amy Schumer. She's going to be funny, right? I want to see her, and I hope Brie Larson wins for Room. She was so good. I was crying all through [the film] hysterically. I really want her to win."
What song are you going to be listening to while you're getting ready for the show?
Roses by Chainsmokers? That's a good pump-up song.
What are you most nervous about?
Probably tripping and falling, you know? But I was saying in all of my interviews, Jennifer Lawrence fell so I can make it work for me if I fall.
What's the best advice your dad has ever given you?
The best advice he's ever given me is always save a little love for yourself. No matter what happens in your career or personal life, just always have that love inside of you that no one can take away.
You can also keep up on all the latest Golden Globe festivities by following Corinne on Snapchat at MissGG2016.