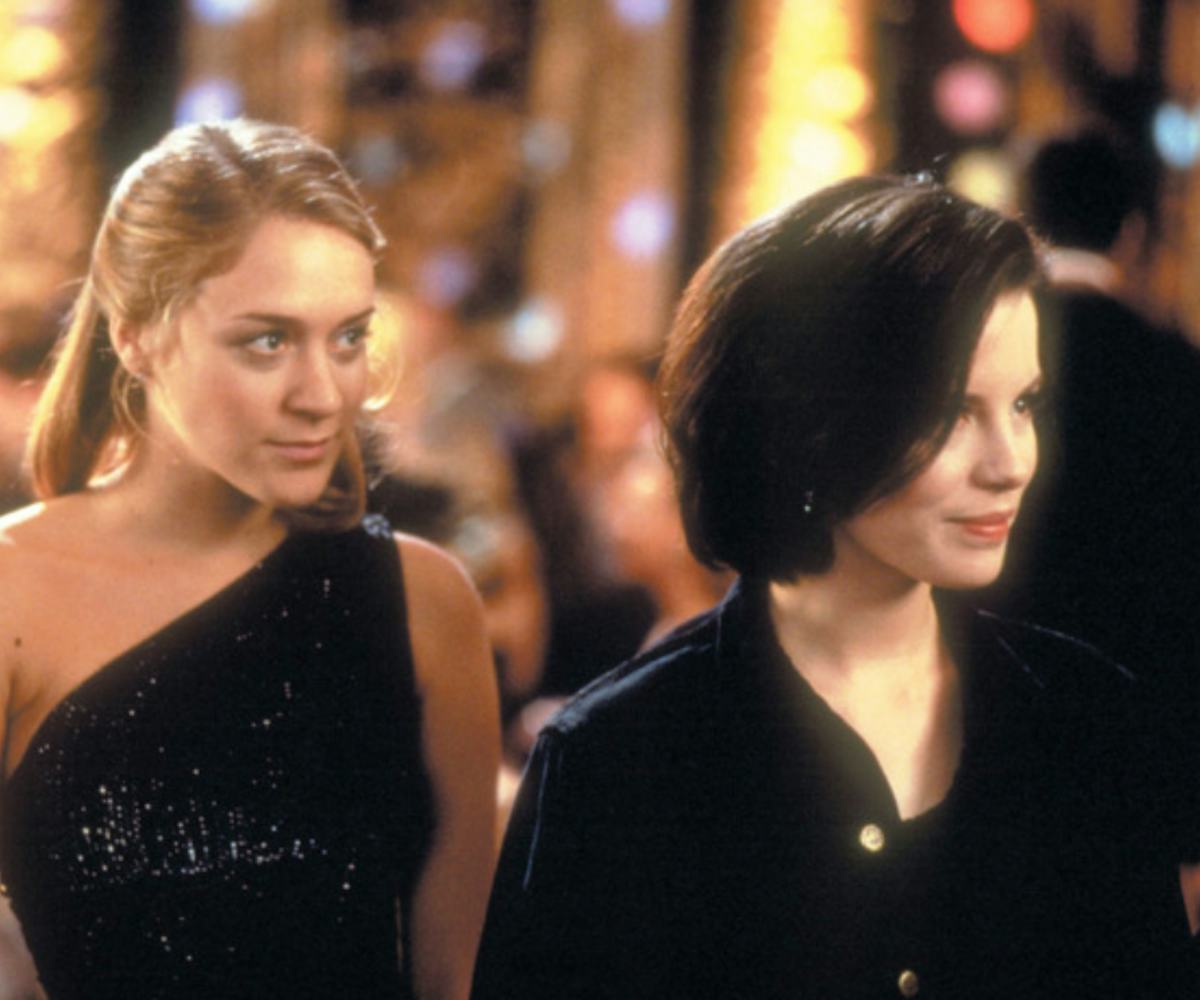 How To Channel Chloë Sevigny As A Disco Queen
Time to get out those sequin tube tops
The Last Days of Disco, Whit Stillman's delightful portrait of nightlife, work, and romance in what the film calls "the very early 1980s," was released 20 years ago this month. We are now further away from the release of the film than the film was from the time it was depicting—a rather strange thought. As recent college graduates Alice and Charlotte, Chloë Sevigny and Kate Beckinsale respectively, are women in transition, quipping about their state of affairs as they spend days working in publishing and nights out dancing. They accommodate their wardrobes accordingly. Alice and Charlotte look stylish throughout, and one can't help but wonder, on the 20th anniversary, what today's equivalent of the film, capturing the late-'90s, would look like. There'd probably be a lot of spaghetti strap tops and chunky sandals. Maybe even some butterfly hairclips. It wouldn't be nearly as appealing as Stillman's take on early-'80s fashion, presented here with just the right amount of glitz.
Alice and Charlotte's disco fashions are not as over-the-top as one might expect. When we first see them, they're both in black—Alice in a one-shoulder sparkly dress, Charlotte in a halter. At a club that rejects people at the door for not looking the part, they choose to go for a more subtle style.
The two women—who were college classmates and are now coworkers, roommates, and disco partners in crime—have a prickly relationship, the kind of friendship filled with moments of jealousy and frustration all too common in one's 20s. Clothing unites them. In a particularly inspired bit of costume continuity, the women wear the same glittery high-neck halter dress in two separate scenes.
Without calling too much attention to itself, the re-worn dress suggests the nuances of roommate life. Clothes are borrowed and worn in different contexts, and noticing the reappearance of the dress gives the garment new meaning, bridging a gap between two characters who sometimes behave like opposites.
In another instance of costume continuity, Alice appears to have a wardrobe of sequin tube tops. In one scene, she wears a multicolored one (certainly her most outré piece, and one that goes against Charlotte's description of her as being like a "kindergarten teacher"); in another, she wears a similarly styled dress version in black. The sequined tube top is a simple but sexy garment, essentially a stretchy strip of fabric that shines under disco lights. Considering the shape, it's not an easy article of clothing to pull off. If anyone can make a tube top like this look stylish and flattering, it's Sevigny.
While their personalities don't always mesh—Alice is reserved while Charlotte is brashly self-assured—their outfits always seem to complement each other. Note the matching black sparkles above, or their elegant necklines below, which make them look like figures out of a classic society portrait.
Even when they're doing the decidedly non-disco task of hauling boxes for their move, their classic high-waist jeans go together.
At work, they both dress with a sensible, preppy formality befitting the young professional hoping to go from editorial assistant to editor. Both Alice and Charlotte wear mid-length skirts and white tops and look polished, perhaps self-consciously so.
Even if the disco is where our protagonists let loose, the fashion still feels somewhat grounded. It glitters in an elegant way, and Alice and Charlotte's coordinated approach to dressing, with outfits that for the most part are consciously sophisticated, makes a perfect visual aid to Stillman's mannered, prim yet punchy dialogue. The film may be set at the end of an era, but the outfits, in their sparkling simplicity, remain stylish.