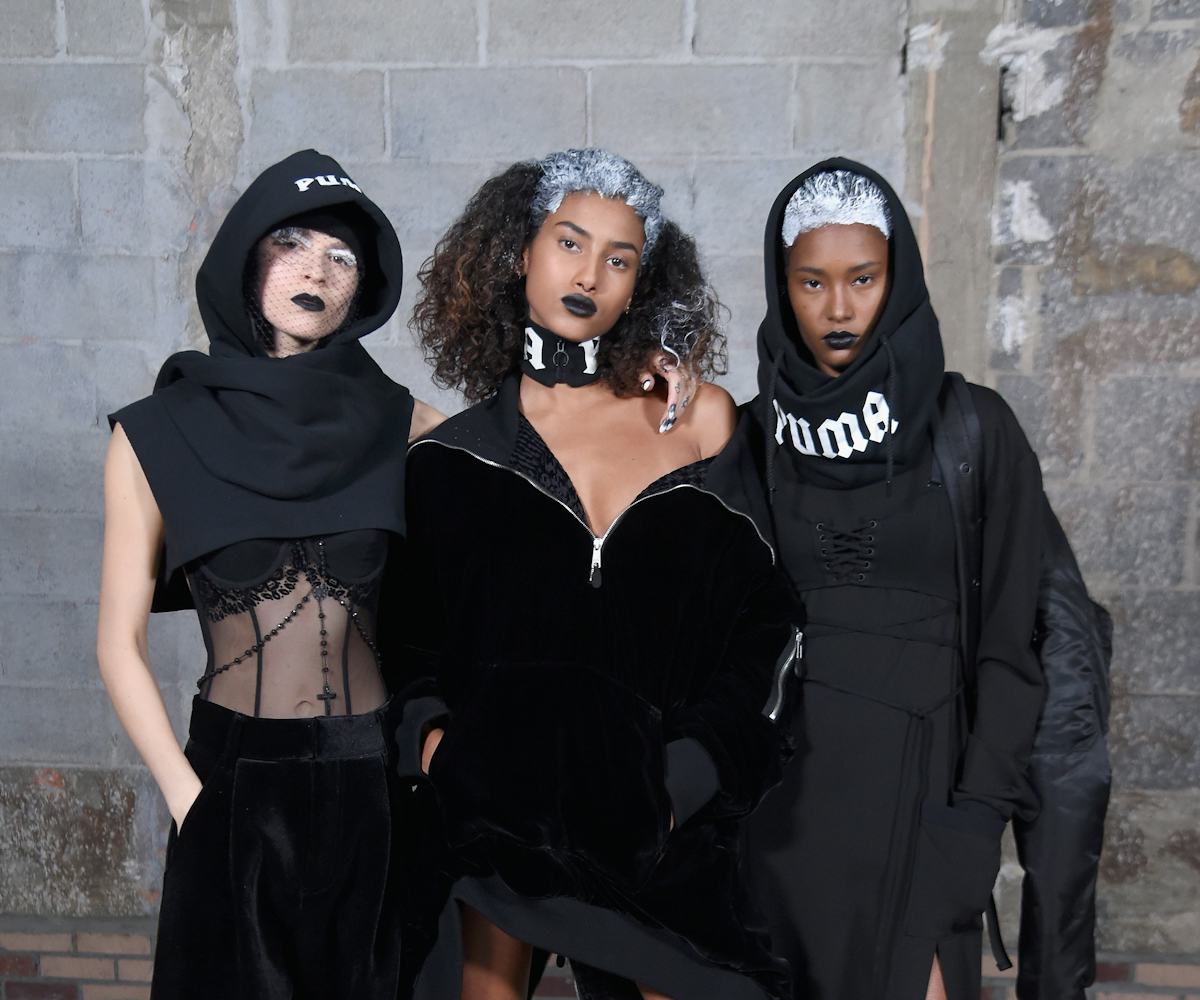 Photo by Jamie McCarthy/Getty Images
Athleisure Isn't An Excuse To Dress Like A Slob, Or Is It?
Has our desire to be cozy turned us into lazy bums?
Given that we exist during a time where self-care is viewed as a top priority, being comfortable is undoubtedly a lifestyle. Not only should you be comfortable in your own skin, but you should be comfortable with your overall appearance. There's no need to force yourself into something that makes you feel insecure when what you wear is a choice. Working part-time at Madewell for eight months taught me how to make the transition to a cozier lifestyle. You could wear something simple, but still look put together so long as you elevated your look with a finishing touch. Today, the line between looking cozy and sloppy is blurred, though, and it's all because of one sweeping trend: athleisure.
In order to delve into this subject, I knew that I had to consult an expert. When it comes to getting a grip on the culture of streetwear, nobody is doing it better than Emily Oberg right now. Not only is the 22-year-old an editorial producer at Complex and the star of her own series, Get Sweaty, but she is also the founder of her own lifestyle brand, Sporty & Rich, and is a DJ on the side. If you cruise down Oberg's Instagram page, you'll see nothing but T-shirts, sneakers, selfies, and 100 percent realness. 
"I definitely focus on being comfortable when I get dressed. I think there's a way to still look polished and put together, but also being functional and comfy," she says. "I apply that mentality to my outfit choices just by making sure I feel good because then I know I will wear it better. You could be wearing the most expensive outfit, but if you don't feel like you and it isn't in line with your personal style, you'll look silly."
Oberg has a routine for all aspects of her life, and her attire matches her busy schedule. She says she's most comfortable in a pair of loose jeans, a hoodie, and sneakers with a supportive sole. "I also love leggings, like any girl, so on some weekdays, I'll wear a pair of Outdoor Voices tights with a looser fitting hoodie, and that way I can just wear a sports bra under and go right to the gym," she adds. "If I go out, which is rare, I like a higher waisted jean with a bodysuit or turtleneck and a nice bag, always keeping it simple."
Like most people in fashion, Oberg is not a fan of the term "athleisure," but recognizes the impact that it has made on women. "I think it's a revolution of women understanding that they don't have to wear tight dresses and heels to look good," she says. "I think that women look great in a pair of nice jeans and sneakers, hoodies, tees, and even sweatpants. It doesn't come off like they are trying too hard because they are all pretty basic things. Even items like jerseys look great on women when they're accessorized well."
In a way, athleisure has sort of turned into a variation of the tomboy, but one level up. In order to avoid this bubble, Oberg balances out her wardrobe with a mix of high and low—Acne jeans with starter jackets, Hermes scarves with logo tees, and always a pair of sneakers. "I also think the easiest way to make your outfit a bit for femme and grown-up is with a nice bag," she says. "You could wear a men's shirt, ripped jeans and Air Force Ones, but if you pair it with a Celine, Saint Laurent, or Chanel bag, it automatically changes it into something else."
Whenever people see figures like Rihanna or Gigi Hadid out in public wearing sweat suits, they label them as "rebelling against the norm." But is that really true? Maybe they just don't care. Perhaps they're not trying to make a statement or latch on to an aesthetic, but simply crave comfort. (Has anyone ever considered that they might be coming from/going to the airport and haven't had time to change yet?)
A few months ago, Mary H.K. Choi wrote an article for Racked titled "On Female Fuccboi Style." Though Choi did not mention Rihanna or Hadid specifically, she refers to the like as "famous people who take zero fashion risks." From the start, she explains that this style is not the same as being "basic"—these women aren't running around in a North Face, leggings, and Ugg boots. Fuccbois are "the hypebeast in a post-health-goth world," but women tend to be left out. Choi points to the Kardashians and Jenners as examples of the starter kits for this microtrend.  
When it comes to the posers, they're all pretty easy to spot. Oberg points out that being decked out head to toe in streetwear is a dead giveaway because the outfit has no real sense of personality, adding that it's obvious when people are just following the trends because that's what everyone else is wearing. "There's no originality in that, and it's just not interesting," she says. "I appreciate when women put thought and feeling into their outfit, when everything was done with a purpose, and when you can tell what kind of girl she is by the way she is wearing something."
"You can tell when it's not authentic and when [girls are] just copying whatever they see on social media," adds Oberg. "I think it's best to get to know the culture a bit before you dive into it without any preexisting knowledge. Do your research, take your time, find what you like—not all streetwear and sneakers are good."
A man by the name of Drake once said, "Sweatpants, hair tie, chilling with no makeup on/ That's when you're the prettiest, I hope that you don't take it wrong." That statement was made six years ago, but now it is more valid than ever. Athleisure is taking over, and everywhere you go, everyone is dressed down for better or worse. As my hatred for the fuccboi continues to grow, so does my love for their effortless style. There is no denying the appeal of someone who knows how to pull off something minimal without looking like they rolled out of bed. 
Oberg describes the ideal Sporty & Rich customer as "someone who appreciates longevity, with all things," and the same can be said about anyone who incorporates comfort into their style. Being cozy is more than a trend, it's a lifestyle.
"[Sporty & Rich customers] pay great attention to detail and are conscious of the little things that make the big picture that much better," she adds. "They understand what is going on in current culture, but they are also appreciative of the past and reminisce on the aesthetic before our time. When they purchase something, they are thinking about how it will fit into their life years from now and how they can use it in multiple ways." 
At the end of the day, my go-to uniform is some variation of denim on denim (with a Calvin Klein sports bra underneath) and a pair of Fenty x Puma shoes. I'm not wearing these things to be stylish, I'm just trying to be comfortable. 
Oberg says it best: "There is a lot of trash out there, so just find your own sense of style and taste within that genre so you avoid looking like a female hypebeast."