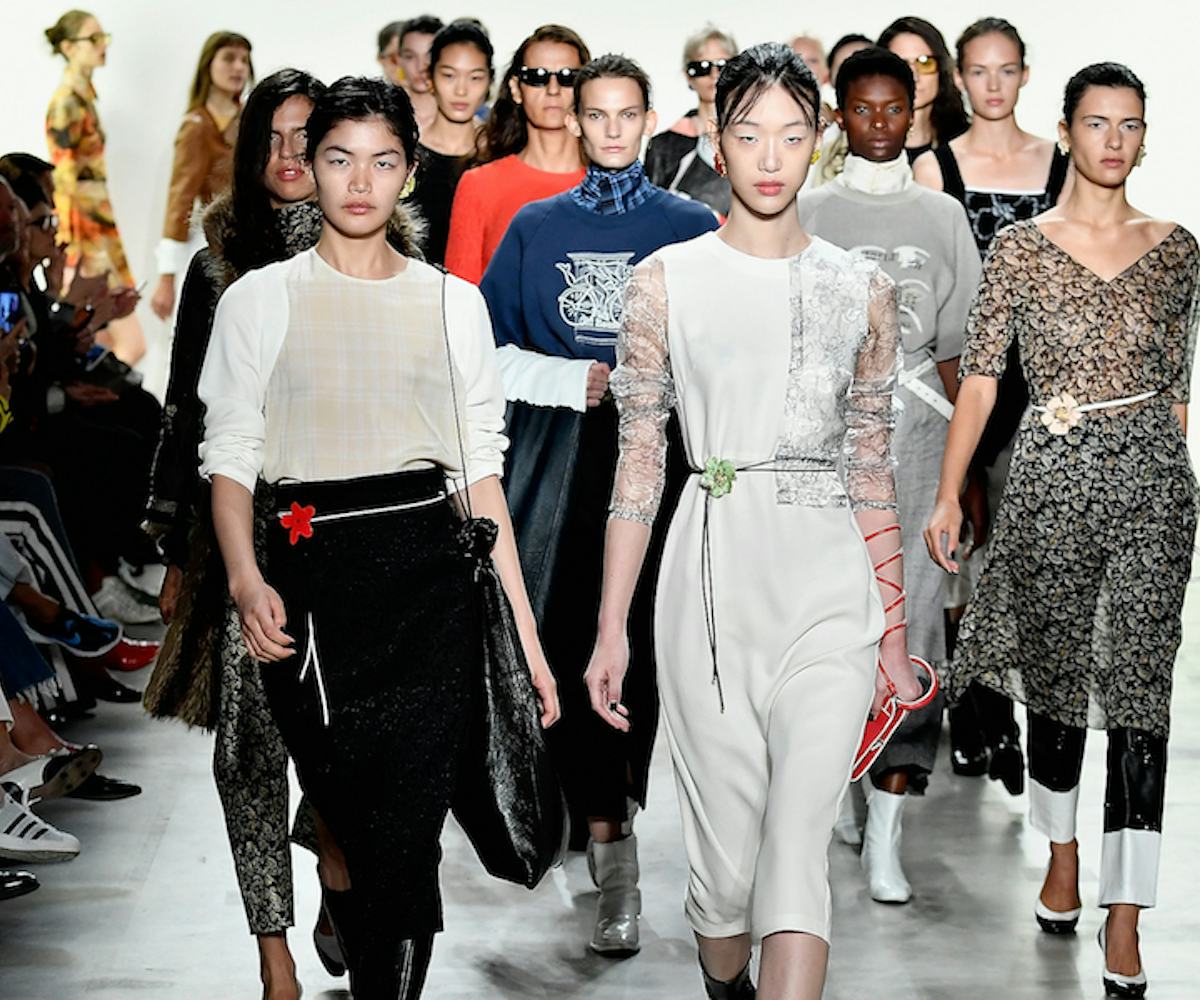 Photo by Frazer Harrison/Getty Images For Creatures of the Wind.
Creatures Of The Wind Are Back With A New Collaboration And Vision
Here's what's next for the brand
The fashion world was hardly surprised when Shane Gabier and Chris Peters announced that their cool kid label, Creatures of the Wind, would not be holding runway shows following its Spring 2018 collection. In an industry where the traditional fashion calendar makes little sense to the average consumer, Creatures of the Wind is not the first brand to abandon showing at NYFW. (Rodarte, Alexander Wang, Rag & Bone, and Rebecca Minkoff are just some of the labels to announce they were ditching runway shows.) But coming from a brand that reliably wows its adoring audience with its punk sensibility and exciting shows, whose inspirations ranged from psychedelia and Picasso to Dutch master paintings and Julee Cruise, it felt like a genuine loss.
Before I can get all nostalgic about it when talking to the duo recently, Gabier stops me: "It's not necessarily that that's how we're doing it forever!!! That's just what we've sort of chosen to do right now. I don't think it's the end of runway or full collections for us." It seems like I'd underestimated the duo, who have made a career out of refusing to abide by fashion's rules. Unlike most prominent American designers who had their starts in New York City or Los Angeles, the two School of the Art Institute of Chicago alums launched their quirky, off-kilter fashion line in the Windy City, a place more known for being a music incubator than a fashion hub. (The brand and the designers have since relocated to New York City.)
It makes sense, then, that the duo's most recent project, an eyewear collaboration out today, comes courtesy of Chicago-based State Optical Co. "I think that [Chicago connection] was maybe the first, initial attraction. And then we have the same sort of ethics behind the way that we manufacture..." Gabier says before Peters picks up his train of thought: "Making things carefully, making things considerately, [and] American production—we're very similarly matched." 
It indeed does seem like the perfect fit. As the first American-made acetate eyewear brand in the country, State prides itself on the quality of its optical and sun styles, manufactured entirely in its Chicago-based factory (which customers can tour) which employs skilled craftsmen who often design by hand; it's that similar dedication to detail and quality that has led Gabier and Peters to be named runners-up in the CFDA/Vogue Fashion Fund in 2011 and nominated twice, in 2012 and 2013, for the CFDA Swarovski Award for Womenswear before winning in their third year. "What we really like about State—beyond that they have really nice products!—was that no one makes sunglasses, or glasses for that matter, as well in America. They're really the best," says Gabier. "A well-made, American-made product is something that we always strive for."
After meeting the State team and touring the manufacturing facility in Chicago, observing the "like, 72-step process," the two chose the materials and colors and started working on the prototypes. "There was definitely a learning curve for us because we don't have any technical background," says Gabier of the involved and costly process—which is equal parts high-tech machinery and meticulous handmaking—that leads so many American eyewear companies to manufacture frames overseas. "Glasses are kind of another galaxy. From the materials to the actual manufacturing process, it incorporates everything from like super-advanced technology to these handmade elements made with utmost accuracy," says Peters. "The properties to just make the acetate is insane—they're melting these, like, little plastic beads that they've been doing since the 1800s in Italy, and making all these crazy patterns—it's just absolutely batshit."
The result is nine styles, ranging from a red '70s-inspired cat eye pair to '80s tortoiseshell round frames, that were first seen on the Spring 2018 ready-to-wear runway show. In tune with COTW's retro-chic aesthetic, the styles borrow from music cultures of the past. "[We were inspired by] new-age music and, like, heroes of that period of music. So, there were a few specific references, but we didn't want it to feel super-retro or vintage, but just be an interpretation of rock and roll style at that time," says Gabier. "We didn't want to be too referential," adds Peters. "We do that a lot with Creatures, where nothing is overt; it's important that there is an openness to how things feel."
This is the second collaboration to have come out of COTW's last runway show—the geometric handbags with the interchangeable straps seen on the necks and wrapped around wrists of the models were created from a partnership with another trailblazer in its field, Cuyana. "I think collaborations, for us, are ways that we can kind of explore other ideas that we don't have enough expertise in or even just a price point that we're not normally able to access," says Gabier. "You get to use the expertise of people who do things really, really well, and, on top of that, it's just fun. Collaborating with artists and other designers is a great way to create a really amazing product. We always learn a lot from them."
With COTW moving away from the traditional fashion business model, more like-minded projects aren't out of the question (though they tell me they can't reveal what they're currently working on as it's all in "early stages"). "We were really thinking about how we can present a product assortment that feels more meaningful to us personally and also to consumers," says Peters of the brand's decision to cease showing full collections in favor of limited-edition capsules and special projects. One such project included a weed-themed line with System magazine, a partnership that Peters describes as "one of the most successful things to take form." "It was super fun to do and much more free, and we weren't tied by the crazy shit we were doing before and kind of always chasing... This allowed us to really think about what we're doing, what we're making, and make it something appealing and acceptable that we feel really good about," adds Peters. Plus, "it was nice to sort of change things. We've been doing this for 10 years, and it's not that it's repetitive, but, you know, it can be." 
Gabier seconds that sentiment, adding that the timing was also right: "I think now it feels a lot more open for new models, so it felt like the right time to take advantage of that openness." He adds, "You can move more nimbly in terms of response to retailers, toward their general customer interest. It really is why we're doing this right now. Also, it felt pretty exciting to sort of take control of it more." And it's exciting to see where this new direction will take the brand, now that the stress of showing a certain number of pieces by a certain date isn't weighing their creativity down. "Designers now have the opportunity to show in any way they want to and still have this relevancy in terms of sales, and relevancy in terms of your place in the industry. And that's I think really cool because it opens it up and you can do whatever you wanna do," says Peters.
Some of the things that the brand plans to focus on more is working with repurposed vintage pieces. "With social media, you wear what everyone has, and you don't get to have the physical ownership that you used to have," says Peters. "When you find something that is a one-of-a-kind, it really provides something that's really yours." Not to mention, it's more sustainable—a not-so-unimportant factor in fashion, the second most pollutive industry. "Before I was working in fashion, I was studying conservation, and this has been something that we've always been careful of with our manufacturing, trying to work with local production and bringing the industry to a place that really needed it," he adds. "But regardless of how careful you are in making fashion, you're still making more, and that's not a good thing, so this is one way that we kind of address that." 
This is also why the brand puts so much thought into who they partner up with, making sure that they are working on creating high-quality products that will last their customer a long time and reduce the number of items they buy in the long run. "There are so many different ways to approach the concept of sustainability, and I think part of it has to do with making a really high-quality product that's not disposable," explains Gabier. "You're just buying less if you're buying better things." These kinds of partnerships also help artisans—who are rapidly being replaced with cheap overseas labor, where workers work under horrific conditions, and mass production by machinery—maintain jobs and help pass down their skills. "One of the most effective things in terms of being sustainable is making sure that all of the people you're working with have the capability to live their lives beyond margins," he adds.
At the end of the day, the brand wants to go back to their roots, back to when two boys from Chicago wowed New York's fashion elite with their brand of sartorial rebellion. "I think you kind of get in this mode of trying out all these collections and making so much product," says Peters. "At the end of the day, fashion is supposed to be something special."
See the full State x COWT collection, below, and shop it, here.
State x COTW, Leland in Black, $450, available at State Optical Co..
State x COTW, Leland in Tortoise, $450, available at State Optical Co..
State x COTW, Monitor in Green, $450, available at State Optical Co..
State x COTW, Monitor in Rose, $450, available at State Optical Co..
State x COTW, Monitor in White, $450, available at State Optical Co..
State x COTW, Neenah in Black, $450, available at State Optical Co..
State x COTW, Neenah in Red, $450, available at State Optical Co..
State x COTW, Tripp in Black, $450, available at State Optical Co..
State x COTW, Tripp in Tortoise Crystal, $450, available at State Optical Co..