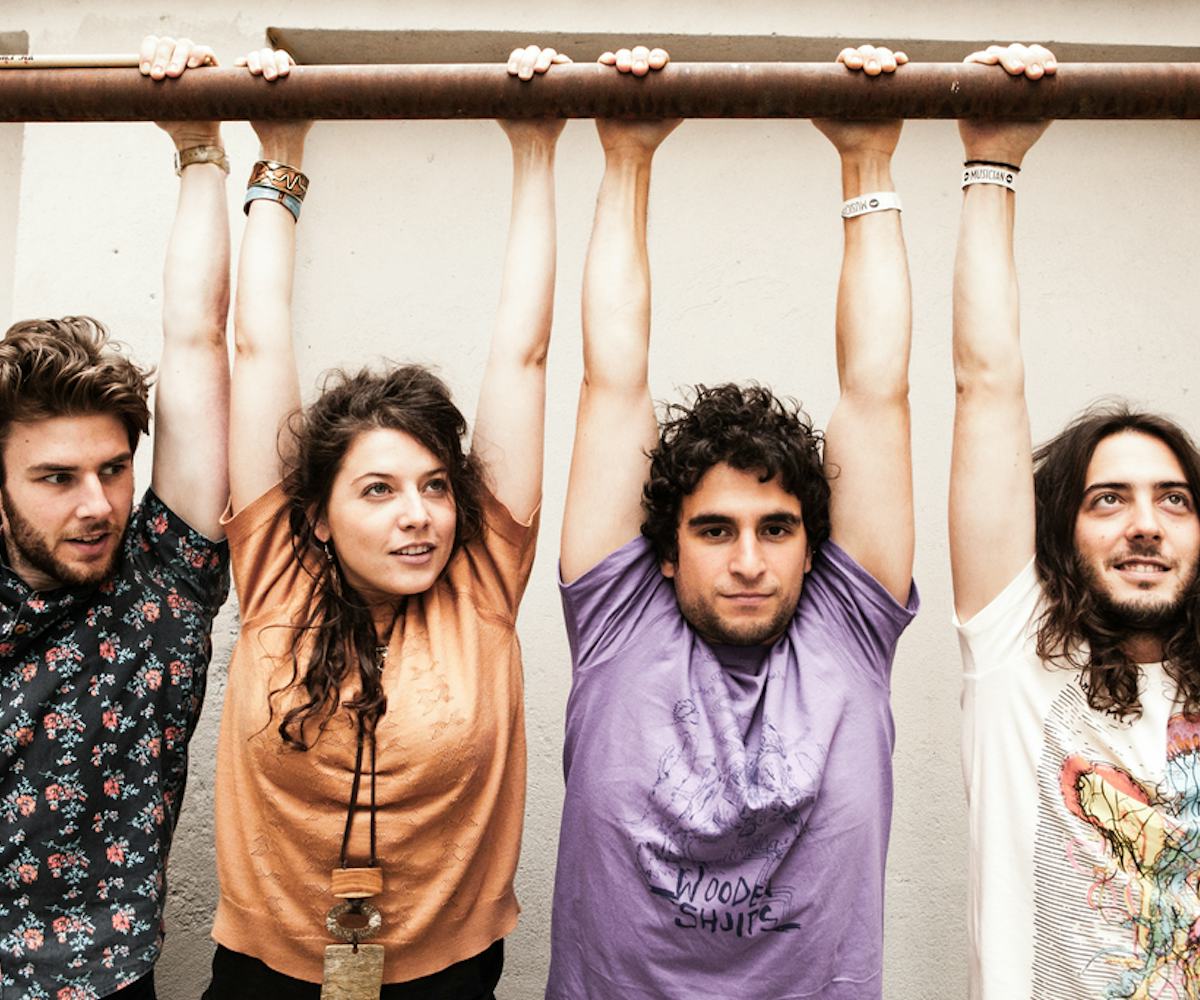 Band Crush: Cristobal and the Sea Are the EU of Bands
and make music that sounds like it
It makes sense that
's music feels hard to pin down. Their four members grew up all over Europe, and as a result, their songs sound like world music filtered through the lens of four young people who came up on music blogs. Leïla Seguin grew up in France, bassist Alejandro Romero in Spain, guitarist João Seixas in Portugual, and Joshua Oldershaw in the U.K., and all four of them met at Loughborough, England, where they first began playing music. After relocating to London, the group eventually gained enough traction to get noticed and signed by City Slang records, who gave them the tools needed to record their debut LP,
Sugar Now
, a kaleidoscopic, genre-leaping anthology of luminous music that juxtaposes sing-along melodies with wordly rhythms. Below, we get to know them a little better, including their love of
Jurassic Park
and their desire to record classic Disney songs.
How would you describe your aesthetic?
We like to think of it as warm and/or cozy. The slash used in the previous sentence indicates that the members of the band disagree on the specifics.
How did your career get started?
Out of brute luck. We used to live and play in Loughborough (a small town in the middle of England) and one day, through friends in Paris, we met a man (a real, fantastic man) who offered to become our manager. He became much more than that, and from then on, things just started happening!
Where do you hope to be professionally in 5 years?
If we would be making some money, that would be great. Not much. Just for food, rent and some "fresh" beers. 
What's your next project?
If our label decides to make the same mistake again and we're allowed to make a second album, that would be it. Otherwise, we might start considering opening a small vineyard in South France. Maybe farm some animals too.
What are you most proud of so far in terms of your career?
The teams we have working with us. We can say that we really are taken care of! Also, we have all lost some weight, since it began.
What famous person dead or living do most wish you could have as a roommate?
Late Brian Wilson. Or Woody Allen, but we would keep him inside the cupboard at all times.
What is your favorite driving music?
Kurt Vile, My Bloody Valentine, Panda Bear, Daft Punk, Pantha du Prince.
Whose career would you most like to emulate?
Late Brian Wilson, without a doubt. We would love to release a record full of classic Disney movie songs. 
If you had to live in a past time, what do you think would be the most fun era and why?
Pre-history because of all of those big dinosaurs! Although, Josh gets really irritated in nature and Leila is scared of essentially all animals, but we all love
Jurassic Park
.
What activities do most enjoy doing alone?
Sex.
How do you wind down before bed?
With a cup o' tea and a book. With some tapas and wine, sometimes. With Brian Eno, as well. Or by constantly re-watching Pierce Brosnan's James Bond movies.
When are you most relaxed?
Josh—when the rest of the band is asleep and he is driving on tour, listening to NEU full blast through the car stereo. The rest of the band is only relaxed when Josh is driving, because we are asleep.
What kind of person were you in high school?
Alejandro was very, very popular, but only at home according to his father. Joao didn't care much, although this was a defense mechanism for coping with caring too much about what others thought of him. Josh used to be an eating contest referee. Leila was beautiful and, may we add, still is. In fact, it was exactly because of her ability to keep that unworldly figure for such a long time that she was offered a place (temporary, of course) in the band.
Can you tell me a quality about yourself that you are genuinely proud of?
We're all proud of Joshua's godlike ability to restrain himself and be the designated driver in early mornings.
Do you have any phobias?
Joshua gets twitchy if tea has been brewing for a long time. Alejandro and Joao are terrified of bees ("Imagine if they were our size!"). Leila, as far as anyone knows, is not scared anything. She was once heard saying, "Death is a f****** pussy."
What's a serious side of you that people are unlikely to know about? Either in terms of interests, hobbies, or personality?
We all like to cook. 
What are some new hobbies you would like to take on?
Chess. Origami. Knitting. 
How do you hope to grow as a creative person?
If one day we could come up with original ideas, we'd be satisfied. 
If there was a phrase that you think best sums up your approach to life what might it be?
The one by that famous philosopher: "I don't want to achieve immortality through my work; I want to achieve immortality through not dying.