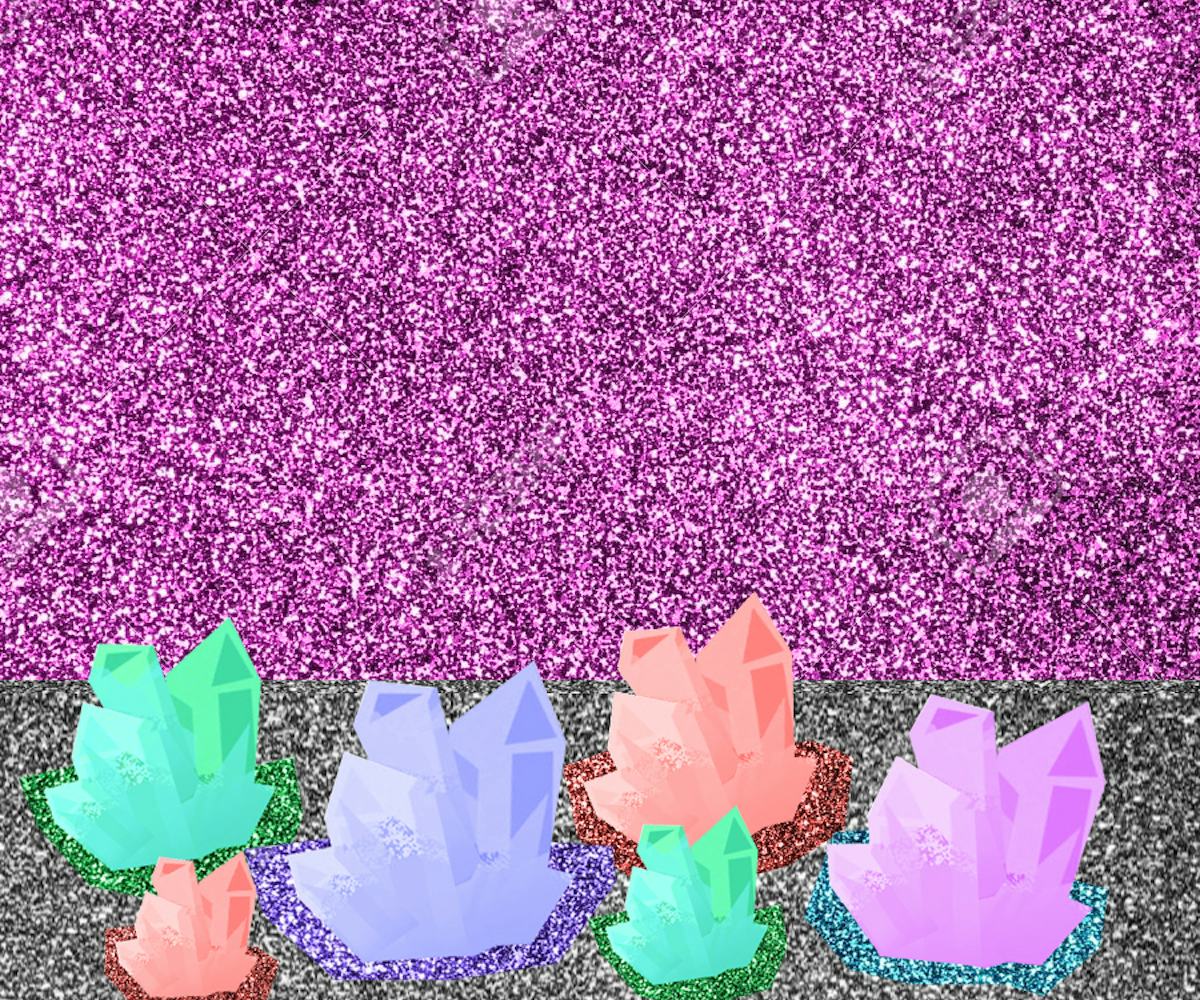 How to Infuse Crystals Into Your Everyday Life
From celebs to sex toys, it seems like everyone's hopping on board the crystal-healing train. Though there's still no definitive scientific evidence that crystals have true healing properties, many stand by the ancient practice—which includes holding crystals, placing them around your home or, even, on certain parts of the body—as a way to reduce anxiety, manage stress, maintain balance, and more.
Now that crystals have reached white-hot levels of trendiness, crystal-infused products aren't hard to come by, in the form of everything from skincare to accessories, home decor, and even drinking water. With that in mind, we've rounded up some of the best items for infusing healing powers into your daily routine. Zen awaits you in the gallery, below.
1. Ruby moisturizer
Harness crystal energy from the inside with this ruby crystal moisturizer, which claims to contain "light transforming skin illuminators" and micronized ruby crystals that restore skin's hydration to create a smoother, more even, and glowy appearance. Bonus: It's free of parabens, phthalates, and sulfates. Dr. Brandt, Glow by Dr. Brandt ruby crystal retinol hydracrème, $65, available at Sephora.
2. Crystal-infused water
From Los Angeles to the U.K., companies are offering up hydration that also heals with crystal-infused water, which is believed to aid digestion and increase focus among other benefits. West Hollywood's A Divine H2O water bar and delivery service offers a drink, dubbed "LOVE water," formulated with healing crystals; London's Nectar Cafe's bottles of Blue Moon Dream water claim to be created through a "24-hour immersion of positively charged crystals and botanical extracts." A Divine H2O, ionic calcium alkaline water, $38 for a case of 24, available at A Divine H2O.
3. Crystal jewelry
Bring the healing vibes with you wherever you go with crystal jewelry. Made with energy-amplifying clear quartz (one of the more popular stones), this Crystal Cactus necklace is said to have been "cleansed with sage and infused with the DNA healing vibration" to get rid of bad energy and revitalize the spirit. We feel better already. Crystal Cactus, Mystic Moon necklace, $32, available at Crystal Cactus.
4. Crystal-infused candles
Made with natural soy wax, cedar, sage, and coriander, this hand-poured candle from Modern Ritual NYC aims to help you get grounded, release fear, and open to the abundance and beauty the universe has to offer. Each candle is "infused with reiki energy and healing sound vibration" and comes with crystal quartz on top, to help set intentions when the candle is lit, as well as an audio-guided meditation download. Modern Ritual NYC, Abundance candle, from $18, available at Modern Ritual NYC.
5. Bath salt crystals
Just as salt lamps work to remove toxins from the air, bath salt crystals aim to absorb toxins from the skin, along with easing sore muscles and inflammation. Thesis Beauty's Himalayan Bath Salt Royal Gems feature 100 percent pure and natural crystal salt ingredients, that haven't been treated or scented, so you can relax and detox au naturale. Thesis Beauty, Himalayan Bath Salt Royal Gems, $23, at Thesis Beauty.
6. Crystal mobile
After a good sage session, to rid your space of bad vibes (particularly necessary in a new apartment or post-breakup), crystals can be added to your home decor to create both good energy and add to the aesthetic appeal—look good, feel good, am I right? Urban Outfitters' white quartz crystal mobile is handcrafted with wood and raw quartz to catch the light and provide a unique element to your interior's design style. Urban Outfitters, white quartz crystal mobile, $32, available at Urban Outfitters.
7. Quartz hairpin
Go to the next level of healing by securing tresses with a sparkly druzy crystal hairpin. The healing properties of druzy (or tiny quartz crystals that form on the surface of other stones) minerals are said to bring harmony and empowerment—so you're basically guaranteed, at least, a really good hair day. Elizabeth Perry Collections, quartz hairpin, $24, available at Elizabeth Perry Collections.
8. Crystal-infused lotion
In Sanskrit, an ancient language from India, word "chakra" means "each of the centers of spiritual power in the human body, usually considered to be seven in number." Golden Earth offers an aromatherapy body moisturizer for each chakra—including heart, third eye, and solar plexus—made with all-natural ingredients and essential oils. In addition to providing hydration, the lotion is infused with crystals to help you feel renewed and balanced. Golden Earth, chakra body moisturizer, $26, available at Golden Earth.