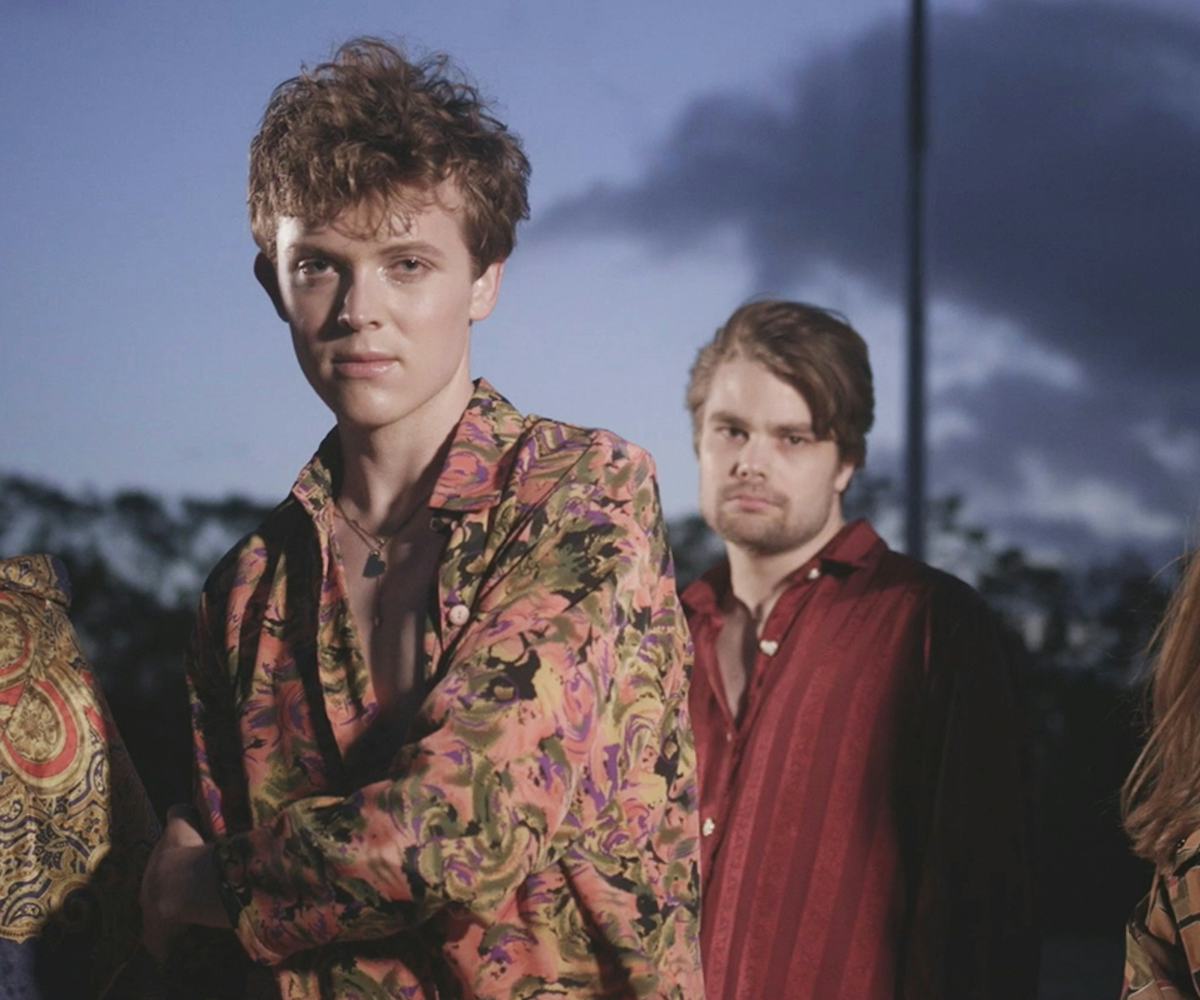 Photo by Jennifer Embelton
Cub Sport's Tim Nelson On Coming Out After Growing Up In A Religious Community
And we premiere the band's new video "Chasin'"
Jupiter's recent shift into Scorpio is a good sign for those who've been feeling vulnerable lately. After all, there is strength in being soft; letting your guard down, to let another human into your life, takes more strength than anything. That strength, of course, stems from coming to terms with yourself first. But what if that never happens? Indie alt-pop group Cub Sport has some words of encouragement for you about just that.
The Australian band's song "Chasin'," off of their sophomore LP BATS, is rooted in the questions, "What do you want out of life? What do you want out of love?" Singer Tim Nelson comes at the listener right from the center of the existential hurricane. He's grappling with his sexual and queer identity and purpose in this mess of a world. Lines like, "Does anybody want this?" go two ways; he's asking not only if anyone ever wants to feel this stuck, but also if anyone finds him attractive and worthy of love. For queer people, the latter point hits especially close to home considering the historical marginalization of the LGBTQIA community, in which they were told their expression of love was wrong. 
Thankfully, much of the world has moved beyond that mentality, and queer people across the planet are reclaiming their time and place in society. One such way is through strong representations of softness, which Cub Sport's new video does well. Nelson and his bandmates, Zoe Davis, Dan Puusaari, and Sam Netterfield (Nelson's fiance), embrace and float with confidence and ease through a dreamscape of flowers and pastel hues. It was shot in Nelson and Netterfield's hometown, a place where both their religious upbringings caused much identity stress. Perhaps this video answers the big question of where you might find your purpose: by looking and maybe returning to home, or a place that feels like home. 
Watch Cub Sport's new video for "Chasin'," premiering here, and read below as we catch up with Nelson before the band kicks off their 2018 BATS Tour. (Cop your tickets here.) 
How do you find strength in softness?
I grew up in an environment that was geared to view softness as weakness, especially as a male. So it took me a while to recalibrate and figure a few things out. I had an empowering realization after coming out last year that there's strength in being bold enough to be gentle, honest, and proudly wearing your vulnerability. As we, [the band], learned to embrace ourselves just as we are and as our understanding of approaching life with this kind of "radical softness" developed, it started to feed a lot into my writing and informed the vision for our new album. We really wanted it to empower others to feel comfortable doing the same.
When did you realize that you, like the song says, "don't know what you want out of life"? How did that inspire your music?
I wrote "Chasin'" after I'd been on a writing trip to L.A. and London. It was the longest I'd been away from my best friend and bandmate Bolan (Sam), who is now my fiancé. The time apart made me realize I was in love with him; that was when I started to realize that my sexuality wasn't a phase. We both had pretty religious upbringings, which complicated the situation. I wanted to be honest and be my true self but was worried about hurting people. It was deeply confusing, and I really did feel like my mind and life were scattered into different parts—like I was pulling myself in different directions.
When I wrote and recorded this song, I was still very much figuring out what I was feeling; so the song itself didn't really make sense to me in that moment. That happens to me quite often; I'll write a song and then days, weeks, sometimes years later, it'll all of a sudden click and my mind catches up with whatever I was feeling when I wrote it.
Do you think you'll ever figure out what you want out of life?
Yeah, I think I'm getting there! I'm feeling more and more comfortable with who I am and I feel like my vision for Cub Sport is clearer. It's building and progressing in a direction I'm really excited about. One of the most exciting things that's developing is our connection with our fans. We get really lovely messages from people all the time saying that our openness with our sexuality has helped them reach a place of loving and accepting themselves exactly as they are, so that's really cool.
What's the story behind the video?
The overall vibe of the video is celebrating the power of softness, so it's really pretty and dreamy. We're proud to have shot this video in our hometown, Brisbane, where we've grown up. The opening shot is outside Bolan's childhood home and the shots by the water are in the river reserve that I grew up near. The shots with the bats and netball courts are both at a park right next to the house where Bolan and I lived for the years that I was recording BATS.
Where did this video take you emotionally?
It was great to see our vision for something soft and beautiful come to life. For years, I suppressed parts of myself, to try to be "normal," so I feel really proud to be releasing this super-pretty video that challenges the standards I grew up by.
How much of your queer identity informs your music?BATS was inspired by the recognition and development of my own queer identity and it's largely inspired by queer love, so I feel like it's a queer record through and through.
In a similar vein, do you think you can even separate your music from it?
I feel like the songs can stand alone without a queer identity, a lot of it could be interpreted however the listener desires. But in saying that, the heart and soul of this project is queer love.
BATS Tour 2018
April 3  in Atlanta, GA at Eddie's Attic
April 4 in Nashville, TN at The High Watt
April 6 in  Washington, DC at Union Stage
April 7 in Philadelphia, PA at The Foundry
April 8 in Boston, MA at Middle East Upstairs
April 10 in New York, NY at Berlin
April 11 in Brooklyn, NY at Elsewhere (Zone One)
April 13 in Toronto, ON at The Drake Underground
April 14 in Montreal, QC at Petit Campus
April 17 in Cleveland, OH at Grog Shop
April 18 in Pontiac, MI at The Pike Room
April 20 in Minneapolis, MN at 7th Street Entry
April 21 in Chicago, IL at Downstairs at Subterranean
April 24 in Denver, CO at Lost Lake Lounge
April 25 in Salt Lake City, UT at Kilby Court
April 27 in Los Angeles, CA at The Moroccan Lounge
April 28 in San Francisco, CA at Hotel Utah
April 30 in Portland, OR at Bunk Bar
May 1 in Seattle, WA at Sunset Tavern
May 2 in Vancouver, BC at The Fox Cabaret