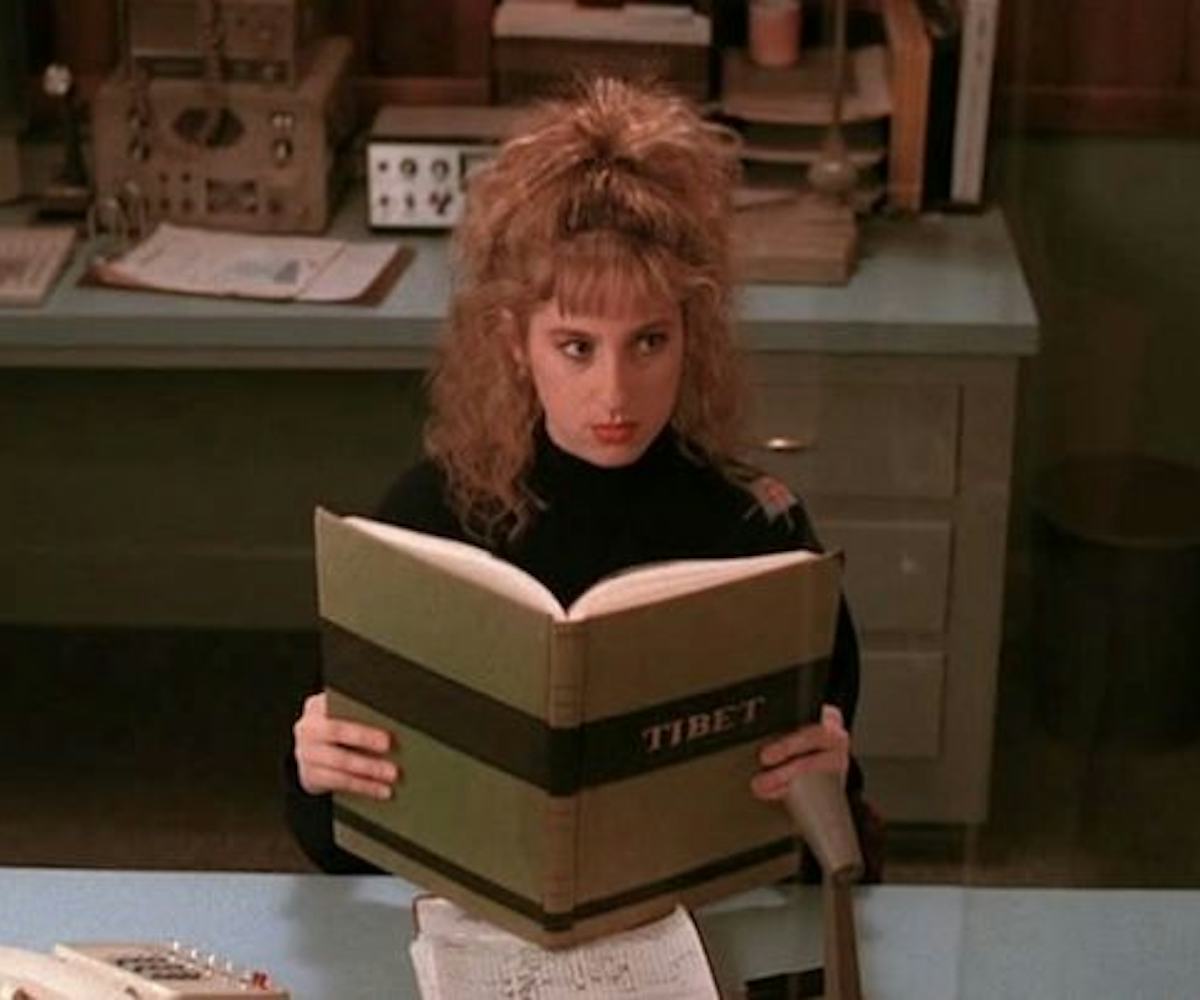 Image via Lynch/Frost Productions
8 books to read based on your fav cult tv shows
Despite promises of reboots and constant streaming available on Netflix, the cancellation of our favorite cult TV shows has left us in a permanent state of mourning. Even if we didn't manage to catch the shows' original pilot premiere, we still feel an ever-present sorrow knowing that we may never see another new episode of Freaks and Geeks, Buffy, or Pushing Daisies again.
But we'll always have books. 
When you've already watched your favorite cult TV show three times through, sometimes you just need a slight change. That's why we've rounded up eight books that will perfectly complement your taste in television to take your most beloved TV genres from screen to the page. Whether you love creepy sci-fi stories or you prefer a quirky narrative, these books will encourage you to take a break from your screen binge and get lost in some words instead. Flip through the gallery to find some must-reads that you won't be able to put down.
While it's easy to get distracted by teenage James Franco and Seth Rogan, Freaks and Geek's true protagonist is the small and angsty high school freshman Sam Weir, played by John Francis Daley. The show (and Weir's cringe-worthy moments) are largely based off of creator Paul Feig's own high school experience, which he recounts in his memoir, Kick Me. The series of essays about the trials and tribulations of being a geek in an American public school in the late 70's are the same combination of hilarious and heartwarming as the ill-fated show.
If you like Buffy the Vampire Slayer...Read Fray by Joss Whedon
With a strong female lead, supernatural action, and of course, vampire slaying, Joss Whedon's graphic novel Fray is the perfect follow-up to a Buffy viewing session. Featuring similar themes as the television show, the comic is set in the 23rd century, at a point in time where the actual role of a vampire slayer has undergone some changes. While the book may not tell Buffy's story, it offers new insight into Whedon's vampire-centric vision and makes for some heart-pounding reading.
If you like Twin Peaks...Read The Wayward Pines trilogy by Blake Crouch
As we wait with bated breath for Showtime to #SaveTwinPeaks with David Lynch at its helm, we start to look for comfort in other areas (besides just re-watching the series). Featuring a Secret Service agent who arrives in a mysterious town to solve the disappearance of two federal agents, Pines sounds suspiciously similar to the beloved Frost/Lynch show—but the similarities are wholly intentional. Crouch has been very open about how Twin Peaks influenced his own writing, making for a series that gives fellow lovers of the show their fix of mystery, magic, and spookiness. The trilogy is also being adapted into an M. Night Shyamalan-produced mini series for FOX.
If you like Arrested Development...Read Where'd You Go Bernadette by Maria Semple
Nothing may compare to the Bluth family's shenanigans, from Lucille's incomparable side-eye to Buster's hook-handed hardships, but leave it to this author to capture the show's same je ne sais quoi. A former Arrested Development writer, Maria Semple brings wit and hilarity to a deeply emotional and heartfelt story of an eccentric mother's relationship with her brilliant daughter. This witty novel should hold you over until we get those 17 new episodes we were promised. 
If you like The X-Files...Read A Vision of Fire by Gillian Anderson
In addition to being a general badass and feminist hero of our hearts, Gillian Anderson is also an author. After her run as Dana Scully on The X-Files, the actress is trying her own hand at whipping up some science fiction stories. A Vision of Fire, released just last year, is an engaging supernatural thriller that focuses on a single mother's attempt to solve the mystery behind an illness affecting teenagers around the world. Craving more? No worries—this is just the first book in a saga to come.
If you like Pushing Daisies...Read the Charmed Pie Shoppe Mystery series by Ellery Adams
In the world of the all-too-early-cancelled show Pushing Daisies, two things are known to be true: pie and death. The same holds up in Ellery Adam's magical bakery-centered murder mystery. With a mix of cute, mystical, and morbid, the crime series shows that high stakes can have a quaint side to them as well. We may still be mourning the end of the charming ABC show, but we can always enjoy some cozy mystery books.
If you like Lost...
Read The Invention of Morel by Adolfo Bioy Casares
Published in 1940, The Invention of Morel was one of the first written works to employ many of the elements that come together on Lost: science fiction, mysterious islands, and hidden supernatural dangers. In fact, the novella is even referenced in the fourth season of the show when Sawyer is shown reading it. While Lost may stand today as one of the most iconic sci-fi shows of this century, The Invention of Morel is by far one of the most influential sci-fi novels of the hundred years.
No show was as goosebump-inducing as The Twilight Zone, whether you grew up watching episodes from the original 1959 series or the 1985 reboot. With its strange mix of humor, the paranormal, and horror, the classic television show always left us satisfied in a slightly spooked and mystified way. So what better way to get that same scary fix than to read stories written by one of the show's writers? With an introduction by Stephen King, Richard Matheson's collection of horror stories, Nightmare at 20,000 Feet, includes narratives that will seem familiar to Twilight Zone devotees, as well as some new tales.