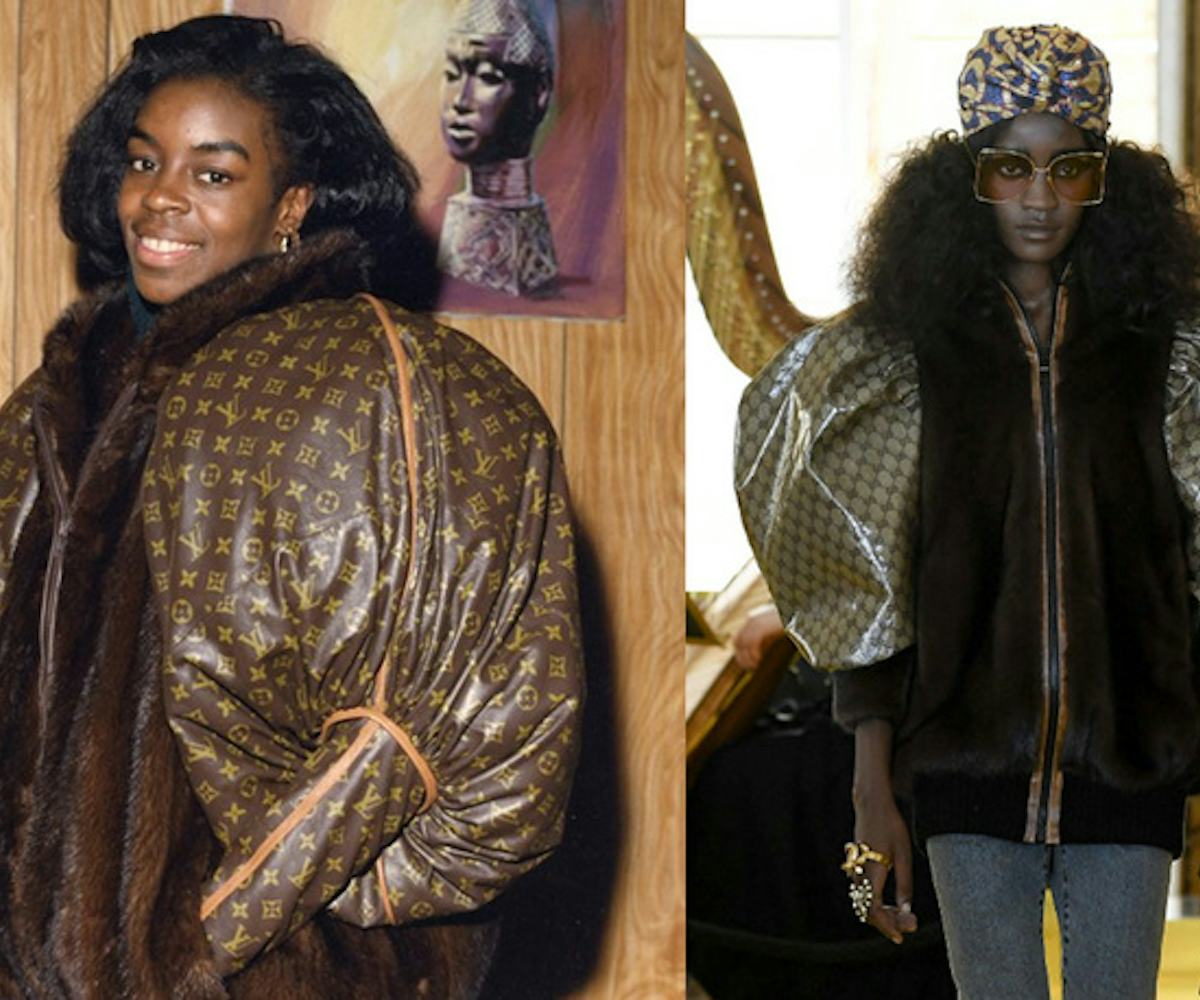 Image via Twitter/@HariNef
In News We Didn't See Coming, Dapper Dan And Gucci Are Collaborating
The designer's been "underground" for 25 years
After being called out for copying one of Dapper Dan's looks in its resort collection this year, Gucci has decided to partner with the Harlem, New York, designer, the New York Times reports. From 1982 to 1992, Dapper Dan, real name Daniel Day, ran a 24-hour workshop that commissioned pieces using unauthorized designer logos. 
Day, who says he's been "underground" since closing his shop 25 years ago, created pieces for celebrities like Mike Tyson and LL Cool J. The coat that Gucci recently copied was part of a 1989 collaboration between Day and Olympian Diane Dixon. It was immediately recognized by people, including model Hari Nef, because of the signature puffy sleeves. 
Gucci's creative director, Alessandro Michele, said he was paying homage to Day, not appropriating his style. And, luckily, Day saw it that way, too. 
"I was just excited about it being there," he told the Times of Gucci using his design. "The part about appropriation, Alessandro and I are part of two parallel universes. The magic that took place as a result of what he did was bringing these two parallel universes together. That opened a dialogue between us when we finally got in touch with each other. I found out how similar our experiences were, the way he grew up and the way I grew up, and how he was influenced by me. I was never apprehensive about what took place. The public was more up in arms than me."
Now, Day is gearing up to open a new by-appointment-only studio in Harlem by the end of this year. Gucci will supply the raw materials and it will be staffed with original tailors, Day explained. Day is also the face of Gucci's new tailoring campaign and will collaborate with the fashion brand on a capsule collection, that will be sold in Gucci stores worldwide next spring. 
"The thing that's amazing is, what's being celebrated today was shut down," said Stephen Stoute, founder and CEO of the marketing firm Translation, who helped facilitate the partnership between Day and Gucci. "The couture guys were sitting in Italy, in Paris, deciding to shut it down, rather than embrace it. Now we look up in 2017, and Dan is the feature in their global advertising campaign. They're releasing a collection that's going to be in all locations around the world. We're bringing Gucci to Harlem."
Michele and Day see this partnership as an opportunity to show that fashion is "not just the windows of a Fifth Avenue store," Michele said. "It's more. It's about culture. It's about self-expression. It's about expression of a point of view."
More than anything, though, Day is looking forward to no longer being underground. "What I'm most excited about," he said, "is being able to work in the open."