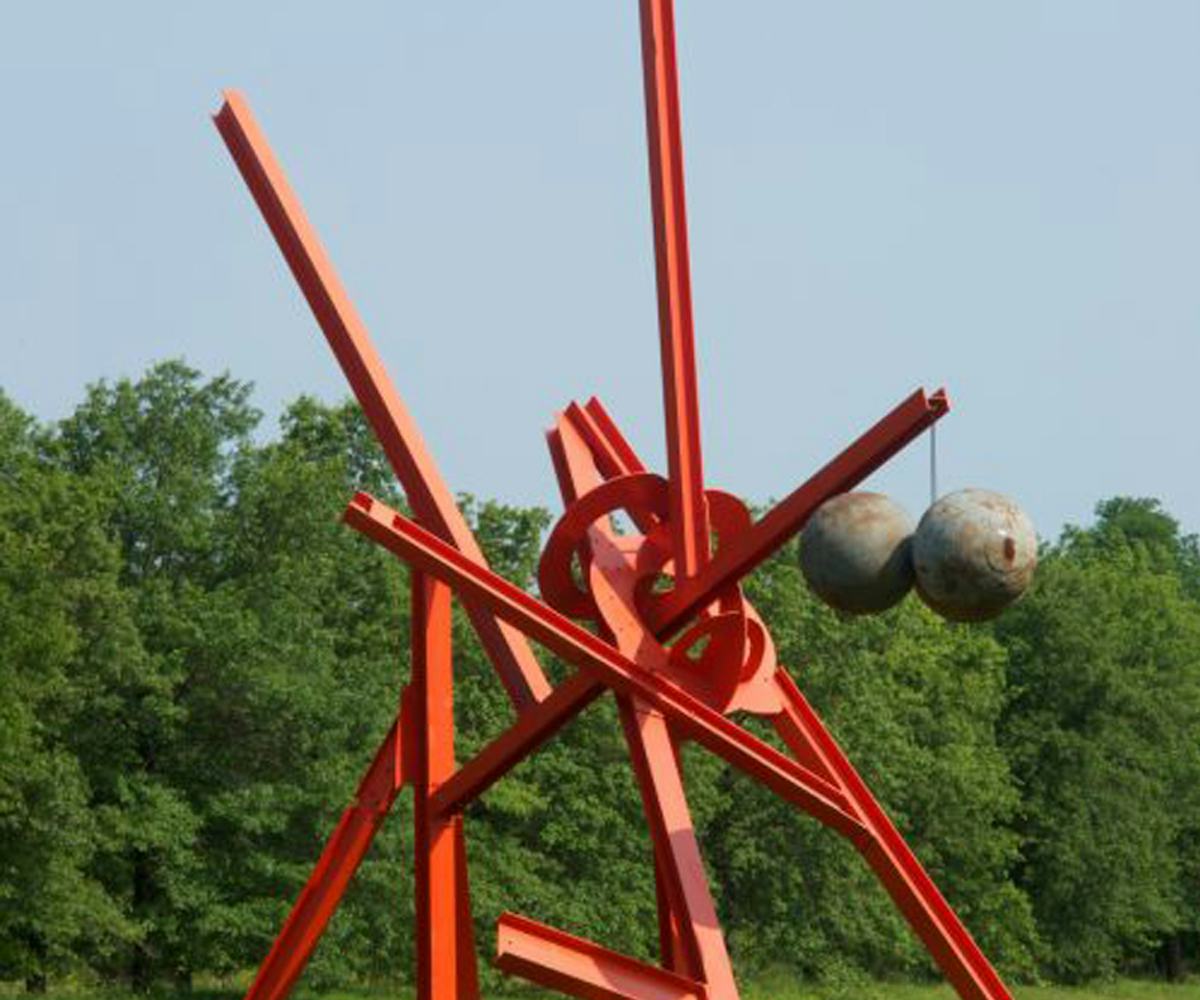 Photo courtesy of Storm King Art Center
Summer (Outta) The City: 6 Day Trips For Art Lovers
Skip the lines and sweaty subways of New York this weekend
New York City is saturated with emerging artists and world-class museums. You've seen the exhibit at the Met's Costume Institute four times and counting already. You go to every gallery opening in Chelsea on Thursday evenings. You even rode the L to the depths of Bushwick to watch your friend's boyfriend's "experimental-interactive, work-in-progress" piece. Twice. As a devoted New Yorker, you are absolutely committed to the art-rich life.
But summer… summer is when the subways get sticky and unpredictable and museum lines become dizzyingly long. So the next time your weekend opens with a blissfully empty Saturday, skip the Lex line and hop on Metro-North or in a Zipcar instead. 
Escape the city heat with these day art trips. 
New Yorkers are likely familiar with Dia Art Foundation from its work around Manhattan. The organization manages a gallery space in Chelsea and various sites around the city, including the well-known "The New York Earth Room," a completely dirt-filled apartment on Wooster Street. But an 80-minute Metro-North ride can bring you to Dia:Beacon, the sprawling campus on the banks of the Hudson River. Summer is prime time to check out this impressive collection of modern art, where the galleries are lit almost completely by natural light.
A former Nabisco box printing factory was repurposed into 240,000 square feet of exhibition space for Dia. In the foundation's typical style, each gallery room is devoted to a single artist's work. Airy spaces show off Richard Serra's curved steel pieces, Dan Flavin's fluorescent works, Walter De Maria's white lacquered wooden rod sculptures, and more. Landscaped seasonally, changing gardens surround the complex. Dia:Beacon offers guided tours on Saturday and Sundays at 1pm.
Take a ride on Metro-North up the Hudson River for about an hour to visit the Katonah Museum of Art. KMA is a historic site for visual arts, located in charming Katonah (one of three hamlets in Bedford, New York). The museum opened its latest exhibition, "OnSite Katonah," on July 9. The show includes experimental, site-specific installations that are designed to respond to the museum's landscape and architecture, taking advantage of both the sculpture garden and gallery spaces. KMA offers free docent tours daily at 2:30pm. And if you burn too many calories scampering around the sculpture garden, great Mexican food can be found close by at TRUCK restaurant in Bedford.  
The Wassaic Project, located about a two-hour train ride from the city in Wassaic, New York, is an incubating space for up-and-coming artists. The site places a particular emphasis on celebrating the local artistic community and history of the hamlet of Wassaic. It spans across Maxon Mills, Luther Barn, and surrounding facilities, and shares its location with The Wassaic Artist Residency. The organization runs exhibitions, a summer festival (August 5 to 7), and an arts education program.
"Appetite for Destruction," the current summer exhibit, features work from 56 contemporary artists in the historic seven-story Maxon Mills. Coming on July 30 at The Wassaic Project is Heather Metal Parking Lot: an event celebrating heavy metal cultural impact. The party will have food and drinks, film screenings, campfires, metal manicures, metal music, DJ sets, and more. 
Brant Foundation Art Study Center
White Birch Paper tycoon Peter Brant, currently married to supermodel Stephanie Seymour, is a substantial collector of American art, including an impressive number of Andy Warhols. In 2009, the Brant Foundation Art Study Center opened in Greenwich, Connecticut, in a former stone fruit barn converted by architect Richard Gluckman. The gallery shows long-term exhibitions drawn mostly from Brant's collection and hosts open admittance on summer weekends. Election themed show "Jonathan Horowitz: Occupy Greenwich" is currently on view.
And if you're looking to immerse yourself more fully in the Greenwich culture, the Greenwich Polo Club is located a ball's throw away and holds public summer matches on Sunday. Located in backcountry Greenwich, the center is best accessible by Zipcar, or by taking Metro North to Greenwich station and a taxi from there.
Snug Harbor Cultural Center and Botanical Gardens
Those feeling too impatient to traverse long distances can opt for a short ferry ride to get their creative fix. The Snug Harbor Cultural Center and Botanical Gardens occupies 83 acres along the north shore of Staten Island. Founded in 1801, the campus stretches over 28 buildings, including the water-facing Newhouse Center for Contemporary Art and bamboo-filled Chinese Scholar's Garden. The center celebrates the history of Snug Harbor, a quiet escape from the more-packed parts of the city. Snug Harbor will also host two SummerStage dance shows in August, B-Love's Hip-Hop Jazzy Groove and Ephrat Asherie Dance. Added bonus: the ferry from lower Manhattan is free.